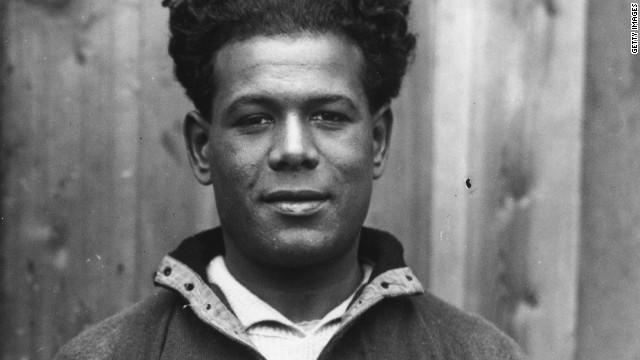 In the 1920s, Jack Leslie was denied the chance to represent England, the country of his birth, due to his Jamaican parentage. A forward at Plymouth Argyle, he was the only black player in England at the time.
Bermuda-born Clyde Best, pictured here in 1972, became the first black player to establish himself in the English top flight with London club West Ham United.
Best is seen here alongside West Ham legend Bobby Moore (center right) in the 1970s. Moore captained his country to World Cup glory when the competition was held in England in 1966.
Laurie Cunningham achieved fame as one of the "Three Degrees" at West Bromwich Albion, being part of a trio of black players also including Brendon Batson and Cyrille Regis. Cunningham became the first black player to represent England at any level when he played for the under-21 team in a friendly against Scotland in 1977. His talent earned him a big-money move to Spanish giants Real Madrid in 1979.
Viv Anderson won the English First Division and played a part in Nottingham Forest's two European Cup triumphs durng a glittering playing career. He is arguably most famous for becoming the first black player to represent the senior England team against Czechoslovakia at Wembley in 1978.
Anderson was one of just two black players in England's 1986 World Cup squad, alongside Jamaica-born winger John Barnes. In contrast, the 23-man England squad which traveled to the 2010 World Cup in South Africa contained eight black players.
Cunningham and Anderson were brought into the England fold by Best's former West Ham boss Ron Greenwood, who managed the national team between 1977 and 1982. Cunningham tragically died in a car crash in Madrid at the age of 33, while Anderson ended his playing career in 1995.
After spending seven years at West Bromwich Albion, England international Regis played for several other clubs in the midlands area of England. In 1984, he joined Coventry City before spending two years with Aston Villa. The powerful striker had a season with Wolverhampton Wanderers and eventually retired in 1996.
After spells at Arsenal and Cambridge United, Batson spent the majority of his career at West Brom. The Grenada-born defender was there between 1978 and 1982 before injury cut short his career. He later became an administrator with England's Professional Footballers' Association.
Midfielder Paul Ince built on the legacy of players like Cunningham and Anderson in 1993, when he became the first black player to captain England in a 2-0 friendly defeat against the U.S. In a career where he played for Manchester United, Liverpool and Inter Milan, he collected two league titles and a European Cup Winners' Cup medal.
The battle for black players to gain international recognition in England may have been a long one, but further north in Scotland a black footballer was paving the way over 100 years ago. Andrew Watson became the first black international footballer when he made his debut for Scotland in 1881, captaining his country to a thumping 6-1 victory against England.
Destiny denied
Leading the way
Esteemed company
The Real deal
International recognition
Up for the cup
Greenwood's guidance
Powerful striker
Cultured defender
Inspirational Ince
The first
STORY HIGHLIGHTS
CNN investigates the problem of racism in soccer in a new documentary
England has been particularly hit by recent incidents involving racial abuse
Black players have grown in prominence in England since the 1970s
The English Premier League is now one of the most multicultural of any nation
Editor's note: CNN's feature show on racism in football, "World Sport presents: It's Not Black & White," airs on Saturday at 9 p.m. ET (0200 GMT), Sunday 6 a.m. (1100 GMT) and Monday 3 a.m. ET (0800 GMT).
(CNN) -- "The letter stated that, as I ran through the tunnel, they were going to throw acid in my face. I was petrified and I probably never moved so much and so fast on a soccer field in my life."
Clyde Best is one of football's pioneers -- the first black player of the modern era to establish himself in England's top division.
The reaction he faced from fans on the terraces more than 40 years ago was extreme, mirroring the strong resistance to immigrants landing on Britain's shores back then.
Recent incidents have shown that racism is still a big problem in these more multicultural times. World football's president, Sepp Blatter, infamously claimed last year that racism is not an issue on the pitch, but he has been proved sadly wrong.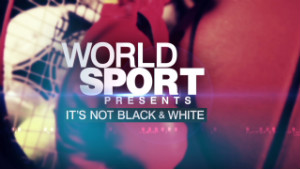 Football racism: Not Black & White act 1
England, in particular, is dealing with the fallout of two high-profile player on player controversies. Fans, meanwhile, have been arrested for racially abusing players at stadiums and on the Internet.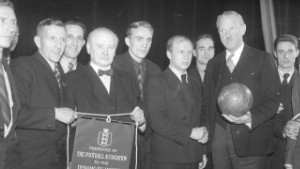 Football racism: Not Black & White act 2
Racial tension started growing in the UK after World War Two, when immigrants began pouring into the country from the British Empire's colonies around the world -- notably the West Indies.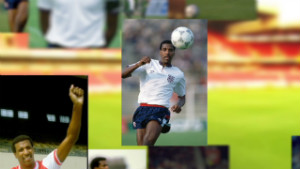 Football racism: Not Black & White act 3
The number of non-whites in England climbed from just a few thousand in 1945 to about 1.45 million in 1970.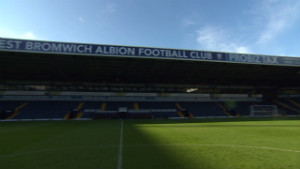 Football racism: Not Black & White act 4
Just two years before that, Conservative politician Enoch Powell warned of "rivers of blood" because of increasing immigration.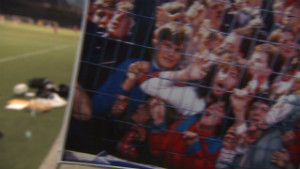 Football racism: Not Black & White act 5
Also in 1968, Best arrived from his native Bermuda to play for London club West Ham United.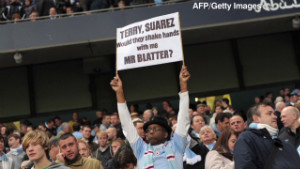 Football racism: Not Black & White act 6
"People weren't used to seeing people of color on the field in those days. I was always taught that you're not playing for yourself, you're playing for the people who are coming behind you, and that's what kept me going," Best told CNN.
"There were certain things that were said and done, but you've got to put them in them in the back of your mind and be strong and do what you have to do."
Defining a country
Best's persistence in coping with the hate mail and the fan abuse -- some of it from his own club's supporters -- helped paved the way for Viv Anderson, England's first black international.
Back in the 1920s, London-born Jack Leslie was denied the chance to represent his country due to his Jamaican parentage.
At the time English football was very much a sport for the working class, largely played by the working class, and had been since the sport's founding days in the 1860s.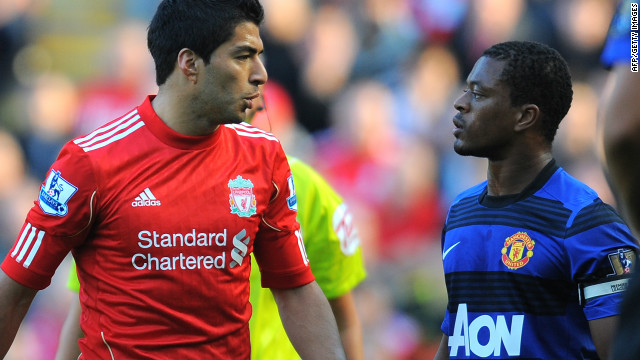 Liverpool striker Luis Suarez was handed an eight-match ban by the English Football Association for racially abusing Manchester United's Patrice Evra in a match in October 2011. Suarez refused to shake Evra's hand during the customary pre-match ritual ahead of the teams' clash on February 12 this year. The Uruguayan has since apologized for his snub of the France defender.
Chelsea captain John Terry will face trial in July for alleged racist abuse of Queens Park Rangers defender Anton Ferdinand during a Premier League match on October 23. Terry, who was stripped of the England captaincy, denies the charges.
A fan was banned from attending all football matches for three years after directing racist abuse at Liverpool defender Glen Johnson during a match on January 3. Andrew Dale, 36, was also fined £400 ($628).
Police are investigating alleged racist abuse by a fan of third division Oldham Athletic's Tom Adeyemi during a FA Cup tie with Liverpool on January 6.
In January, a university law student was reported to police after former Liverpool player Stan Collymore, now a pundit, complained of being racially abused on the micro-blogging site Twitter.
Manchester City defender Micah Richards closed his Twitter account in February after receiving sustained abuse from other users. "I did enjoy Twitter and the banter with the fans, but I didn't like the abuse you get on it," he said. "I thought it was just for the best for myself because it can affect your confidence if people are saying things about you. I just thought it was best to come off and concentrate fully on football."
Manchester City lodged an official complaint with European football's governing body UEFA last week after Italy striker Mario Balotelli complained of racist chanting during a Europa League match against Porto.
Bugaria's football association was fined €40,000 ($53,000) in November 2011 after England complained about racist abuse of winger Ashley Young during an international match in Sofia.
Brazilian World Cup winner Roberto Carlos walked off the pitch while playing for Russian team Anzhi Makhachkala against Krylya Sovetov in June 2011, after having a banana thrown towards him in the closing stages of the match.
Samuel Eto'o, one of Africa's greatest players, tried to walk off the pitch in protest after being racially abused while playing for Barcelona against Real Zaragoza in Spain in 2006. His teammates and the referee persuaded him to stay on.
The Malaysian FA apologized to Chelsea in Julyn 2011, when Israeli midfielder Yossi Benayoun was subject to racial slurs during a pre-season game in the country.
In 2008, German midfielder Torsten Ziegner was banned five matches for racially abusing Nigerian opponent Kingsley Onuegbu during a lower league match.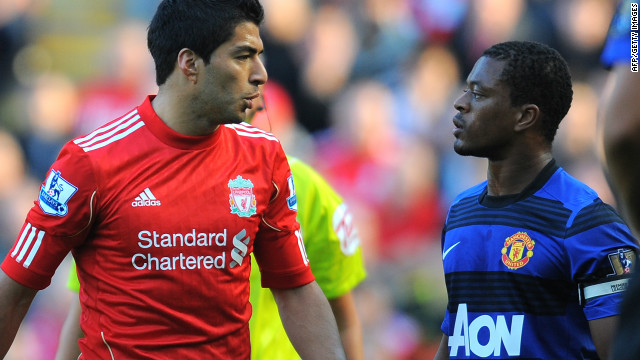 Racism incidents in football
"As the game became more popular it was the beginning of the industrial revolution in England," says English players' union chief executive Gordon Taylor.
"Workers were attracted to the big cities and as a result all of the heavy industries, with steel and ship building and coal mining for example. Workers had their Saturday afternoons off and it became their recreation."
Making history
On November 29, 1978, Nottingham-born Anderson stepped onto the hallowed turf of England's national stadium, Wembley, to represent his country against the former Czechoslovakia -- which, like its Eastern European neighbors, has also had problems with racist factions at football matches.
The England manager was Ron Greenwood, who also brought Best to West Ham.
"To play for your country and for 100,000 people at home against the Czechs, who had a good reputation then, you don't want to let yourself down, let your parents down, let the people you know down," Anderson said.
The most important thing to remember is the that ball doesn't care what color you are
Clyde Best
"The black thing never came into my head one bit. It was about being a professional footballer."
Anderson won the European Cup twice with Nottingham Forest, but it was three men at another club, West Bromwich Albion, who really pushed black players into the spotlight in England.
Raising the bar
Cyrille Regis, Brendon Batson and Laurie Cunningham were dubbed the "Three Degrees" by their manager Ron Atkinson after a visit to the club's ground by the U.S. female vocal group.
"To see three black players on one team was very radical," Regis recalls. "West Brom fans were fantastic. They took to us fantastically, supported us, appreciated us. At the end of the day they want anybody out there to play football and to play football well."
Batson notes that Powell's political constituency was Wolverhampton and he delivered his infamous speech in Birmingham -- both cities being near neighbors to the trio's adopted Midlands town.
We want football in this country to be played, managed, administered and watched by the cross section of England
Kick it Out's Danny Lynch
"People said to me that as black players come to the fore in the early '70s, that was almost an opportunity for those racist groups -- the BNP, the National Front -- to come out and vent their fury at black players," he told CNN.
"The football authorities did nothing about it, so for the black players coming through and particularly when I was at West Brom, we would seem to get the brunt of it because there were three of us and the volume was quite astonishing at times.
"It wasn't pleasant. What it did to you was almost galvanize us, to say, 'This is our profession, this is our career. We're not going to be driven away so we'll see you next week, next month, next year,' and that's it, we get on with it."
Targeting the trouble-makers
British hooliganism reached arguably its worst levels in 1985 with the Heysel Stadium disaster, which left 39 Juventus fans dead after fighting broke out before the European Cup final against Liverpool. English clubs were banned from European competition for five years.
That heralded a major government crackdown on football violence, and subsequent laws have made racist behavior illegal at matches.
"The game was in danger of being written off," PFA chief Taylor says. "The prime minister, Margaret Thatcher, was thinking of insisting that people needed an ID card to even go to a game. That's how serious it was."
This season a Liverpool fan was arrested for racially abusing an opposing team's player in an FA Cup match, and clubs have resorted to increasingly sophisticated security measures to catch offenders.
The game was in danger of being written off ... That's how serious it was
PFA chief executive Gordon Taylor
Trial by technology
With closed-circuit television footage and stewards wearing head-mounted cameras, it is now much more difficult for spectators to misbehave at games.
"They get football banning orders which are draconian, but they have a very strong effect," says Chris Baker, safety officer at second division club Brighton.
"A person could be banned for three years from entering any Football League ground, they also have to hand in their passport, they're not allowed to travel on the rail network when certain teams are playing, they're not allowed to travel out of the country when England is playing.
"It's a very strict measure, but it is spelling out to these people that it isn't tolerated by anyone in football. We have 75 cameras based around the ground and should any racist abuse be reported to us we could very quickly potentially get one, two, maybe three cameras onto an area."
The way ahead
England's Premier League is now one of the most multicultural divisions in the world, attracting players from far and wide.
But while many people believe that the situation -- in England at least -- has improved, campaigners such as ant-racism Kick It Out group say there is still a lot of work to be done.
It's a very strict measure, but it is spelling out to these people that it isn't tolerated by anyone in football
Chris Baker on stadium security
"We want football in this country to be played, managed, administered and watched by the cross section of England," says Kick it Out's Danny Lynch.
"We don't have that. We've got no openly gay players, we've got two black managers from 92 clubs (now three following the appointment this week of Keith Curle at lower league Notts County), very few Asian players and a lack of women at boardroom levels.
"So there's an imbalance there and I think the work we do with all of the clubs and all of the agencies is try to address that in some way."
Remembering what's most important
Liverpool's Luis Suarez has already served an eight-match ban for racially abusing Manchester United's Patrice Evra last October, while Chelsea's John Terry has been stripped of the England captaincy ahead of a July court case in which he faces charges of similarly denigrating a black opponent.
Best, for one, hopes that the world's most popular sport can focus on living up to its name -- "the beautiful game."
"I think the most important thing to remember about soccer, with all of the foolishness that is going on with the racism and stuff like that, the minute a goal is scored, I can be as black as the ace of spades or I can be as white as a snow flake ... the minute a goal is scored, everybody hugs one another.
"The most important thing to remember is that the ball doesn't care what color you are."