Will Satan stop Rick Santorum?
February 24, 2012 -- Updated 1432 GMT (2232 HKT)
STORY HIGHLIGHTS
Santorum in 2008: "Satan is attacking the great institutions of America"
Former Senator Santorum has been big surprise of Republican contest
Surveys put Santorum ahead of Romney, Gingrich, Paul
Santorum reportedly tells crowd Obama adheres to "some phony theology"
(CNN) -- U.S. Republican presidential candidate Rick Santorum is surging in public opinion polls, but will he be stopped by Satan?
Santorum, a devout Catholic who is the most overtly religious candidate in the race, has startled many Americans with comments on matters of faith.
"Satan is attacking the great institutions of America," he reportedly said in a 2008 speech that resurfaced this week.
"This is a spiritual war. And the Father of Lies has his sights on what you would think the Father of Lies would have his sights on: A good, decent, powerful, influential country -- the United States of America."
Santorum has been the big surprise of the Republican contest.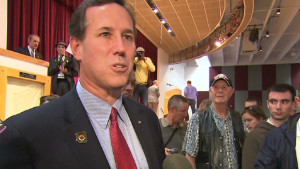 Santorum: 'I believe in good and evil'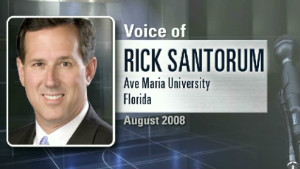 2008: Santorum warns Satan attacking U.S.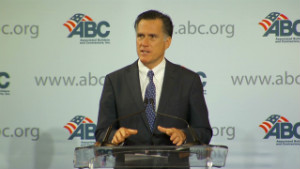 Santorum 'voted against his principles'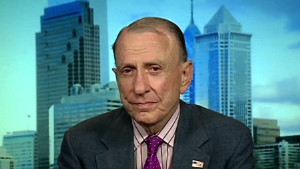 Specter denies making deal with Santorum
The former Pennsylvania senator began as an apparently unexceptional candidate. Like others in the crowded field, he's campaigning on economic issues but alone among them is also stressing conservative concerns such as opposition to abortion and gay marriage.
A year ago, he had a fraction of the support that long-time front-runner Mitt Romney enjoyed -- literally one-tenth, according to one published average of several polls.
Now, surveys put him well ahead of Romney and the rest of the pack.
CNN asked him about his Satan comments and he didn't disavow them. But his old remarks aren't the only ones drawing attention.
Santorum reportedly told an audience in Ohio Saturday that President Barack Obama adheres to "some phony theology. Not a theology based on the Bible. A different theology."
That struck a sensitive point because Obama is dogged by an untrue but politically damaging perception that he is a Muslim posing as a Christian. His spokesman treated Santorum's comments with a casual disdain.
"I did meet with the president for 45 minutes today and amazingly he didn't bring this up," Press Secretary Jay Carney said.
Santorum later said his comment referred to Obama's policies against global warming, which Santorum says treat the planet as more important than people.
Obama's own thoughts about Santorum's remarks aren't known, but he can be comforted with something that might matter more. Our latest poll suggests the president would be handily re-elected if the Republicans nominate Santorum to run against him.

Today's five most popular stories
Part of complete coverage on

Get all the latest news at CNN's Election Center. There are race updates, a delegate counter and much more.

A black man is returning to the White House. Four years ago, it was a first, the breaking of a racial barrier. Tuesday night, it was history redux. And more.

The 2012 presidential election shattered spending records, further polarized a divided country and launched a thousand hashtags.
November 8, 2012 -- Updated 1841 GMT (0241 HKT)

Democratic and Republican congressional leaders continue to sharply disagree over the key issue of whether top tax rates should be raised to help resolve the looming crisis.
November 7, 2012 -- Updated 1924 GMT (0324 HKT)

In a historic turnaround, the ballot box is showing America's shifting attitudes about same-sex marriage.

Even though voters indicated to pollsters that their financial situation is the same or worse than it was four years ago, they put their trust in the president.
November 8, 2012 -- Updated 0919 GMT (1719 HKT)

The president faces a long and familiar set of challenges after riding a wave of support from moderates, women and minorities to victory.
November 7, 2012 -- Updated 1427 GMT (2227 HKT)

Republicans kept a lock on the U.S. House of Representatives, a crucial victory after the party failed to wrest away the presidency from Barack Obama and the Senate from the Democrats.
November 8, 2012 -- Updated 0034 GMT (0834 HKT)

Democrats will retain their control of the Senate after winning several closely contested races on Tuesday.