Rights activists demand Libyan militia turn over British journalists
February 26, 2012 -- Updated 1757 GMT (0157 HKT)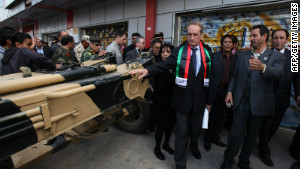 STORY HIGHLIGHTS
NEW: Militia detained journalists for driving at night and taking photos
The two work mainly for Iran's state-run Press TV
Militias have often acted outside of government control since the country's uprising
Aid organizations have accused militias of arbitrary detention and torture
(CNN) -- A militia in Libya is illegally holding two British journalists, refusing to turn them over to transitional government authorities and preventing international aid workers from visiting them, Human Rights Watch said Sunday.
The Saraya Swehli militia detained Nicholas Davies and Gareth Montgomery-Johnson in Tripoli on Tuesday, February 21, along with Libyans who accompanied them, said HRW consultant Sidney Kwiram from Libya's capital.
The Libyan transitional government has asked the militia to hand over the two journalists -- who work mainly for Iran's English-language state-run Press TV -- to government custody, but the militia has not complied, said Kwiram.
Some militias that established themselves to fight former dictator Moammar al-Gadhafi have remained intact and often allude government control.
A Saraya Swehli militia official told Human Rights Watch it detained the journalists and their Libyan colleagues because they found it suspicious that they were driving late at night and taking photos, according to an HRW statement. "Militia members later accused the two journalists of not having the proper immigration papers."
The Saraya Swehli militia operates in Tripoli but hails from Misrata, a city that took the brunt of the deadly military onslaught by Gadhafi loyalist troops on citizens who rose up against his rule. Militias from Misrata have practiced vigilante style justice and carried out acts of revenge in the wake of the revolution against those they believe had supported Gadhafi.
The humanitarian aid group Doctors Without Borders halted its work in detention centers in Misrata, Libya, in January 2012, because detainees were "tortured and denied urgent medical care."
Amnesty International has described "widespread torture and ill treatment of suspected pro-Gadhafi fighters and loyalists," a reference to those who fought for Gadhafi until his ouster and death.
Navi Pillay, the U.N. high commissioner for human rights, has highlighted difficulties the transitional government has had establishing central authority in matters of security and law enforcement since Gadhafi's removal from power.
After denying HRW access to the journalists three times despite letters by transitional government authorities to do so, a Saraya Swehli militia official told the rights organization that it did not have faith in the government, Kwiram said.
"Faraj Swehli and other militia commanders must understand that they cannot invent the law as they see fit, even under the banner of security concerns," Kwiram said. "They must turn over their detainees to the government. They are undermining the future of Libya as a country ruled by law."

Part of complete coverage on

Are you in a country affected by unrest? Send iReport your images, videos, and stories -- but don't do anything that could put you at risk.

Click on countries in CNN's interactive map to see the roots of their unrest and where things stand today.
December 17, 2011 -- Updated 1346 GMT (2146 HKT)

The desperate protest of a Tunisian fruit vendor sparked a revolution that has swept the Arab World throughout 2011.
December 17, 2011 -- Updated 1353 GMT (2153 HKT)

CNN looks at how the protest of a Tunisian fruit vendor sparked a revolution that's swept the Arab world throughout 2011
December 17, 2011 -- Updated 1423 GMT (2223 HKT)

Mohamed Bouazizi's self-immolation one year ago was an act which symbolized the frustration and desperation of millions in the Arab world.
November 21, 2011 -- Updated 2005 GMT (0405 HKT)

Common factors have shaped the chaos in the Middle East and Europe, including high unemployment, slow growth, inexperienced leaders

Today's five most popular stories