STORY HIGHLIGHTS
Ford chooses to launch compact car at mobile phone event rather than a motor show
B-Max features Ford's latest voice-activated technology
Ford says it wants to work with app developers in shaping its future vehicles
Barcelona, Spain (CNN) -- Not content with revolutionizing smart phones, mobile apps now appear to be in the driving seat of the auto industry as manufacturers increasingly surrender control of their vehicles to technology.
Signs of the increasing dominance of the app came on Monday with Ford's decision to launch its newest B-Max compact at Mobile World Congress -- a phone industry gathering in Barcelona -- rather than a motor show.
Read more: Powerful camera phone unveiled
Bill Ford, the U.S. auto giant's executive chairman, told CNN his company chose the event to debut its tech-filled car as a statement of its intention to work with app developers in shaping the vehicles of the future.
The B-Max is the first car in Europe to feature SYNC, a voice-recognition system developed by Ford and already available in some U.S. cars. The system links audio, phone and GPS systems and will also call emergency services in the event of a crash.
The increasing dependence of vehicles on computers has raised concerns that manufacturers are trading technology for safety, exposing drivers to hazardous distractions and malicious hackers.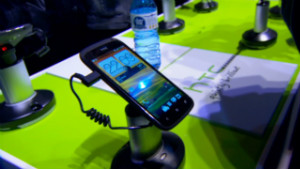 HTC launches new phones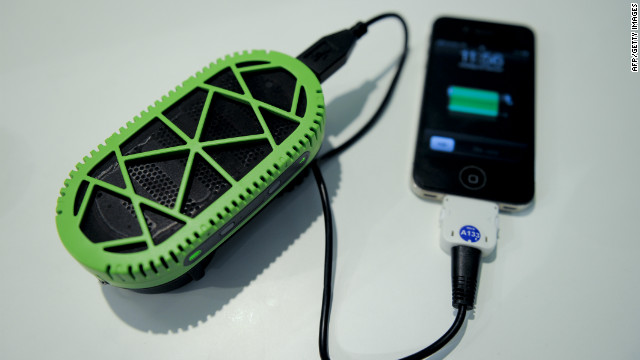 The FC PowerTrekk charger converts water into electricity to power a mobile.
A wireless in-car phone charger created by Duracell and Powermatt .
A man displays a Sony SmartWatch conected to a Sony mobile phone during a presentation at the Mobile World Congress on February 28
The Asus padfone, part phone, part tablet, part laptop, this is the Russian doll of the mobile world.
Fujitsu's speedy quad-core smartphone prototype has a 13.1-megapixel camera on board and is waterproof.
Huawei's MediaPad 10 FHD is a 10-inch tablet boasting super-fast processing speeds.
Samsung smartphones will soon be able to connect with Toyota's In-Vehicle Infotainment (IVI) system
The stylus is back! The Samsung Galaxy Note device has reintroduced the tool for more accurate touch screen control.
Samsung's Galaxy Beam features a built-in image projector
The fastest phone yet? BlackBerry showed off a device that pairs with a Porsche 911
Nokia raised eyebrows with its new PureView smartphone, boasting a 41 Megapixel camera.
Motorola shows off its combined GPS tracking device and MP3 player, which also acts as a workout coach and tracks a user's performance.
People wander through the Android display area. With no official Apple presence at the Mobile World Congress, Android phones dominate.
Demonstrators dressed in curious bobble hats staff a Nokia stand at the Mobile World Congress in Barcelona.
Duracell showcases its Powermat WiCC which can be used to wirelessly charge specially-adapted electronic devices.
The robot symbol of the Android operating system guards a display at the Mobile World Congress in Barcelona.
A hostess holds a LG Optimus Vu, which boasts one of the biggest screens seen on a smartphone.
Taiwanese phone giant HTC launched its new One range, featuring toughened Gorilla glass screens.
Ford's launched its technology-stuffed B-Max car at the Mobile World Congress to tout its hi-tech credentials.
Nokia's Lumia 900 mobile phone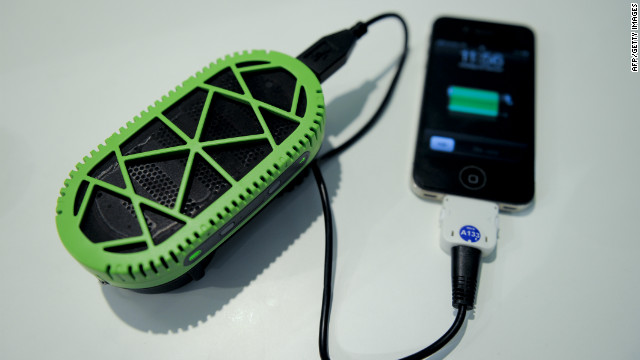 Mobile World Congress
But Ford, the great grandson of Henry Ford, insisted SYNC would "allow drivers to keep their eyes on the road and their hands on the steering wheel," and said his company was working with app makers to further improve security.
"Today, often, drivers are looking down and we know that they're playing with their cell phone and texting and we want to stop all that," he told CNN.
"We want them to be looking at the road with their hands on the wheel, and our tech is allowing them to do that, knowing they also want to be connected."
Ford said his firm's current crop of hi-tech cars were capable of utilizing offboard "cloud computing" to expand their abilities, performing tasks like directing drivers to the nearest coffee shops, checking their health and keeping tabs on their daily diary.
He acknowledged this raised the prospect of potential breaches that could put valuable personal data in the hands of criminals but said the technology was currently being rolled out on an "opt-in, opt-out" basis.
The carmaker said the B-Max would eventually run its AppLink system, which will add control of smartphone apps to voice-operated commands. Among currently available apps are programs that read out Twitter updates and pick and choose radio stations.
More functions will follow as it partners with app developers, the company said in a statement.
"Ford aims to deliver voice-control compatibility with apps for a wide range of services, and is now actively seeking to partner with app developers on future opportunities," it said in a statement.
Ford hopes the B-Max, which goes on sale in Europe later this year, will help expand its current 4 million U.S. SYNC users to 13 million worldwide by 2015. It says the car should appeal to drivers previously priced out of the hi-tech market.
"The all-new B-MAX is going to be a game-changer in the European compact family vehicle segment. No other vehicle in its class offers such an attractive combination of style, versatility and technology," Ford Europe's chairman and CEO Stephen Odell said in a statement.
"We think it will be among the most technologically advanced small cars you can buy at any price."
Barry Neild contributed to this story from London.