STORY HIGHLIGHTS
TechRadar's Gareth Beavis says latest mobile gadgets defy expectations
Hot gadgets include powerful camera phone and faster processors
Beavis says ability to use phone as a wallet to pay for items is exciting development
Editor's note: Gareth Beavis is Mobile Devices Editor for TechRadar.com, reaching over 11 million people each month with news, features and some of the most in-depth reviews on the web. He's been fascinated with mobile technology for longer than he'd like to admit -- but still believes he holds the world record score for Snake on a Nokia 5110.
Barcelona, Spain (CNN) -- This is the fourth time I've covered Mobile World Congress and every year I arrive expecting to be unimpressed, thinking "surely, this year there's nothing new left to show" and every year I leave realizing the pace of change is just accelerating.
This year is no different: from smartphones with specs to rival advanced DLSR cameras to devices that are more powerful than a home PC in your pocket, Mobile World Congress has been impressive once more.
It's easy to talk about the headline devices, such as the Nokia 808 Pureview: a 41 megapixel camera stuffed into a phone. That's right: forty one megapixels in a phone -- imagine saying that just a couple of years ago.
The fact it's running Nokia's older Symbian OS isn't really relevant (although disappointing) because if you're that into the technology you'll be happy with whichever operating system you get -- but it seems similar camera phone tech will be stuffed into Windows Phone devices in the near future too anyway.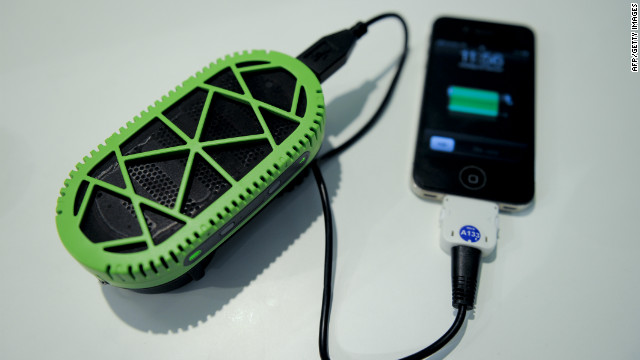 The FC PowerTrekk charger converts water into electricity to power a mobile.
A wireless in-car phone charger created by Duracell and Powermatt .
A man displays a Sony SmartWatch conected to a Sony mobile phone during a presentation at the Mobile World Congress on February 28
The Asus padfone, part phone, part tablet, part laptop, this is the Russian doll of the mobile world.
Fujitsu's speedy quad-core smartphone prototype has a 13.1-megapixel camera on board and is waterproof.
Huawei's MediaPad 10 FHD is a 10-inch tablet boasting super-fast processing speeds.
Samsung smartphones will soon be able to connect with Toyota's In-Vehicle Infotainment (IVI) system
The stylus is back! The Samsung Galaxy Note device has reintroduced the tool for more accurate touch screen control.
Samsung's Galaxy Beam features a built-in image projector
The fastest phone yet? BlackBerry showed off a device that pairs with a Porsche 911
Nokia raised eyebrows with its new PureView smartphone, boasting a 41 Megapixel camera.
Motorola shows off its combined GPS tracking device and MP3 player, which also acts as a workout coach and tracks a user's performance.
People wander through the Android display area. With no official Apple presence at the Mobile World Congress, Android phones dominate.
Demonstrators dressed in curious bobble hats staff a Nokia stand at the Mobile World Congress in Barcelona.
Duracell showcases its Powermat WiCC which can be used to wirelessly charge specially-adapted electronic devices.
The robot symbol of the Android operating system guards a display at the Mobile World Congress in Barcelona.
A hostess holds a LG Optimus Vu, which boasts one of the biggest screens seen on a smartphone.
Taiwanese phone giant HTC launched its new One range, featuring toughened Gorilla glass screens.
Ford's launched its technology-stuffed B-Max car at the Mobile World Congress to tout its hi-tech credentials.
Nokia's Lumia 900 mobile phone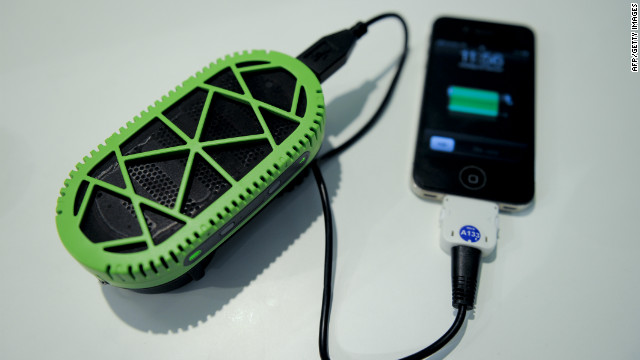 Mobile World Congress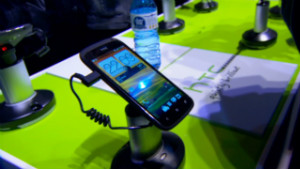 HTC launches new phones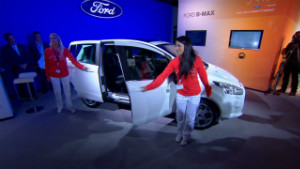 Ford goes high-tech with new vehicles
Another key theme this year has been the battle of the quad core phones: Samsung was noticeable for its lack of press conference, as it's saving its headline device for a standalone event. This means the likes of HTC, LG and new boys Huawei have managed to steal some of the thunder from the top Korean manufacturer, all pushing the boundaries of smartphone speed seemingly beyond breaking point by packing four chipsets into one device.
Read more: How mobiles of the future will get under our skin
But there are several more stories underneath that point the way to an interesting future for the phone in your pocket, beyond today's identikit black touchscreen slabs -- such as Samsung's new Galaxy Beam smartphone, which packs a projector into a device that's just over one centimeter thick.
It might seem pointless, but presentations on the go just became a reality for salespeople the world over, and it's a decent smarpthone to boot.
Then there's the idea of durability -- I've counted more than five companies all stating they're in talks with major manufacturers to not only make your phone shockproof, but make it water repellent as well. That means the days where dropping your phone in the toilet equals instant phone death will soon be over; the water will just roll off and your handset will keep on chugging (although you'll probably want to clean it first).
But to me, the most exciting thing is the way contactless technology is becoming reality: Near field communication has been around for a while in our handsets, but this year we're going to see it finally come to most new handsets and with it a whole host of new opportunities for users and networks alike.
Read more: Jargon-busting mobile industry's buzzwords
You'll start seeing a lot more information around paying for items with your phone soon; a number of retail outlets are upgrading their pay points to accommodate payment simply by tapping your phone on a hotspot, and you'll be able to keep up to date with all your spending through a specific (and secure) app soon.
But it's beyond the cash that gets me excited: touching phones together to exchange business cards will soon be a regular occurrence, or connecting to Wi-Fi routers or Bluetooth speakers with a simple tap of the phone. A number of the top-end manufacturers have confirmed to me that this is the year they'll start integrating such tech in their devices, and that's something that users can really get involved with.
It's left me feeling like there's literally nowhere for mobile phones to go now -- but this time next year, when we're looking at phones capable of projecting 3D holograms with 16 chips and 100 megapixel cameras, I'm sure I'll change my mind!