STORY HIGHLIGHTS
High-intensity tornadoes are rarely on the ground for more than a few miles
A twister that hit West Liberty, Kentucky, stayed on the ground for 95 miles
Two other tornadoes left behind 49-mile paths of destruction
Last week's tornadoes killed 41 people across 10 states
(CNN) -- One tornado stayed on the ground for 95 miles as it tore through towns in Kentucky and West Virginia. Two other twisters left behind 49-mile paths of destruction.
The dynamically charged nature of Friday's atmosphere created an ideal environment for producing long-track, devastating tornadoes, according to the National Weather Service.
Officials from the weather service identified at least 45 separate tornadoes in last week's deadly outbreak across the Midwest and South. The unusually severe storm system affected millions of people in 10 states, officials said.
Neighborhoods were flattened. Schools were in ruins. Dozens died.
Cleanup begins after tornado outbreaks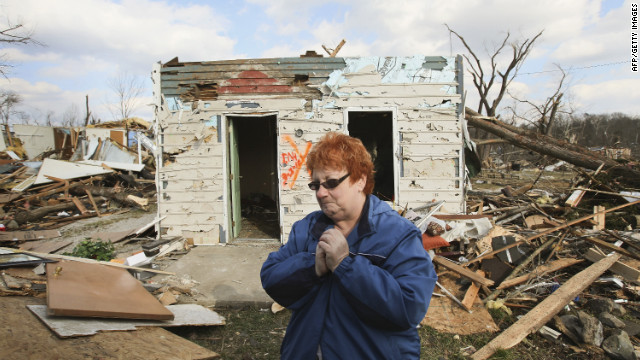 Janet Clark stands in front of her home on Sunday, March 4, where she rode out Friday's EF4 tornado in Henryville, Indiana.
Debris from the violent tornado remains scattered around a Henryville home on Sunday.
Troy Lewis cuts up a tree on Sunday that fell when a tornado passed through Marysville, Indiana.
Harrisburg, Illinois, residents face the daunting challenge of cleaning up after the prowerful storms.
Leah Boylan looks at the damage to her sister's home on Saturday, March 3, after it was destroyed by a tornado in Henryville, Indiana. Dozens of people were killed as severe weather and tornadoes ripped through the South and Midwest on Friday, March 2.
Melody Zollman, left, gets a hug from her sister Michelle Browning as they stand among the remains of Zollman's home in Henryville after it was destroyed by a tornado on Friday.
Zollman hugs her cat Thumbelina after it was pulled from the debris of her home.
Sarah Kutz helps her sister rescue possessions from her home, which was destroyed in the tornado that hit Henryville.
A school bus is lodged in a home in Henryville where it came to rest after being tossed by Friday's tornado.
Cupcakes, baked for a 12-year-old's birthday party, remain on the counter where they were left to cool moments before Friday's tornado destroyed the home.
iReporter Kevin Welz captured this image of the Henryville tornado as it touched down on Friday night.
Steve Smith and J. J. Smith survey the damage to their home following the tornado that struck Henryville.
A family portrait sits among the debris of a Henryville home.
A car and school bus are overturned in the parking lot of a Henryville school.
An overnight storm shredded the roof of a business in Paulding County, Georgia.
High winds during an overnight storm system tore apart a Paulding County home.
A tornado touched down in Madison County, Alabama, on Friday, causing widespread damage. The powerful storm system is moving across the United States, causing tornadoes from Alabama to Indiana and threatening more destruction. In Indiana, at least five deaths were reported.
A tornado in Ooltewah,Tennessee, left this home destroyed on Friday.
Debris is strewn as far as the eye can see in Ooltewah.
Meridianville, Alabama, was hit hard by Friday's storm system.
Tornado-force winds sheered this telephone pole in Madison County, Alabama.
Behind this once welcoming exterior in Madison County lies the ruins of a home struck by Friday's storm.
iRepoterer Blair Scott took this photo of damaged cars at Buckhorn High School in Hunstville, Alabama, after the school was hit by one of Friday's tornadoes.
Keith Huke, right, remained in the bed to his left, escaping with no injuries from the tornado that tore apart his home in Harrisburg, Illinois.
Utility workers try to restore electricity to a tornado-damaged section of Harrisburg on Friday.
Dale Barnfield, left, and his niece Linda Mayberry wait for an insurance adjuster outside Barnfield's tornado-damaged home in Harrisburg.
Harrisburg residents continue to clean up after Thursday's tornado.
A Harrisburg neighborhood lies in ruins Thursday after a tornado tore through the town. A monster storm system killed six people in Harrisburg and left at least seven others dead in two other states.
A truck appears twisted like a toy Thursday in the storm's aftermath in Harrisburg. A tornado with winds up to 180 mph thrashed the southern Illinois town early Wednesday.
Angela Davis, an iReporter from Marion, Illinois, went to Harrisburg after the storm because she said she has friends and family there. "It was kind of surreal," Davis wrote of the destruction. "We saw silos picked up/thrown around, gas pipes from gas stations, a truck wrapped around the tree."
Up to 300 houses were damaged or destroyed in Harrisburg, authorities said. The tornado had a preliminary rating of EF4, the second most powerful on the rating scale, the National Weather Service said.
Steve McDonald inspects what's left of his mother-in-law's house in Harrisburg. His in-law, Mary Osman, was among four women and two men killed in the hard-hit town.
Josh Summers searches for his possessions after the tornado ripped through his Harrisburg neighborhood. The twister appeared to have been on the ground for several miles, a city official said.
The powerful storm leaves cars tossed about among collapsed houses and other debris Wednesday in Harrisburg.
Downed trees crush a truck Wednesday after a tornado hit in Harveyville, Kansas. A state of emergency was declared in the town about 20 miles southwest of Topeka.
Douglas Osman sifts through the wreckage of his grandmother's house Wednesday in Harrisburg. His grandmother, Mary Osman, was one of six people killed in the Illinois town.
Carolyn Osman surveys the wreckage of the tornado that took her mother-in-law's life in Harrisburg, where some 100 people were also injured.
Levi Fogle helps girlfriend Sarah Pearce leave a damaged house in Harrisburg. Fogle, Pearce and her three daughters went unharmed in the storm.
John Bonenberger checks out damage to a Harrisburg strip mall where his business was located.
A house in Harrisburg lies in ruins in the tornado's aftermath.
An old family photo survives the destruction in Buffalo, Missouri.
The storm leaves a car battered in the music resort town of Branson, Missouri, in a photo from iReporter Danny Gassaway.
Aerial photos taken by Air Evac Lifeteam in Stoddard County, Missouri, show the scope of storm damage.
A tornado razed this house and above-ground swimming pool in Stoddard County.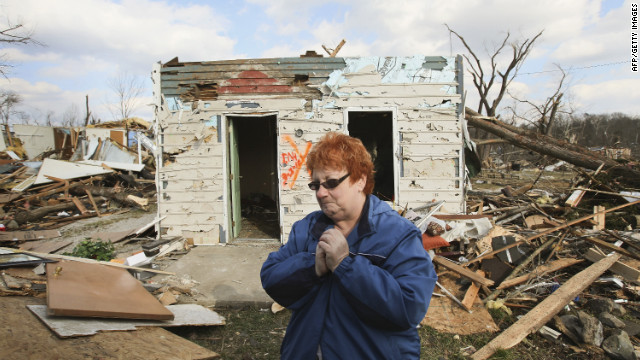 Tornadoes take deadly toll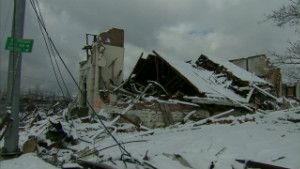 Snow complicates tornado recovery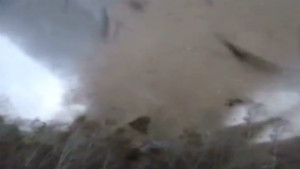 Tornado's power seen from basement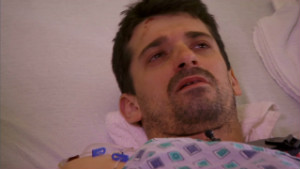 Tornado survivor 'sucked' into air
The strongest tornado appears to be the one that hit Henryville, Indiana, with maximum winds at 175 mph. That tornado stayed on the ground for 49 miles across Washington, Scott, Clark and Jefferson counties in Indiana and Trimble County in Kentucky.
The twister rated EF-4 on the Enhanced Fujita scale, which weather service officials use to measure the intensity of tornadoes and the damage they are likely to cause.
In Henryville, a school bus hurtled into a restaurant.
The walls of Stephanie Decker's home crashed down. As she scrambled to protect her sons, the wreckage broke seven of her ribs and severed both of her legs.
Woman loses legs in tornado while saving kids
Winds scattered Lori Lynch's most treasured possessions. A woman found her high school diploma in Cincinnati -- more than 100 miles away, CNN affiliate WAVE reported.
The EF-3 tornado that struck the small town of West Liberty, Kentucky, packed winds of 140 mph and stuck to the earth for 95 miles -- 60 miles in Kentucky and 35 miles into West Virginia.
The twister left normally tranquil West Liberty looking like "a war zone," Kentucky Gov. Steve Beshear told reporters Sunday.
National Guard troops helped the town comb through debris while authorities investigated storm fatalities.
"In all the years I've been coroner, I've never seen bodies in the condition they're in," said Raymond Van Cleave, the coroner for Morgan County, Kentucky.
Just 20 miles south of West Liberty, another long-track EF-3 tornado swept through Salyersville, Kentucky, packing 160 mph winds. That twister was also on the ground for 49 miles, with a 48-mile track through Kentucky and an additional mile into West Virginia, officials said.
It struck a group of rescuers who were heading to West Liberty, throwing their truck across the street.
"It kept peppering us with debris and rocks and dirt and stuff. It was just something unreal. I'd never been through anything like that," 1st Lt. Tommy Hereford told CNN affiliate WLEX.
Impact Your World: How you can help
The 45 twisters confirmed by the weather service were among 144 reports of tornadoes, which may include multiple reports of the same tornado, in last week's outbreak, which started Friday.
By the time calm returned Saturday, 41 were dead: 23 in Kentucky, 13 in Indiana, three in Ohio, and one each in Alabama and Georgia.
Federal and local officials were still assessing the damage Wednesday.
Less than 1% of the tornadoes that form each year reach EF-4 or EF-5 intensity, and few are on the ground for more than a few miles.
The tornado with the longest recorded path in U.S. history was the Tri-State Tornado of 1925, which was rated an F-5 on the Fujita scale -- the previous model for tornado intensity -- and was on the ground for 219 miles over a 3½-hour period. That twister still stands as the single deadliest tornado, responsible for 695 deaths when it tore through Missouri, Illinois and Indiana.
The Joplin, Missouri, tornado on May 22, 2011, was the deadliest tornado the United States has seen in the last 60 years, with 161 dead.
CNN's Alanne Orjoux and Sandra Endo contributed to this report.