Drivers
Heikki Kovalainen
Vitaly Petrov

Team principal
Tony Fernandes

Constructors' titles
None

Drivers' titles
None

Base
Norfolk, Britain

First year in Formula One
2010 (as Lotus)


(CNN) -- It's been a preseason of change at CNN-sponsored Caterham, with the team being rebranded after competing under the Lotus name for the past two years.
Caterham will want to celebrate this new identity with a breakthrough first point in Formula One, having failed to get off the mark in 38 races so far.
The Britain-based marque has avoided the ignominy of finishing bottom of the constructors' standings, out-performing HRT and Virgin (now known as Marussia) in 2010 and 2011.
A big problem last season was retirements -- nine in total -- but owner Tony Fernandes is hoping for a big progression after moving headquarters and incorporating KERS technology for the first time in the new CT01 vehicle.
Heikki Kovalainen
The Finn is entering his third season with the team and his best result in 37 races has been a 12th place at the 2010 Japanese Grand Prix.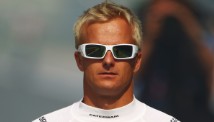 Kovalainen has been in the sport since making his debut with Renault in 2007, and picked up the only race win of his career with McLaren at the 2008 Hungarian Grand Prix.
The 30-year-old finished last season 22nd out of 28 in the drivers' standings, one place behind his Italian teammate Jarno Trulli. His campaign was derailed by five retirements, four of which were mechanical.
Vitaly Petrov
Petrov made his F1 debut with Renault (now known as Lotus after a long-running wrangle with Fernandes over rights to the illustrious name) in 2010, becoming the first Russian to compete in the elite division of motorsport.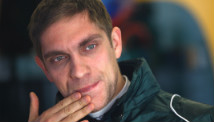 He made a fantastic start to last season, crossing the line third in Australia to grab his first -- and only so far -- podium position.
But the 27-year-old found himself out of favor at the end of the year, exiting as his team opted to pair 2007 world champion Kimi Raikkonen with Romain Grosjean.
Petrov was given another chance in F1 by Fernandes, who decided to release the veteran Trulli after 2012's opening testing session in Jerez.
Results
Australia: Kovalainen DNF, Petrov DNF
Malaysia: Petrov 16th, Kovalainen 18th
China: Petrov 18th, Kovalainen 23rd
Bahrain: Petrov 16th, Kovalainen 17th
Spain: Kovalainen 16th, Petrov 17th
Monaco: Kovalainen 13th, Petrov DNF
Canada: Kovalainen 18th, Petrov 19th
Europe: Petrov 13th, Kovalainen 14th
Britain: Kovalainen 17th, Petrov DNS
Germany: Petrov 16th, Kovalainen 19th
Hungary: Kovalainen 17th, Petrov 19th
Belgium: Petrov 14th, Kovalainen 17th
Italy: Kovalainen 14th, Petrov 15th
Singapore: Kovalainen 15th, Petrov 19th
Japan: Kovalainen 15th, Petrov 17th
Korea: Petrov 16th, Kovalainen 17th
India: Petrov 17th, Kovalainen 18th
Abu Dhabi: Kovalainen 13th, Petrov 16th
Brazil: Petrov 11th, Kovalainen 14th