Drivers
Paul di Resta
Nico Hulkenberg

Team principal
Vijay Mallya

Constructors' titles
None

Drivers' titles
None

Base
Silverstone, Britain

First year in Formula One
2008


(CNN) -- Force India entered the elite division of motorsport when Indian businessman Vijay Mallya and Dutchman Michiel Mol purchased the now-defunct Spyker team in 2007.
Having steadily improved with each season, posting a fourth-place finish at the 2009 Italian Grand Prix, the Britain-based marque will be eying a spot on the podium in 2012.
The 2011 season was the best yet for Force India, finishing sixth in the constructors' standings. Paul di Resta enjoyed an impressive rookie year and Adrian Sutil placed ninth overall despite the uncertainty caused by his court case for assaulting an executive of rival team Lotus Renault in April.
Sutil has since departed the team after being found guilty, receiving a suspended sentence and $262,000 fine.
Paul di Resta
The Scotsman is the cousin of IndyCar legend Dario Franchitti, and showed glimpses of his racing pedigree during an encouraging first F1 season.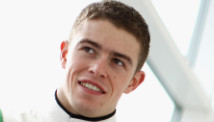 Di Resta's highest finish of the year was sixth in Singapore and he ended the season 13th in the drivers' championship on 27 points.
The 25-year-old is a former Formula Three champion and he will want to prove he can become the Silverstone-based team's top driver.
Nico Hulkenberg
Hulkenberg steps up from his Force India test driver role in 2011 to replace fellow German Sutil.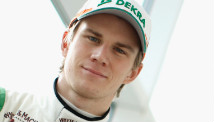 The 24-year-old's last F1 race was the 2010 Abu Dhabi Grand Prix, before he was dropped by Williams despite an impressive rookie season.
The 2009 GP2 series champion finished sixth in Hungary for Williams, his best F1 result to date, and made headlines when he claimed his first and only pole position at the Brazilian Grand Prix, where he placed eighth in the race.
Results
Australia: Di Resta 10th, Hulkenberg DNF
Malaysia: Di Resta 7th, Hulkenberg 9th
China: Di Resta 12th, Hulkenberg 15th
Bahrain: Di Resta 6th, Hulkenberg 12th
Spain: Hulkenberg 10th, Di Resta 14th
Monaco: Di Resta 7th, Hulkenberg 8th
Canada: Di Resta 11th, Hulkenberg 12th
Europe: Hulkenberg 5th, Di Resta 7th
Britain: Hulkenberg 12th, Di Resta DNF
Germany: Hulkenberg 8th, Di Resta 11th
Hungary: Hulkenberg 11th, Di Resta 12th
Belgium: Hulkenberg 4th, Di Resta 10th
Italy: Di Resta 8th, Hulkenberg 21st
Singapore: Di Resta 4th, Hulkenberg 14th
Japan: Hulkenberg 7th, Di Resta 12th
Korea: Hulkenberg 6th, Di Resta 12th
India: Hulkenberg 8th, Di Resta 12th
Abu Dhabi: Di Resta 9th, Hulkenberg DNF
Brazil: Hulkenberg 5th, Di Resta DNF