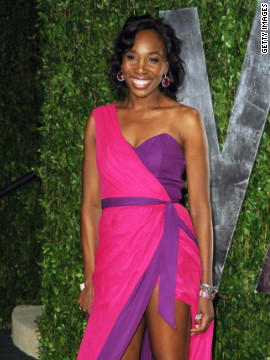 Venus Williams has remained in the public eye despite her health problems, appearing at Vanity Fair's Oscars party in West Hollywood in February.
She began her glittering professional tennis career in 1994, at the tender age of 14.
In 1997, Williams became the first woman since Pam Shriver in 1978 to reach the final of her debut U.S. Open. She lost the showpiece match at Flushing Meadows 6-0 6-4 to Switzerland's Martina Hingis.
Williams won her first grand slam women's doubles title alongside younger sister Serena at the 1999 French Open. Venus claimed two mixed doubles titles in 1998, winning at the Australian Open and Roland Garros with compatriot Justin Gimelstob.
Williams' first grand slam singles title arrived in 2000, when she defeated Hingis after beating Serena in the semifinals. She claimed that year's doubles crown at the All England Club alongside Serena.
It proved to be a landmark year for Williams. She won gold in the women's singles at the 2000 Sydney Olympics, as well as the doubles title with Serena. She then secured her first U.S. Open title by beating compatriot Lindsay Davenport.
Williams retained her U.S. title in 2001 by beating Serena in the first grand slam final to be played between two sisters in the post-1968 Open era.
The Williams sisters met again in the Wimbeldon final of 2008, with Venus trumping her younger sibling once more. It remains the last grand singles won by Venus. The sisters have faced off on 23 occasions, with Serena leading 13-10. She also holds the edge in their grand slam final meetings by 6-2.
Williams has not played on the WTA Tour since pulling out of the U.S. Open in late August 2011, having been diagnosed with Sjogren's syndrome. She did manage to beat Vesna Dolonts in the first round at Flushing Meadows, but withdrew ahead of her second-round clash with Sabine Lisicki.
As part of her bid to return to the WTA Tour, WIlliams played an exhibition match against Serena -- who has overcome health problems of her own -- in Colombia in November. Venus won 6-4 7-6 (7-4).
A bright future?
A prodigious talent
Falling at the final hurdle
Sister, sister
Wimbledon winner
Flying the flag
Sibling rivalry
A family affair
The battle begins
On the comeback trail
STORY HIGHLIGHTS
Venus and Serena Williams have been beset by health issues in recent times
Serena suffered blood clots on her lungs, and Venus has Sjogren's syndrome
Seven-time grand slam winner Venus makes her return to the WTA Tour on Wednesday
The former world No. 1 has not played since pulling out of the U.S. Open in August 2011
(CNN) -- The Williams sisters have not had it easy in recent years. Two of the modern era's most successful women tennis players have been beset by health problems which have deprived the game of two of its most marketable stars.
Serena has overcome life-threatening blood clots on both lungs, while older sibling Venus is this week making her long-awaited WTA Tour comeback as she battles a debilitating illness that has sidelined her since last year's U.S. Open.
After pulling out of her second-round match in New York, Venus revealed she had been diagnosed with Sjogren's syndrome -- an incurable condition which affects energy levels and causes pain in the joints.
"I just didn't feel well before my second-round match, to the point where I couldn't play," the 31-year-old told CNN's Connect the World show.
"At the beginning of the tournament, I wasn't sure how far I would get or what I would do, I was kind of living on a hope and a dream."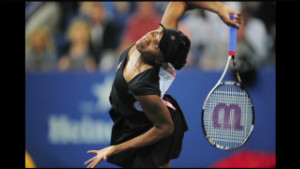 Venus Williams set for comeback
After a glittering 18-year professional career which has seen her become the first black woman to be ranked world No. 1 in the Open era, winning seven grand slam singles titles and 12 major doubles crowns alongside Serena, Williams would have been forgiven for deciding to chuck in the towel.
But, instead of eying an early retirement, the winner of three Olympic gold medals set her sights on managing her illness and returning to the baseline ahead of this year's London Games.
"When you don't feel well and things are taken away from you, it's hard to stay positive," the former world No. 1 said. "But, for me, it is not an option to get negative or to feel sorry for myself.
"It's easy to say, 'I've done enough' -- or it would be easy to go on a permanent vacation. But I need to look back and know that I gave everything.
"I know I still have so much more. Before I was sick I was on top of the world in singles and doubles. So that's my goal, to return to that."
When you don't feel well and things are taken away from you, it's hard to stay positive
Venus Williams
Williams has played just one Fed Cup doubles rubber for the U.S. team and an exhibition match against Serena since withdrawing in New York on August 31, and she will make her return as a wildcard at the Miami Masters this week -- an event she has won on three occasions.
"I'm looking forward to coming back," she said. "Sjogren's syndrome definitely changed my life, it changed everything. It changed how I eat, it changed my whole life."
Learning to manage her condition has given Williams hope of returning to her imperious best. By managing her diet, she is aiming to one day play unaffected by the syndrome's debilitating symptoms.
"I don't think the road will be perfect, but I think I can get it as close to perfect as possible," she said.
"My hope is to be symptom-free one day. I work with my doctors on that, but also I work on my diet, which I've found has been huge. With Sjogren's you deal with a lot of fatigue and joint pain and inflammation.
"It's because of the things I'm eating. I've started eating raw, vegan, unprocessed foods, doing lots of juicing, I juice twice a day. I drink wheatgrass. For me, it's worth doing everything I can to get back to what I love doing."
Another motivator for Williams is the prospect of challenging for a fourth Olympic gold medal in London, where the tennis tournament will be held at Wimbledon.
Williams has enjoyed huge success at the All England Club in the past, having won five singles titles and four doubles crowns at the prestigious grass-court venue.
"For me, the Olympics have been the pinnacle of my career -- this will be my fourth," she said.
"Serena and I talk about playing in every Olympics possible, we keep saying how we're going to be take spots on the team forever!
"It is our dream, it is beyond our dreams. To participate would be great, to win something would be amazing."