Blatter - Muamba recovery a miracle
March 22, 2012 -- Updated 1708 GMT (0108 HKT)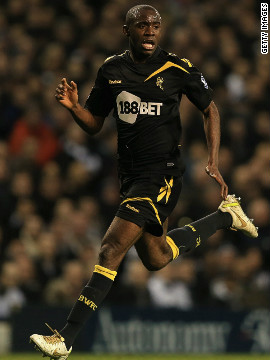 Doctors have described Fabrice Muamba's progress since his cardiac arrest during a match on Saturday as "miraculous." The Bolton star's heart stopped beating for 78 minutes after his collapse but now he is talking and joking with visitors.
Barcelona's Lionel Messi wore a t-shirt with a message of support for Muamba before Wednesday's game with Granada, in which the Argentina striker scored a hat-trick and became the club's leading goalscorer of all time.
Bolton announced Thursday they will fulfill their Premier League fixture with local rivals Blackburn on Saturday after postponing the midweek clash with Aston Villa. Before Blackburn's win over Sunderland on Wednesday their players offered messages of support for Muamba.
Bolton Wanderers fans have left flowers and scarves outside the English club's Reebok Stadium in support of Muamba, while most of the playing squad have been to visit him in the London Chest Hospital.
Muamba's former teammate Gary Cahill, who left Bolton to join Chelsea in January, revealed a t-shirt honoring his ex-colleague after scoring against Leicester City on Sunday.
Tributes were paid to Muamba from across the footballing world. Real Madrid's players took to the pitch before last Sunday's Spanish league match with Malaga wearing shirts displaying a message of support for the midfielder.
Fans at Liverpool's FA Cup quarterfinal against Stoke City send their best wishes to Muamba. Supporters also chanted his name at various points during Sunday's Anfield match.
Bolton manager Owen Coyle (left) and chairman Phil Gartside outside the London Chest Hospital where Muamba is being treated.
'Miraculous' Muamba
Messi wishes Muamba well
Bolton to face Blackburn
Fans pay tribute
Ex-teammate honors Muamba
International support
Best wishes
Bolton's concern
STORY HIGHLIGHTS
FIFA president Sepp Blatter has called Fabrice Muamba's recovery 'a miracle'
Blatter revealed he has spoken to Bolton chairman Phil Gartside about Muamba
Muamba continues to make good progress after suffering a cardiac arrest on Saturday
(CNN) -- Sepp Blatter, president of football's world governing body FIFA, has described Bolton midfielder Fabrice Muamba's recovery from a cardiac arrest as "a miracle".
Muamba collapsed during Bolton's FA Cup match at Tottenham on Saturday, with his heart stopping for 78 minutes before he was revived by medical staff at the London Chest Hospital.
And Blatter, speaking at a UEFA congress in Istanbul, Turkey, has revealed he has also spoken to Bolton chairman Phil Gartside following Muamba's collapse.
Blatter said: "It's a miracle. When I saw it on the television, it was terrible. I had a phonecall from Phil Gartside, the chairman of Bolton, and I have to say it was a very emotional call.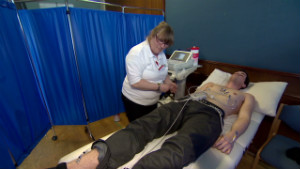 Athletes screened for heart problems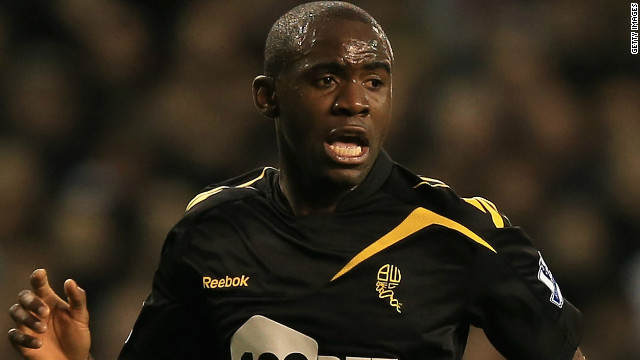 Fabrice Muamba collapsed during an English soccer match between his club Bolton and Tottenham on Saturday, and is in the intensive care unit of a London heart hospital.
While Muamba made it to the hospital alive, Cameroon's Marc-Vivien Foe could not be revived after falling to the pitch during a Confederations Cup semifinal against Colombia in 2003.
Spanish football has been hit by two such tragedies in recent times. In August 2009, Espanyol skipper Daniel Jarque died after suffering a heart attack while at a preseason training camp in Italy.
Two years earlier, Sevilla's Antonio Puerta died in hospital after suffering a heart attack during a Spanish league match against Getafe. The prolonged cardiac arrest damaged his organs and led to a lack of oxygen to the brain.
In 2002, St. Louis Cardinals baseball pitcher Darryl Kile was found dead in his hotel bed, having failed to turn up for pregame warm-ups following a heart attack.
Basketball lost Reggie Lewis in 1993 when the Boston Celtics' NBA All-Star dropped dead on the court in an offseason practice match at the age of 27. He was diagnosed with hypertrophic cardiomyopathy -- one of the most common heart conditions.
Another former NBA star, Arvydas Sabonis, survived a heart attack while in a game in his native Lithuania in 2011 at the age of 46.
In the NFL, former Tampa Bay and Chicago Bears defensive end Gaines Adams was found dead at home in 2010, with the coroner ruling it was due to cardiomyopathy.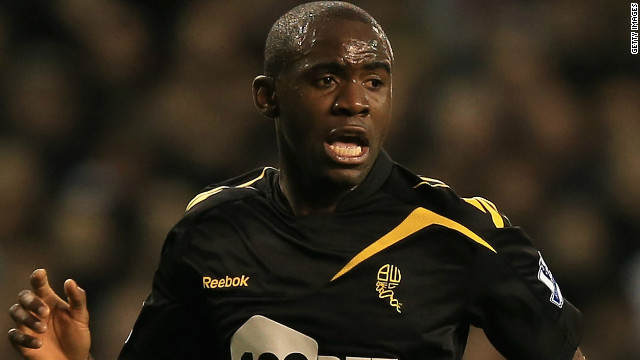 Sports stars with heart problems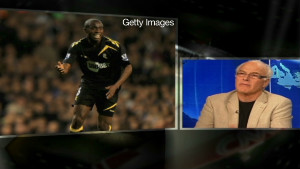 Muamba's cardiac arrest preventable?
"He spoke about a miracle and I spoke about a miracle. I am a deeply faithful man, a religious man, and I believe there is something more than just playing the game. There is somebody who looks after us," continued Blatter.
Blatter was present when Cameroon's Marc-Vivien Foe collapsed and died during a Confederations Cup match in France in 2003, and accompanied the player's body back to his homeland.
And, following Foe's death, Blatter was instrumental in urging clubs to regularly carry out cardiac screenings for all their players.
Blatter added: "Muamba had a heart screening last year and it should be done for everyone, in repetition, but especially for those in competition in football or other sports."
Muamba, 23, remains in intensive care but is showing improvement day by day and has been able to speak to visiting family and friends.
And Dr Sam Mohiddin, the consultant cardiologist treating Muamba, told reporters: "Fabrice continues to demonstrate positive signs of recovery and has exceeded our expectations and hopes."

Part of complete coverage on
April 16, 2012 -- Updated 1721 GMT (0121 HKT)

Fabrice Muamba, the Bolton Wanderers midfielder who suffered a near-fatal cardiac arrest on the pitch last month, has left hospital.
March 30, 2012 -- Updated 2026 GMT (0426 HKT)

Bolton midfielder Fabrice Muamba has been pictured for the first time since collapsing on the pitch with a cardiac arrrest.
March 22, 2012 -- Updated 2207 GMT (0607 HKT)

Bolton midfielder Fabrice Muamba did not respond to 15 defibrillator shocks and was in effect dead for 78 minutes before his heart started beating again, doctors say.
March 20, 2012 -- Updated 0948 GMT (1748 HKT)

Professor WIlliam McKenna and former professional player Mitchel Cole talk about heart conditions and Fabrice Muamba's collapsing mid-game.
March 19, 2012 -- Updated 1727 GMT (0127 HKT)

The collapse of an English Premier League player raises questions about how such highly-trained athletes can be struck down in such a manner.
March 20, 2012 -- Updated 0958 GMT (1758 HKT)

Fabrice Muamba's cardiac arrest during a soccer match on Saturday convinced former pro Mitchell Cole he was right to quit the game for fear of suffering a heart attack on the pitch.
March 19, 2012 -- Updated 1807 GMT (0207 HKT)

A 23-year-old English Premier League soccer player was in intensive care after suffering cardiac arrest during a game, his club said.
March 19, 2012 -- Updated 1113 GMT (1913 HKT)

Fabrice Muamba, who collapsed during a game Saturday, may never return to professional football, according to a London heart specialist.
March 19, 2012 -- Updated 0906 GMT (1706 HKT)

Cardiologist Dr. Chandan Devireddy explains the precautions teams can take when screening their players.
March 18, 2012 -- Updated 1036 GMT (1836 HKT)

World Sport reporter Zayn Nabbi describes the scene inside the stadium as paramedics tried to revive Fabrice Muamba.
March 18, 2012 -- Updated 0023 GMT (0823 HKT)

Fabrice Muamba's fellow footballers rallied around the Bolton player after he was admitted to hospital following a possible heart attack during a match on Saturday.

Today's five most popular stories