Top Five picks for Imperial Beijing
March 23, 2012 -- Updated 1223 GMT (2023 HKT)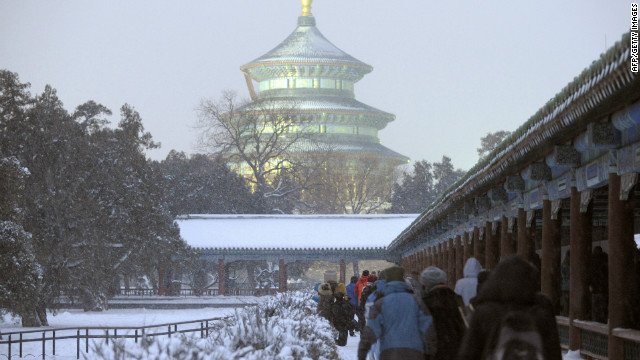 Though it is growing and changing all the time, Beijing's imperial history is still visible today.
Sacrifices were made at the Temple of Heaven -- now a UNESCO World Heritage Site -- for almost 500 years, until the practice was banned at the beginning of the 20th century.
One of the city's most popular tourist destinations is the awe-inspiring Forbidden City, an opulent gilded cage that was once the seat of power for the Ming and Qing dynasties.
The Juanqin Studio, one of the most luxurious buildings in the Forbidden City, was built for Qing Emperor Qianlong (1711-1799).
The summer residence for the imperial court was the Summer Palace, which features a lake, park, temples and palaces.
Visitors are seen walking through the ruins of Haiyan Hall in the old imperial Summer Palace on the outskirts of Beijing.
A statue at the Confucius Temple in Beijing, named for the Chinese philosopher Confucius.
Dating as far back as the days of Khubilai Khan, Beijing's Ancient Observatory (pictured here in an 18th-century engraving) still stands and features astronomical instruments on its roof.
Beijing's Imperial Grandeur
Beijing's Imperial Grandeur
Beijing's Imperial Grandeur
Beijing's Imperial Grandeur
Beijing's Imperial Grandeur
Beijing's Imperial Grandeur
Beijing's Imperial Grandeur
STORY HIGHLIGHTS
Beijing may be a bustling modern metropolis but it is steeped in hundreds of years of history
CNN World's Treasures selects five top sites for travelers eager to sample the city's imperial past
Highlights include the Forbidden City, the Summer Palace and the Temple of Heaven
(CNN) -- With its heaving highways, glittering skyscrapers, contemporary art and design spaces, and countless new developments, Beijing is a thoroughly modern city.
But beyond its contemporary facade are the remnants of hundreds of years of traditional history.
Home to numerous ruling dynasties, Beijing is famed for its Forbidden City, a majestic court surrounded by high walls, once all but impossible to enter, which can now be visited by locals and tourists alike.
Palaces temples and observatories dot the city, usually set in parks providing respite from the hustle and bustle.
CNN's World's Treasures offers its top five picks of Beijing's traditional sites, from palaces laden with jaw-dropping artifacts to tranquil sculpted gardens that will -- almost -- make you forget you're in a buzzing modern metropolis.
The Forbidden City
Built in the early 15th century, this gilded fortress was the seat of power during the Ming and Qing dynasties. With its breathtaking art and furniture and its sheer scale, the Forbidden City is a must on any Beijing travel itinerary. Visitors can easily lose themselves for hours admiring its opulence, sheltered from the outside world by high walls.
Secret Garden of Beijing's Forbidden City garden revealed
The Summer Palace
Set in a landscaped park, the imperial court's summer residence is now a beautiful resting spot for the city-weary. Pavilions, temples and palaces make up the stunning vista, but perhaps the most memorable feature is a marble boat commissioned by the Empress Dowager Cixi. It also boasts the 900-meter Long Gallery -- home to paintings of mythological scenes -- and a lake on which you can row boats in summer and ice skate in winter.
The Temple of Heaven
The Temple of Heaven, located in Beijing's Tiantan Park, was built in the 15th century during the Ming period and is admired for its complex architecture that symbolizes the meeting between heaven and earth, with the Emperor believed to have been the link between the two. The Temple was where sacrifices were offered to heaven and earth, and these were carried out for nearly 500 years before being banned at the beginning of the 20th century.
Ancient Observatory
The history of this observatory stretches all the way back to the days of Khubilai Khan, grandson of the feared Mongolian warlord Genghis. It is set in a tranquil park, features eight Ming dynasty astronomical instruments on its roof, and is attached to a small museum.
Khubilai Khan's riches travel to New York
Confucian Temple
Completed in 1306, during the Yuan dynasty, the Confucian Temple was both a place of learning and where emperors offered sacrifices to the philosopher Confucius up until the beginning of the 20th century. Carvings, commemorative stone tablets and numerous statues of wise men make this a quiet pit-stop, perfect for a spot of contemplation.

Today's five most popular stories
March 30, 2012 -- Updated 1105 GMT (1905 HKT)

Viewing Bruegel's The Way to Calvary, director Lech Majewski says, is like watching a film unfold -- so he's brought the work to the big screen.
March 30, 2012 -- Updated 1502 GMT (2302 HKT)

A study for Paul Cezanne's master work "The Card Players," missing for decades, has been rediscovered in a Texas art collection.
March 23, 2012 -- Updated 1124 GMT (1924 HKT)

A painting dismissed for years as the work of an unknown artist has been identified as a piece by Vincent Van Gogh, after x-ray tests.
March 14, 2012 -- Updated 0846 GMT (1646 HKT)

A Leonardo da Vinci mural unseen since the 16th century may have been found hidden behind a Florentine fresco painted by another artist.
March 12, 2012 -- Updated 1249 GMT (2049 HKT)

The American wing at New York's Metropolitan Museum of Art re-opens to the public following a decade-long renovation program.
March 2, 2012 -- Updated 1131 GMT (1931 HKT)

The world-famous Ghent Altarpiece, completed in 1432, can now be viewed on a specially-designed, open source website.
February 24, 2012 -- Updated 0141 GMT (0941 HKT)

With its palaces, sculpted parks, concert halls and museums, Vienna is a city steeped in culture. Take a tour with CNN World's Treasures.
February 23, 2012 -- Updated 1348 GMT (2148 HKT)

One of the world's most iconic works of art will go under the hammer in May, and could sell for tens of millions of dollars at auction in New York.
February 16, 2012 -- Updated 1839 GMT (0239 HKT)

Heavy snow has already wreaked havoc across Europe, now it is damaging some of its most recognized historic monuments.
February 13, 2012 -- Updated 1734 GMT (0134 HKT)

Join World's Treasures for a tour through Charles Dickens' London to celebrate the bicentenary of the celebrated British author's birth.