Tennis rivals Nadal and Djokovic aim to break world record
April 11, 2012 -- Updated 1726 GMT (0126 HKT)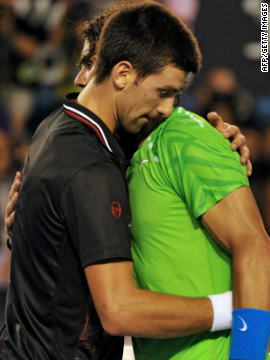 Rivals Novak Djokovic and Rafael Nadal embrace during the final of the Australian Open in Melbourne on January 30 this year. The match was the longest in grand slam history at five hours and 53 minutes. Djokovic won 5-7 6-4 6-2 6-7 7-5.
The tennis stars' first grand slam final battle came at the 2010 U.S. Open. Nadal took the title 6-4 5-7 6-4 6-2.
The pair first met at the 2006 French Open quarterfinals. Nadal won when Djokovic retired with an injury. The Spaniard won the tournament for the second of six times overall.
Djokovic plays up to the cameras after winning his first Wimbledon in 2011, beating Nadal 6-4 6-1 1-6 6-3 in a final lasting two hours, 28 minutes.
The pitch at Real Madrid's Santiago Bernabeu Stadium will be transformed into a tennis court for the Nadal and Djokovic match on July 14. It is hoped more than 80,000 fans will attend, making it the biggest one-off tennis match in history.
Record-breaking rivals
Nadal nabs first grand slam battle
Djokovic bowled over
Great on grass
Football pitch turns tennis court
STORY HIGHLIGHTS
Rafael Nadal and Novak Djokovic hope to break the record for the largest crowd
They aim to draw 80,000 fans -- the previous record of 35,681 set in 2010
Pitch at Real Madrid's Bernabeu Stadium in Spain to be transformed into tennis court
World No. 1 Djokovic has recently dominated against Real Madrid fan Nadal
(CNN) -- They already have the record for the longest final in grand slam history, and now tennis rivals Rafael Nadal and Novak Djokovic are preparing to make history again in an ambitious bid to attract the biggest crowd.
The world's top-ranked players will go head-to-head in a special match for charity at Real Madrid's Bernabeu Stadium on July 14.
No. 1 Djokovic and his predecessor Nadal hope to draw 80,000 fans -- which would smash the previous record set by two of the sport's top women players.
The Spanish football club's pitch will be transformed into a tennis court, with the event taking place in the gap between between Wimbledon and the London Olympics.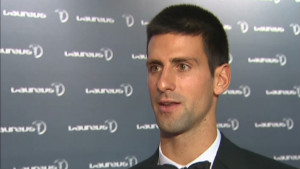 Novak Djokovic: Sportsman of the year
The showdown is the result of a partnership between two charities, the Real Madrid Foundation and the Rafa Nadal Foundation, and aims to raise money for disadvantaged children.
Djokovic and Spaniard Nadal made history at the Australian Open in January, when the Serb won his fifth grand slam title in a five-set epic lasting almost six hours.
Now they hope to shatter the record for the largest turnout at an exhibition match -- set in July 2010 when 35,681 people watched Kim Clijsters beat fellow former world No. 1 Serena Williams in Brussels.
Nadal, a Real Madrid supporter who tries to attend as many matches as possible, said he was thrilled to be taking part in the historic event.
"Back to practicing, very happy because the Rafa Nadal Foundation's event has been confirmed at Bernabeu!" he announced on his Facebook page.
Nadal still leads 16-14 in career clashes with Djokovic, despite losing the last seven of their finals meetings.