Egyptian lawmakers vote to bar Mubarak officials' presidential bids
April 13, 2012 -- Updated 0233 GMT (1033 HKT)
STORY HIGHLIGHTS
If approved, the measure would mean Egypt's former spy chief can't run in upcoming elections
The nation's constitutional court will have the final say
Omar Suleiman's candidacy has sparked controversy
He originally said he wouldn't run, but did an about-face last week
Cairo (CNN) -- Egypt's Parliament unanimously passed a bill Thursday that aims to ban former members of ousted leader Hosni Mubarak's regime from running for president for 10 years.
If approved, the measure would mean that one of the most controversial contenders in the nation's upcoming presidential election would be ineligible.
The nation's constitutional court will have the final say.
Ex-spy chief Omar Suleiman is among the candidates vying for the presidency in two-day elections that start May 23.
Suleiman entered the race just hours before the Sunday deadline, said Hatem Bjato, who heads the nation's election committee.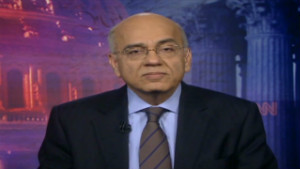 Egypt's IMF loan in jeopardy?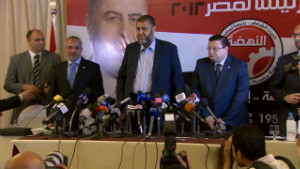 Muslim Brotherhood unveils candidate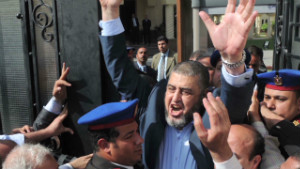 Egypt: Muslim Brotherhood president?
Suleiman, who also served as vice president under Mubarak, had initially said he would not seek the presidency. But on Friday, he did an about-face, saying he felt obliged to supporters.
His candidacy has sparked controversy.
The Muslim Brotherhood has called for a "million-man" protest in Tahrir Square on Friday against the nomination of former members of Mubarak's regime, including Suleiman and Ahmed Shafiq, the former prime minister.
The Islamic group has nominated Khairat el-Shater, a multimillionaire businessman who spent 12 years behind bars under Mubarak's rule, as their No. 1 choice. Earlier this week, el-Shater lashed out at Suleiman's eleventh-hour entry into the race.
"We are not against the concept of anyone running as long as he has the right legal status, but it's unacceptable to have one of the symbols of Mubarak's regime run for president," el-Shater said. "The majority of Egyptians will not accept him. His candidacy is an insult to the revolution."
El-Shater himself is awaiting a court decision regarding his eligibility to run after a pardon granted by the ruling Supreme Council of the Armed Forces was challenged in court.
The bill lawmakers approved Thursday specifies that the former president, vice president, prime minister, vice prime minister and head of the now-dissolved National Democratic Party cannot run.
Next month's vote will be the nation's first presidential election since Mubarak's ouster in February 2011.
Twenty-three candidates are vying for the presidency. The historic vote comes amid rising political tensions as officials work to craft the nation's new constitution and Egyptians await the verdict in Mubarak's murder trial, which is scheduled for June 2.

Today's five most popular stories
Part of complete coverage on
April 12, 2012 -- Updated 0052 GMT (0852 HKT)

Egypt's administrative court has suspended the country's 100-member constitutional assembly. What does that say about the country's progress toward political reform?
April 11, 2012 -- Updated 1727 GMT (0127 HKT)

On February 1, riots at a football match in Port Said plunged Egypt into mourning and despair -- the future of one of African soccer's traditional powerhouses seemed bleak.
February 2, 2012 -- Updated 1046 GMT (1846 HKT)

Political tensions flare after more than 70 people die and hundreds are injured when fans riot at a soccer match in the Egyptian city of Port Said.
February 4, 2012 -- Updated 1511 GMT (2311 HKT)

The scenes in Port Said will leave an indelible mark on post-revolution Egypt because soccer matters more here than anywhere, argues James Montague.

An Egyptian photographer found himself in the middle of the Arab Spring. Months after the demonstrations died down, he returned to document what had changed.
January 25, 2012 -- Updated 1948 GMT (0348 HKT)

The protests in Egypt that toppled Hosni Mubarak began one year ago today. But some are asking now: What's the difference?
January 25, 2012 -- Updated 1945 GMT (0345 HKT)

It's been a year since the mass protests started in Egypt but one author says the seeds of revolution were sown years ago.
January 25, 2012 -- Updated 1319 GMT (2119 HKT)

Many Egyptians wonder if the revolution amounted to nothing more than a military coup, writes Aladdin Elaasar, a former professor and author.
January 22, 2012 -- Updated 1214 GMT (2014 HKT)

Egypt's first democratically elected parliament is to meet Monday - but that is not the end of the country's revolution.
January 23, 2012 -- Updated 2130 GMT (0530 HKT)

A look at some of the moments from the first 18 days of upheaval in Egypt that culminated in political change.