STORY HIGHLIGHTS
North Korean state media say the launch failed to put satellite in orbit
Assembled media, including CNN, were not told of the launch
North Koreans eventually admitted the rocket had failed to go into orbit
This is a rare admission of failure from the secretive regime
Pyongyang, North Korea (CNN) -- It finally happened. North Korea launched its rocket early Friday -- for about a minute at least.
But we were the last to know. The assembled Western media were not told about the launch. There was no indication it was taking place.
Then word started spreading that South Korean media were reporting that the launch had taken place but failed, the rocket falling into the sea shortly after takeoff.
We made our way to the international press center and informed our North Korean minders of the rumors. But they denied any knowledge of the launch, frustrating our attempts to get any kind of official confirmation.
"We just don't know anything," CNN's Stan Grant reported. "We're still very much in a black hole here. We're standing inside the media center, a crush of the world's cameras just waiting to hear what exactly the North Koreans are going to say.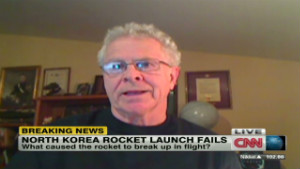 What went wrong with the rocket?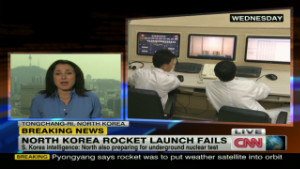 North Korea's next nuclear move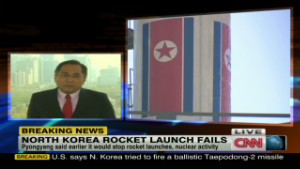 China indecisive on North Korea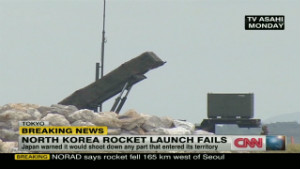 Japan breathes sigh of relief
"They brought is here precisely for this point: They wanted to be able to show this off. They wanted this to be the pinnacle of the celebrations marking the 100th anniversary of the birth of the country's founding father, Kim Il-Sung. Now they're facing this huge embarrassment.
"We were supposed to see images of this launch. We didn't see that. We didn't even hear about it until after the event. They haven't made any confirmation. We're still waiting.
"I'm looking right now at an empty chair with a lot of microphones in front of it, and that's where the official was meant to be sitting. There's no sign of him."
North Korea in rare admission of failure
Eventually the news came out from the Korean Central News Agency (KCNA) and North Korean TV -- a short announcement that the rocket had failed to go into orbit and that the nation's scientists were looking into the reasons why.
"The DPRK launched its first application satellite Kwangmyongsong-3 at the Sohae Satellite Launching Station in Cholsan County, North Phyongan Province at 07:38:55 a.m. on Friday," the report said.
"The earth observation satellite failed to enter its preset orbit. Scientists, technicians and experts are now looking into the cause of the failure."
This is a considerable departure for Pyongyang, as it's the first time that they have admitted a satellite launch has failed. It claimed similar rocket launches in 2006 and 2009 were successes, despite assessments to the contrary from South Korea and the United States.
Both countries saw today's launch as a cover for a ballistic missile test -- a claim North Korea has always refuted.
The North Koreans gambled with this launch and it has failed miserably. Now the race is on to find debris from the rocket, with South Korean military helicopters already dispatched, according to media reports.
It will also be fascinating to see what the regime, with a new leader at the helm, will do next. A recent South Korean intelligence report suggested the North is planning a new nuclear test in the area where it staged previous atomic blasts.
The report noted that the two previous rocket launches that Pyongyang said were intended to put satellites into orbit were followed a few weeks or months later by nuclear tests.
CNN's Paul Armstrong contributed to this report.