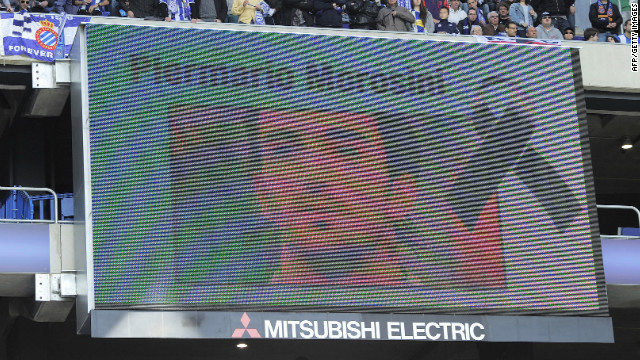 Piermario Morosini's face is projected on the big screen before Sunday's La Liga game between Espanyol and Valencia. The Spanish teams observed a minute's silence in memory of the Italian midfielder, who died after a suspected heart attack on Saturday April 14.
One of the last photos taken of Morosini before his collapse on the pitch during an Italian second division match against Pescara on Saturday.
Emergency teams rush onto the pitch to treat Morosoni after his shock collapse. A defibrillator was used before an ambulance took the 25-year-old to Pescara's Santo Spirito hospital. Doctors tried unsuccessfully to revive him for 30 minutes.
Last weekend's football fixtures in Italy were called off following Morosini's death. AC Milan defender Alessandro Nesta, left, acknowledeges the crowd after Saturday's Serie A match against Genoa was canceled.
Canadian football fans held a period of silence for Morosini before Toronto FC hosted Chivas USA at BMO Field on Saturday.
Manchester United and Aston Villa players bow their heads in silence during a one-minute tribute to Morosini before Sunday's English Premier League match at Old Trafford.
Teams across Britain held a one-minute silence for Morosini and the 23rd anniversary of the Hillsborough disaster. Tottenham Hotspur and Chelsea players paid tribute to the 96 people who died in the fatal crush during a match between Liverpool and Nottingham Forest on April 15, 1989.
Bernardo Corradi, a former teammate of Morosini's at Udinese, dedicated his goal for MLS team Montreal against FC Dallas on Saturday to the ex-Italy under-21 international.
Morosini lost both his parents as an 18-year-old, and his disabled brother committed suicide shortly after.
Football world in shock
Tragic last pictures
Medics race against time
Football stops in Italy
Morosini honored around the world
Britain pays tribute
Hillsborough remembered
This is for you Piermario
Brave boy who overcame tragedy
STORY HIGHLIGHTS
Tributes to Italian footballer Piermario Morosini
Minute's silence observed before matches across the globe
Morosini collapsed during a Serie B game Saturday and died later
The 25-year-old was playing for Livorno on loan from Udinese
(CNN) -- The world of sport has paid its tributes to Livorno midfielder Piermario Morosini, who died Saturday after collapsing on the pitch during his side's Serie B game at Pescara.
The entire Italian football program this weekend was canceled and a minute's silence was observed at major league games around the world in his honor.
A similar tribute was also paid before the start of Sunday's Milan marathon.
Tennis player Sara Errani dedicated her victory in the Barcelona Open final to Morosini. "This tournament is for him," Errani told the WTA official website.
"It has been very hard. The images have impacted me a lot. It's amazing that these things can happen. It really makes you think."
Thousands of fans have gathered outside Livorno's Armando Picchi stadium to pay their respects, leaving flowers and scarves.
"You fought until the end, goodbye great Moro," read a banner outside the stadium.
Morosini dies after collapsing in Serie B game
"The family, the girlfriend of Piermario and AS Livorno Calcio wants to thank all of the people that in this time of pain have remembered a great athlete and a special person," read a statement on the club's official website.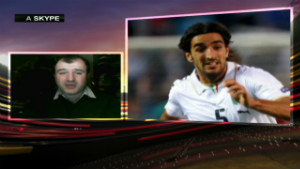 Morosini: 'A nation in shock'
The two main Italian sports papers La Gazzetta dello Sport and Corriere dello Sport had the same headline in their Sunday editions.
"Death on the pitch, football stops."
Udinese, who had loaned out Morosini to the second-flight club, pledged to help Morosini's disabled sister.
"We are profoundly in pain for the premature death of Piermario Morosini," read a statement on the club's official website.
"Through our non-profit organisation, 'Udinese for life', we will guarantee assistance to the sister of the unfortunate player, who has now been left on her own. "
The 25-year-old Morosini has been at Udinese since 2005, being loaned out to Bologna, then Reggina, Padova, Vicenza and finally Livorno.
He made 18 appearances for Italy's under-21s.
But his family life had been blighted by tragedy and he lost both his parents before his 18th birthday.
His disabled brother later committed suicide to leave him alone with his handicapped elder sister.
Pescara's authorities have announced that they will launch an inquiry into Morosini's death.
It has emerged that a parked car belonging to traffic police had initially blocked the ambulance's path into the stadium.