Club launches fund to care for disabled sister of dead Italian soccer player
April 16, 2012 -- Updated 1443 GMT (2243 HKT)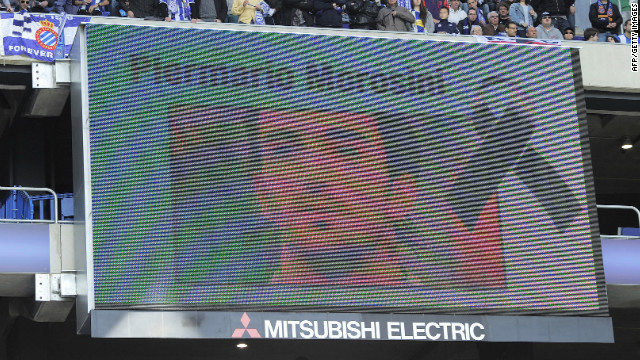 Piermario Morosini's face is projected on the big screen before Sunday's La Liga game between Espanyol and Valencia. The Spanish teams observed a minute's silence in memory of the Italian midfielder, who died after a suspected heart attack on Saturday April 14.
One of the last photos taken of Morosini before his collapse on the pitch during an Italian second division match against Pescara on Saturday.
Emergency teams rush onto the pitch to treat Morosoni after his shock collapse. A defibrillator was used before an ambulance took the 25-year-old to Pescara's Santo Spirito hospital. Doctors tried unsuccessfully to revive him for 30 minutes.
Last weekend's football fixtures in Italy were called off following Morosini's death. AC Milan defender Alessandro Nesta, left, acknowledeges the crowd after Saturday's Serie A match against Genoa was canceled.
Canadian football fans held a period of silence for Morosini before Toronto FC hosted Chivas USA at BMO Field on Saturday.
Manchester United and Aston Villa players bow their heads in silence during a one-minute tribute to Morosini before Sunday's English Premier League match at Old Trafford.
Teams across Britain held a one-minute silence for Morosini and the 23rd anniversary of the Hillsborough disaster. Tottenham Hotspur and Chelsea players paid tribute to the 96 people who died in the fatal crush during a match between Liverpool and Nottingham Forest on April 15, 1989.
Bernardo Corradi, a former teammate of Morosini's at Udinese, dedicated his goal for MLS team Montreal against FC Dallas on Saturday to the ex-Italy under-21 international.
Morosini lost both his parents as an 18-year-old, and his disabled brother committed suicide shortly after.
Football world in shock
Tragic last pictures
Medics race against time
Football stops in Italy
Morosini honored around the world
Britain pays tribute
Hillsborough remembered
This is for you Piermario
Brave boy who overcame tragedy
STORY HIGHLIGHTS
Piermario Morosini collapsed and died during game on Saturday
Morosini's parents and brother died when he was in his teens
Udinese sets up fundraising initiative to help disabled sister
Club's captain says it has a duty to look after her
(CNN) -- Italian club Udinese has pledged to ensure the disabled sister of Piermario Morosini is looked after for the rest of her life following the sudden death of the footballer during a Serie B match on Saturday.
Morosini's parents and brother died in his teens, and his death at the age of 25 leaves only his sister, Maria Carla.
Morosini was playing on loan at Livorno from Serie A side Udinese, which said in a statement on its website that the severely disabled Maria Carla is cared for in a residential facility in Bergamo, and has "no-one left but an elderly aunt."
"Our duty is now not to leave her alone after fate has taken away from her all her family," Udinese said.
The club published the details of a bank account and is inviting donations from other clubs in order to establish a fund that will be administered by Maria Carla's legal guardian.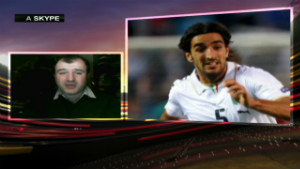 Morosini: 'A nation in shock'
Morosini died after suffering suspected cardiac arrest during the first half against Pescara. He was taken to hospital where doctors tried unsuccessfully to revive him.
All of the weekend's matches in the Italian league were postponed, and a period of silence was observed at many other games across the world.
Former Italy Under-21 international Morosini moved to Udinese in 2005, but made only five appearances and had been loaned out to several clubs. He joined Livorno in January.
"He was an exceptional lad, so full of life," Udinese captain Antonio di Natale told the club's television channel. "Despite all the problems he had, he was always at the disposal of the team and every day he gave us all strength."
Di Natale said it was the club's duty to look after Morosini's sister.
"We know the situation of his sister and we as a team, the club, and Udinese for Life (the club charity) have decided to help her because she is in real need," he said.
"It is essential that we stay at the side of Piermario's sister for her entire life. She needs us and we want to help, both for her and for Mario."
Livorno announced Monday it has retired the No. 25 shirt that Morosini was wearing at the time of his death.