Norwegians value respecting killer's human rights
April 17, 2012 -- Updated 0956 GMT (1756 HKT)
STORY HIGHLIGHTS
No sooner were his handcuffs removed than Anders Breivik raised his arm in a salute
"I acknowledge the acts but do not plead guilty," he told the court
Magnay: He showed no remorse for the killing of 77 in Norway last year
Rescuer tells CNN: Breivik was so close to having a bullet between his eyes
Oslo, Norway (CNN) -- Anders Behring Breivik's defense counsel had warned that the self-confessed killer would show no remorse. And that was clear from the start.
No sooner were his handcuffs removed in the than he raised his arm in a fascist-style salute -- a symbol, to quote his wordy manifesto, of "strength, power and defiance against Marxist tyrants."
He announced he did not believe in the authority of the Oslo court. His plea then followed: not guilty, though he acknowledged his acts. He claimed he was acting "from necessity."
Rampage suspect says he acted to save Norway
He sat in the court on the first day of the trial Monday wearing a suit, no handcuffs, no restraints, no cage as you might see in other countries -- not even for a mass murderer.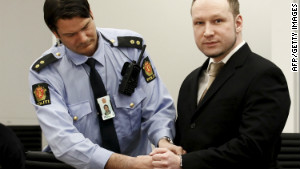 Norway massacre suspect's trial begins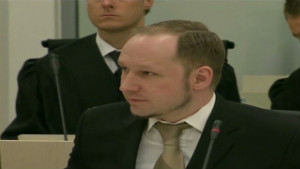 Trial begins for Norway murder suspect
There were smiles and handshakes with the psychiatrists and prosecution at the start. The only barrier was bullet-proof glass between him and the family members, built to protect him rather than the other way around.
This is after all Norway, a country that prides itself on its liberal values. It is a country that has endeavored, as the Prime Minister Jens Stoltenberg promised shortly after the attacks last year, to respond with "more openness, more democracy and more humanity" to these most inhuman of crimes which left 77 people dead.
And that is what they are doing -- taking pride in the fact they are a society who will respect Breivik's human rights, even when he showed no respect for the lives of others.
This is why Geir Lippestad, Breivik's defense lawyer, took on this most difficult of jobs. "I remember I woke up my wife, or she woke up by the same telephone call," he told reporters back in March.  "She's a nurse and she said 'if he had arrived at the hospital with gunshot wounds, the doctors and nurses would have helped him, they'd do their job. You are a lawyer, so don't you want to do your job?'"
"He was so close to having a bullet between his eyes, the police were so close," said Jorn Overby, who rescued 15 people from the waters off Utoya island on the fateful evening of July 22, 201.
When I press him about whether he felt that would have been the best thing for him, he replied: "I owe him a punch in the face for firing at me." But his desire for revenge stops there. "He will get the treatment he needs," he said.
These are people who would prefer never to have to speak Breivik's name again.
On the Dagbladet website you can now press a button to opt out of news relating to the deadly attacks. There is a sense the people of Norway want to see due process done and then move on. They are a people who believe their system works, which is why no matter how unspeakable his crimes and how hard these months are and will continue to be, Breivik has not been able to break them.

Today's five most popular stories
Part of complete coverage on
Norway terror attacks
August 13, 2012 -- Updated 2228 GMT (0628 HKT)

CNN's Atika Shubert looks at an independent report concluding that last year's Oslo mass killings could have been prevented.
May 24, 2012 -- Updated 2136 GMT (0536 HKT)

At Bastoy prison, which is on an island in southern Norway, there are no fences or armed guards, and inmates hold the keys to locks.
April 19, 2012 -- Updated 1240 GMT (2040 HKT)

Entrepreneaur Andrew Keen says Breivik captures the delusional, violent, narcissistic nature of digital culture.
April 19, 2012 -- Updated 1545 GMT (2345 HKT)

CNN's Diana Magnay reports on the trial of Anders Breivik, who showed no remorse for killings he claim were self-defense.
February 18, 2012 -- Updated 1434 GMT (2234 HKT)

Terrorism cases where individuals act alone, as a "lone-wolf", are on the rise, experts say
April 18, 2012 -- Updated 1025 GMT (1825 HKT)

Analyst Tim Stanley says the man on trial for mass murder holds a distorted and paranoid image of Islam and multiculturalism.
November 29, 2011 -- Updated 2148 GMT (0548 HKT)

Norwegian terror suspect Anders Behring Breivik was "surprised" that he was able to pull off the series of attacks.
April 17, 2012 -- Updated 0449 GMT (1249 HKT)

As the trial against Anders Behring Breivik starts, victims remember the massacre on Norway's Utoya island on July 22.

A girl trapped on Utoya Island texts her mother as camp-goers are being shot dead around her.

To borrow the title of Sebastian Junger's book, a "perfect storm" helped lead to the extremist thinking of Anders Behring Breivik.