STORY HIGHLIGHTS
NEW: Fresh explosions shake Homs early Monday, an opposition group says
The group reports 19 deaths across Syria on Sunday
Kofi Annan: This is a pivotal moment for stabilizing Syria
A man begs for U.N. monitors to stay in Homs because "when you come, shelling stops"
Are you there? Send us your images or video. Also, read this report in Arabic.
(CNN) -- Strong explosions rocked the devastated city of Homs early on Monday, opposition activists said, just days after the U.N. Security Council voted to send as many as 300 observers to monitor a tenuous cease-fire in Syria.
The explosions, which were followed by gunfire, shook the hard-hit neighborhoods of Baba Amr and Inshaat, according the Local Coordination Committees of Syria, a network of opposition activists.
The group also reported heavy gunfire in the neighborhood of Khaldiyeh.
The violence was an extension of weekend shelling that erupted after a temporary halt Saturday, when two U.N. monitors were in the besieged city.
At least 19 people throughout the country were killed Sunday, including six in Homs, according to the Local Coordination Committees. Deaths were also reported in Idlib, Daraa and the Damascus suburbs.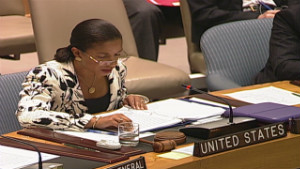 UN approves expanding Syrian mission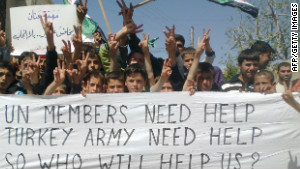 U.N. to meet as Syria violence continues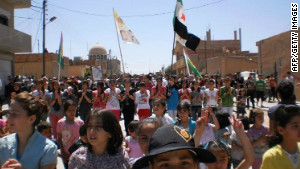 Day of defiance in Syria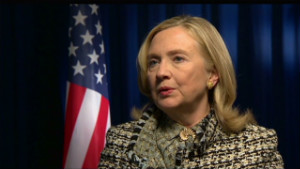 Clinton: Syrian leader running out of time
"Today is the first day since two months ... Homs (is) without shelling," one man told the monitors Saturday. "When you come, shelling stops."
He begged for the observers to stay in Homs, a bastion of anti-government sentiment that has faced months of deadly attacks by regime forces, opposition activists say.
The U.N. Security Council voted unanimously Saturday to authorize as many as 300 unarmed military monitors to try to bring about compliance with a cease-fire imposed earlier this month.
The cease-fire is part of a six-point peace plan laid out by U.N.-Arab League special envoy Kofi Annan and accepted by the Syrian government. The Annan plan calls for the government and the opposition to end the violence, allow access for humanitarian groups release detainees and start a political dialogue.
But reports of daily violence suggest the cease-fire is unraveling in some areas.
Susan Rice, the U.S. ambassador to the United Nations, warned that while Washington supports expanding the U.N. monitoring mission, it may "not agree to renew" the mission at the end of 90 days.
"If there is not a sustained cessation of violence, full freedom of movement for U.N. personnel and rapid, meaningful progress on all other aspects of the six-point plan, then we must all conclude this mission has run its course," Rice said. "Our patience is exhausted."
Annan applauded the Security Council's decision on the monitoring mission, saying it is a pivotal moment for stabilizing Syria.
"The work of the mission should help create the conditions conducive to launching the much needed political process, which would address the legitimate concerns and aspirations of the Syrian people," Annan said in a statement Sunday.
Syrian security forces will exercise the "utmost degree of restraint," but also remain prepared to defend their national interests against terrorists, Syrian U.N. Ambassador Bashar Jaafari said Saturday.
Syria has consistently blamed "armed terrorist groups" for the violence wracking the country.
The state-run Syrian Arab News Agency said Sunday an armed terrorist group used an improvised explosive device to attack a train carrying food in the Idlib countryside, wounding six.
Terrorists also attacked a bus carrying officers and soldiers along a road between Raqqa and Aleppo, killing one and injuring 42, SANA reported.
The Security Council previously approved the deployment of an advance team of 30 monitors meant to pave the way for the larger group of observers. The United Nations and Syria reached agreement Thursday on a protocol for the advance monitoring team and other observers.
Reports of bloodshed dropped in the days immediately after the cease-fire began, but activists have reported increased violence and attacks since then, with scores of people reportedly killed.
CNN cannot independently verify reports of violence and deaths, as the government has severely restricted access by international media.
Syria has been engulfed in violence for 13 months, since the government started a fierce crackdown on peaceful protests against the regime of President Bashar al-Assad, whose family has ruled Syria for 42 years.
The United Nations estimates that at least 9,000 people have died since the protests began, while activist groups put the death toll at more than 11,000.
CNN's Saad Abedine, Joe Vaccarello and Holly Yan contributed to this report.