STORY HIGHLIGHTS
NEW: The U.N. Russian ambassador explains his country's position on Syria
Al-Assad has a record of "dependable deceit and deception," U.S. envoy says
Shelling kills at least 80 people in Syria, opposition activists say
EU ministers agree on export ban of luxury goods and potential WMD technology
Are you there? Send us your images or video. Also, read this report in Arabic.
(CNN) -- Heavy shelling hit the Syrian city of Hama on Monday, opposition activists said, days after the U.N. Security Council voted to send as many as 300 observers to monitor a tenuous cease-fire.
At least 80 people were killed Monday in Syria, 50 of them in Hama and 21 in Idlib, according the Local Coordination Committees of Syria, a network of opposition activists. Dozens of people were also wounded in Hama, which was visited Sunday by international observers, the group said.
Elsewhere in the city, security forces opened fire to disperse a demonstration, the Local Coordination Committees said.
Explosions also rocked the devastated city of Homs early Monday, shaking the neighborhoods of Baba Amr and Inshaat.
International pressure on Damascus has been mounting. European Union foreign ministers agreed to ban the export of goods and technology that might be used by Damascus to produce chemical or biological weapons. Also banned was the export of luxury goods to Syria, according to a news release issued Monday by Britain's Foreign Secretary William Hague.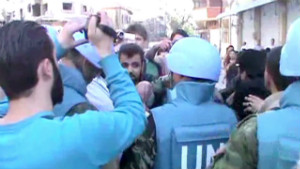 U.N. to send more monitors to Syria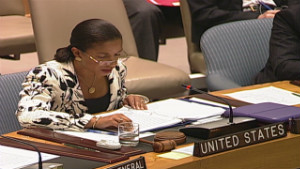 UN approves expanding Syrian mission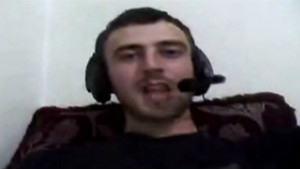 Syrian activist on UN action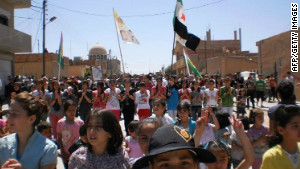 Day of defiance in Syria
The U.N. Security Council voted unanimously Saturday to authorize up to 300 unarmed military monitors to try to bring the Syria government into compliance with a cease-fire imposed this month.
Though they agreed on the observer mission, Russia and China, two permanent countries on the 15-member council, have quashed attempts to take tougher action against the Syrian regime.
U.N. Russian Ambassador Vitaly Churkin spoke to Christiane Amanpour, CNN's chief international correspondent, on Monday about his country's position.
"As a matter of principle, we believe that the U.N. Security Council is not about regime change. We believe that ... if there is crisis in a country, the role of the international community should be to help the parties involved to find a political, peaceful way out of this crisis," he said.
"And when we saw some of the resolutions, which included sanctions, we knew that those were resolutions, which were heading in the direction of regime change by force, which would, in turn, lead only to much more bloodshed in Syria."
Churkin stressed a need to stop the violence and establish a political process.
The cease-fire is part of a six-point peace plan laid out by U.N.-Arab League joint special envoy Kofi Annan and accepted by the Syrian government. The Annan plan calls for the government and the opposition to end the violence, provide access for humanitarian groups, release detainees and start a political dialogue.
A U.N. observer team visited Damascus with the goal of strengthening the cease-fire that has not ended the violence, which continues after more than a year.
"The team visited different parts of the city, met with all the parties, met with the people, drove around the city, stopped at locations to talk to people also," said Neeraj Singh, the observer team's spokesman, on Sunday.
Annan spokesman Ahmad Fawzi said last week that he expected the number of observers to reach 30 within a few days.
Annan applauded the Security Council's decision to bolster the monitoring mission.
"The work of the mission should help create the conditions conducive to launching the much-needed political process, which would address the legitimate concerns and aspirations of the Syrian people," Annan said Sunday in a statement.
Susan Rice, U.S. ambassador to the United Nations, said she was not confident that Annan's plan would ease the crisis.
"The regime's long track record is one of dependable deceit and deception," she said. "We will work to ensure there will be consequences should the Syrian regime continue to ignore this council's decisions, press ahead with its murderous rampage and flout the will of the international community."
Syrian security forces will exercise the "utmost degree of restraint" but remain prepared to defend their national interests against terrorists, Syrian U.N. Ambassador Bashar Jaafari said Saturday.
Syria has consistently blamed "armed terrorist groups" for the violence wracking the country.
Reports of bloodshed dropped in the days after the cease-fire deadline of April 12, but opposition activists have reported scores of deaths since then.
CNN cannot independently verify reports of violence and deaths, as the government has restricted access by international media.
Syria has been engulfed in violence since March 2011, when the government started a crackdown on demonstrators who were peacefully protesting the regime of President Bashar al-Assad, whose family has ruled Syria for 42 years.
The United Nations estimates that at least 9,000 people have died since the protests began, while activist groups put the death toll at more than 11,000. Rice put the total at 10,000.
Syria's unrest has spilled into neighboring countries. In Tripoli, Lebanon, three people at a protest against al-Assad were wounded Sunday when "armed men" fired on the crowd, Lebanon's state-run NNA news agency said.
CNN's Saad Abedine, Joe Vaccarello, Salma Abdelaziz and Holly Yan contributed to this report.