STORY HIGHLIGHTS
Josep Guardiola steps down as Barcelona coach after record-breaking four years
Spanish football expert says Guardiola's departure is like a prime minister leaving
Begona Perez describes 41-year-old as a 'God-like figure' to Barcelona fans
Perez says Guardiola's replacement, Tito Vilanova, is a natural choice for club
(CNN) -- Josep Guardiola's decision to quit as coach of Barcelona after four record-breaking years is tantamount to a prime minister resigning, according to one Spanish football expert.
Begona Perez told CNN World Sport that Guardiola's imminent departure had sent shock waves around Spain and plunged Barca's fans into a period of mourning as they contemplate life after the coach who delivered 13 trophies.
The 41-year-old's reign at the Catalan club has been littered with success and underpinned by a philosophy that has produced some of the most attractive football seen in recent times.
Guardiola cited tiredness as the major factor in his decision, describing his four years on Barca's bench as an eternity. His assistant, Tito Vilanova, will take the reins next season, but for now, it is all about Guardiola.
Drained Guardiola quits Barcelona
His decision to quit prompted his current players to pay the warmest of tributes. Lionel Messi took to his official page on social networking site Facebook to laud Guardiola.
"I want to thank Pep with all my heart for everything he has given me in my professional career and personally," the 24-year-old wrote.
"Because of the emotions I feel I preferred not to be present at Pep's press conference and to stay away from the press because I know they will look for the pain on the players' faces. It is something I decided not to show."
Perez told CNN Guardiola's announcement was a huge occasion in Spanish sporting terms.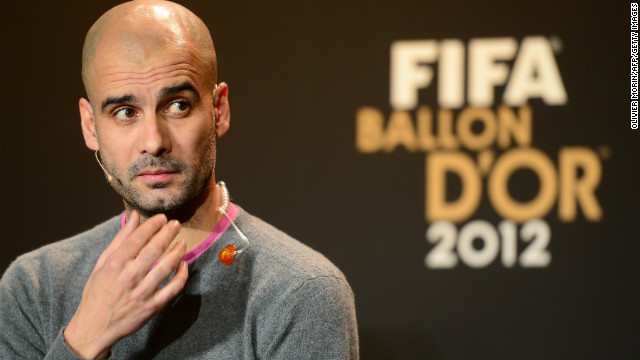 Pep Guardiola has been on a year-long sabbatical in the U.S. after stepping down as Barcelona coach, but he returned to Europe in January for the Ballon d'Or when he was shortlisted for FIFA's world coach of the year award.
When he confirmed he was to end his four-year reign as Barcelona coach, Guardiola gave an emotional press conference.
Guardiola announced his intent to quit at the end of last season just three days after the club's Champions League semifinal exit against Chelsea, drawing 2-2 at home and losing 3-2 on aggregate. He left a remarkable legacy.
He was massively popular at the Camp Nou after four trophy-laden seasons. Here he is thrown in the air by his players after winning the FIFA Club World Cup for the second time in December 2011, having been the first team from Spain to win it two years earlier.
Guardiola congratulates Barca players Cesc Fabregas and Javier Mascherano after winning the Spanish Supercup against Real Madrid at the start of the 2011-12 season.
Guardiola lifts the 2011Champions League trophy after Barca beat Manchester United at Wembley. The 41-year-old has earned a reputation as a coach who prepares meticulously for matches.
Guardiola won the FIFA Men's Football Coach of the Year award in January 2012. "I can't promise you silverware, but I can say that we'll keep on battling to the end and you'll be proud of us," he said after becoming coach four years ago.
In the 2009 calendar year, Guardiola won six trophies in total -- the Copa del Rey, La Liga, the European Champions League, the Spanish Supercup, the UEFA Supercup and the Club World Cup.
Former Barcelona president Joan Laporta shakes hands with Guardiola on June 5, 2008. The Catalan club's 15th coach arrived with the mission to end a two-season trophy drought -- he didn't disappoint.
As a player, Guardiola spent more than a decade in Barcelona's senior team, winning six Spanish titles and one European Cup. He captained Spain to a gold medal at the 1992 Barcelona Olympics and went to the 1994 World Cup.
He joined Barca's famed La Masia youth academy in 1984, and wore the No. 4 shirt until leaving for Italy in 2001.
He had two spells at Serie A side Brescia either side of a brief time at Roma, and is pictured playing against Perugia in 2002.
Guardiola left Europe to join Qatar's Al-Ahly from 2003 to 2005, then joined Mexico's Dorades de Sinaloa for a season before finally hanging up his boots.
Guardiola is pictured here with fellow Spaniard Jose Maria Olzabal at the Ryder Cup after Europe produced a remarkable comeback to win the tournament at Medinah in the U.S.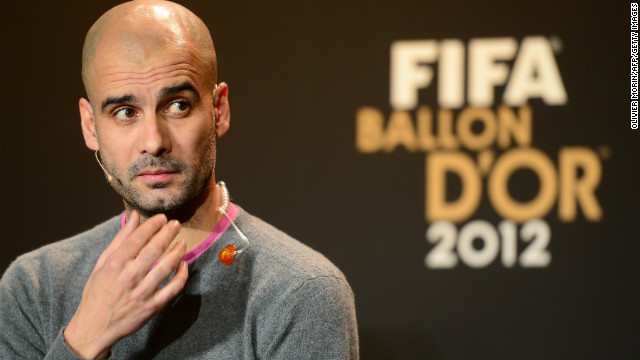 The end of an era: Josep Guardiola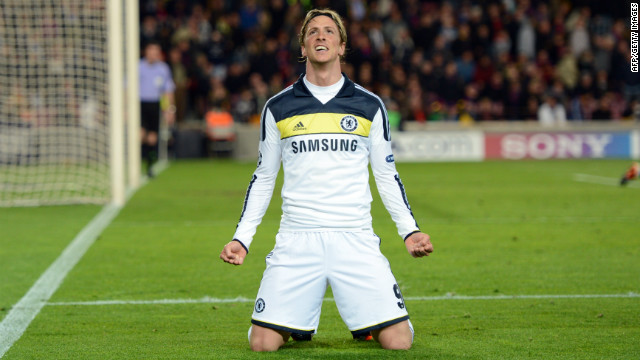 Misfiring striker Fernando Torres comes on to secure Chelsea's place in the Champions League final, giving his side an improbable 3-2 aggregate win over defending champions Barcelona.
After Barcelona miss several chances, Sergio Busquets puts them ahead on the night and level on aggregate after 35 minutes.
Chelsea suffer what looks like a critical blow when captain John Terry knees Alexis Sanchez from behind and is sent off in the 37th minute.
Chelsea, who have already lost Gary Cahill to injury, look set to fall apart when Andres Iniesta finishes off a typically slick Barcelona move in the 44th minute to put the Catalan side 2-1 up.
But Ramires runs through a static Barcelona defense and brilliantly chips Victor Valdes to put Chelsea ahead on away goals just before half time.
As Barcelona push forward, Torres goes clean through, rounds the keeper and Chelsea wrap up a 3-2 win.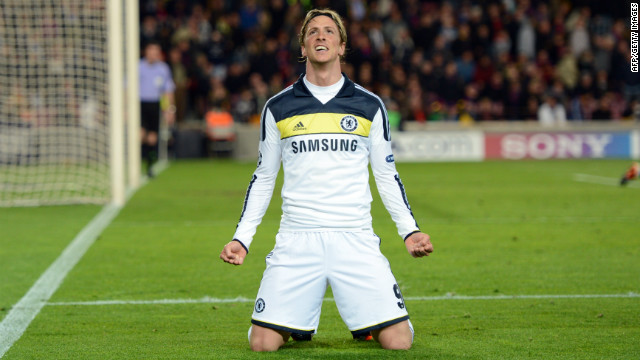 Chelsea stun Barcelona to reach final
"It's almost like a prime minister leaving his post," she told CNN. "He's almost God-like in Barcelona. What he has achieved has been amazing.
"The most successful thing at Barcelona is the philosophy at the club. He didn't invent this style of football but he made it perfect. We've seen in the last four years what they achieved and the style has been amazing."
Perez explained that four grueling seasons at one of the world's most high profile clubs had finally taken its toll on Guardiola, who had always maintained it was a job that no-one could do indefinitely.
He has also had to contend with serious illnesses to defender Eric Abidal, who recently underwent a liver transplant, and health difficulties for his successor, Villanova, who had a tumor.
"It has been a very difficult season," she added. "There are personal reasons behind this, they lost to Real Madrid and Chelsea in the last week, but it's been difficult for personal reasons.
"Especially with the illness to Abdial and his number two Villanova. Basically he needs a break. We expect him to take a sabbatical year because it has been emotionally very hard this season.
"He's a person with other interests -- he is football obsessed but he is the kind of person who likes to read a book, go the cinema and obviously his family. He has made many sacrifices and he wants to make the most of it now."
He's almost God-like in Barcelona. He didn't invent this style of football but he made it perfect
Begona Perez
As for Guardiola's replacement, Perez said promoting Vilanova from assistant was the logical choice for a club that prides itself on a distinct approach to the game
"We don't know what is going to happen to this team in sports terms and whether they will be able to win trophies with Tito Vilanova," she added.
"Guardiola has been the most successful manager in Barca history and that is something that is going to be difficult to achieve again.
"I think the fans are very sad, they feel it's an end of an era but they are happy with Vilanova talking over -- it's a natural decision.
"It's someone who knows the club inside out, he was the manager of the likes of Fabregas, Pique and Messi in the youth team so it's a continuity of the club's philosophy."