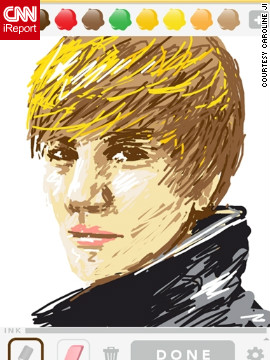 How skilled are you at Draw Something? Let's find out. Here are portraits of 20 celebrities, all by Draw Something users. See how many you can guess!
First up: This singer, famous for his swooshing hair, was drawn by 23-year-old Caroline Ji.
This pop star is mostly known for her music but has made several forays into acting. Her detailed black-and-white portrait was drawn by Tan Dawei Joel of Singapore.
This Brit, portrayed by Lorena Isla of Mexico City, was famous as much for her precarious lifestyle as for her soulful songs.
Joe Toledo and Edward Marquez both drew this handsome actor. Toledo portrayed him with his equally famous wife for context.
Caroline Ji put this pro basketball player in context by referring to his remarks about another player.
This model, drawn by Tan Dawei Joel, is also a TV host and media maven.
This funny lady once lent her voice to a cartoon fish. She's dancing with her character in this image by Bobby Saygan.
This musician, captured in detail by Tan Dawei Joel, frequently lends his support to political campaigns.
Both Matthieu Comperat and Tan Dawei Joel submitted portraits of this singer, known for her ever-changing hair and fashion choices.
Caroline Ji drew this actor, best-known for playing a vampire (in case that wasn't obvious).
This rapper often makes headlines with his off-the-wall comments. He appears here in one of his more infamous moments in a drawing by Joe Toledo.
This respected actor, portrayed by prolific Draw Something user Tan Dawei Joel, is an Oscar and Tony Award winner.
This "celebrity" is one of the most recognizable figures in the world, drawn here by Jenny Faith Koh.
Edward Marquez drew this basketball player for the Miami Heat.
This actress is sketched here by Tan Dawei Joel.
Lorena Isla created a stylized portrait of this tech industry icon in Draw Something.
Tan Dawei Joel created this image of a famed British musician.
It took Shari Atukorala a couple of hours to complete this sketch of a pop icon.
This actor, famous for playing mobsters, is portrayed by Tan Dawei Joel.
Edward Marquez used his iPad to draw this basketball superstar.
Draw Something: Celebrity quiz
Justin Bieber
Draw Something: Celebrity quiz
Madonna
Draw Something: Celebrity quiz
Amy Winehouse
Draw Something: Celebrity quiz
Brad Pitt
Draw Something: Celebrity quiz
Kobe Bryant
Draw Something: Celebrity quiz
Tyra Banks
Draw Something: Celebrity quiz
Ellen DeGeneres
Draw Something: Celebrity quiz
Bon Jovi
Draw Something: Celebrity quiz
Rihanna
Draw Something: Celebrity quiz
Robert Pattinson
Draw Something: Celebrity quiz
Kanye West
Draw Something: Celebrity quiz
Denzel Washington
Draw Something: Celebrity quiz
Mona Lisa
Draw Something: Celebrity quiz
LeBron James
Draw Something: Celebrity quiz
Demi Moore
Draw Something: Celebrity quiz
Steve Jobs
Draw Something: Celebrity quiz
Elton John
Draw Something: Celebrity quiz
Michael Jackson
Draw Something: Celebrity quiz
Al Pacino
Draw Something: Celebrity quiz
Michael Jordan