Fiorentina coach Rossi sacked for attacking player
May 3, 2012 -- Updated 1246 GMT (2046 HKT)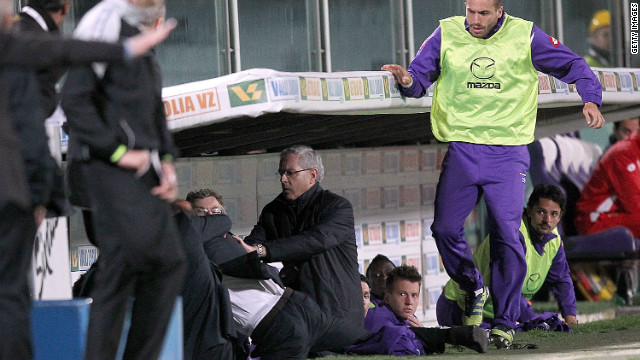 Delio Rossi lashes out at Adem Ljajic in the dug out after the midfielder sarcastically applauded his decision to replace him on the pitch. The outburst cost the Fiorentina coach Rossi his job.
Rossi's outburst came just 32 minutes into the match against Novara, with Fiorentina at 2-0 down against the relegated visitors.
La Viola recovered to earn a draw, but astill need a point from the final two games to avoid relegation to Serie B. Rossi replaced Sinisa Mihajlovic in November but has failed to significantly improve results.
Rossi loses it
Heading towards showdown
'Months of stress'
STORY HIGHLIGHTS
Fiorentina coach Delio Rossi sacked after attacking player Adem Ljajic
Rossi lashes out at Serbian after he sarcastically applauds decision to replace him
The outburst comes 32 minutes into match against Novara, with Fiorentina later drawing 2-2
Club president Andrea Della Valle says: "No provocation can justify that reaction"
(CNN) -- Tensions often run high in top-level sports, but it is rare to see a team's coach physically attack one of their own players.
However, that was the bizarre situation in an Italian soccer match on Wednesday -- and it has cost Fiorentina coach Delio Rossi his job.
The 51-year-old has been sacked just six months after being tasked with turning around the fortunes of the top-flight team following an astonishing fight with young midfielder Adem Ljajic during the Serie A match against Novara.
Rossi clambered into the dugout and attempted to punch the Serbian after the 20-year-old sarcastically applauded a decision to replace him, with Fiorentina at that stage losing 2-0 against a team that has been relegated to the second division.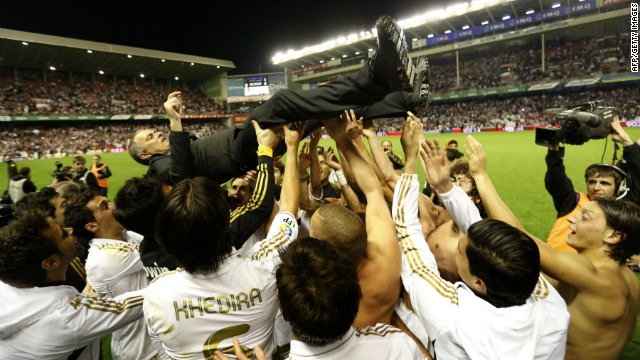 Real Madrid players lift Jose Mourinho after winning the Spanish title for the 32nd time. The Portuguese coach has also won league titles in Portugal, England and Italy.
Real Madrid supporters celebrate their team's triumph, which was clinched with two games to play after a 3-0 win at Athletic Bilbao.
Gonzalo Higuain celebrates his opener for Real against Bilbao. It was followed by goals from Mesut Ozil and Cristiano Ronaldo.
Bilbao's Javi Martinez was sent off late in the match at San Mames. His team had been expected to put up a tough test, having reached the final of the Europa League this season.
Barcelona may have lost the Spanish title after a three-year reign, but Lionel Messi broke Gerd Muller's longstanding record for goals in a European season. Messi's eighth hat-trick this season in the 4-1 win over Malaga took him to 68 overall and 46 in La Liga -- two ahead of Ronaldo.
As Real triumphed in Spain, Ajax Amersterdam won the Dutch league for the second year in a row as coach Frank de Boer's team beat VVV Venlo 2-0.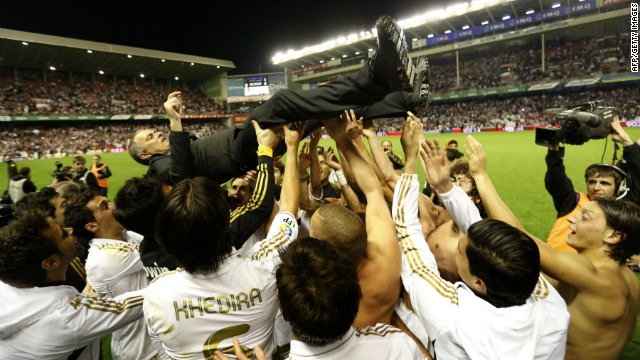 Real Madrid's La Liga triumph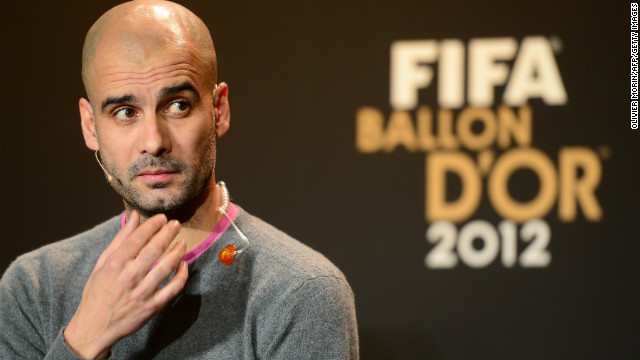 Pep Guardiola has been on a year-long sabbatical in the U.S. after stepping down as Barcelona coach, but he returned to Europe in January for the Ballon d'Or when he was shortlisted for FIFA's world coach of the year award.
When he confirmed he was to end his four-year reign as Barcelona coach, Guardiola gave an emotional press conference.
Guardiola announced his intent to quit at the end of last season just three days after the club's Champions League semifinal exit against Chelsea, drawing 2-2 at home and losing 3-2 on aggregate. He left a remarkable legacy.
He was massively popular at the Camp Nou after four trophy-laden seasons. Here he is thrown in the air by his players after winning the FIFA Club World Cup for the second time in December 2011, having been the first team from Spain to win it two years earlier.
Guardiola congratulates Barca players Cesc Fabregas and Javier Mascherano after winning the Spanish Supercup against Real Madrid at the start of the 2011-12 season.
Guardiola lifts the 2011Champions League trophy after Barca beat Manchester United at Wembley. The 41-year-old has earned a reputation as a coach who prepares meticulously for matches.
Guardiola won the FIFA Men's Football Coach of the Year award in January 2012. "I can't promise you silverware, but I can say that we'll keep on battling to the end and you'll be proud of us," he said after becoming coach four years ago.
In the 2009 calendar year, Guardiola won six trophies in total -- the Copa del Rey, La Liga, the European Champions League, the Spanish Supercup, the UEFA Supercup and the Club World Cup.
Former Barcelona president Joan Laporta shakes hands with Guardiola on June 5, 2008. The Catalan club's 15th coach arrived with the mission to end a two-season trophy drought -- he didn't disappoint.
As a player, Guardiola spent more than a decade in Barcelona's senior team, winning six Spanish titles and one European Cup. He captained Spain to a gold medal at the 1992 Barcelona Olympics and went to the 1994 World Cup.
He joined Barca's famed La Masia youth academy in 1984, and wore the No. 4 shirt until leaving for Italy in 2001.
He had two spells at Serie A side Brescia either side of a brief time at Roma, and is pictured playing against Perugia in 2002.
Guardiola left Europe to join Qatar's Al-Ahly from 2003 to 2005, then joined Mexico's Dorades de Sinaloa for a season before finally hanging up his boots.
Guardiola is pictured here with fellow Spaniard Jose Maria Olzabal at the Ryder Cup after Europe produced a remarkable comeback to win the tournament at Medinah in the U.S.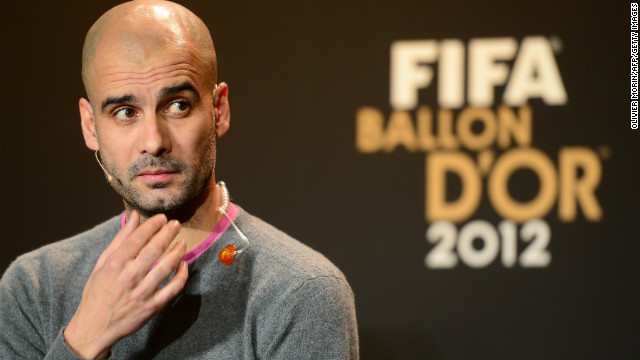 The end of an era: Josep Guardiola
Fiorentina, which won the last of of its two Italian titles in 1969, fought back to draw 2-2. It left "La Viola" hovering above the bottom three and still needing a point from the last two rounds to ensure another season in Serie A.
Club president Andrea Della Valle dismissed former Lazio and Palermo coach Rossi immediately after the match, with no successor yet announced.
"(In a) few seconds, months of stress came out. I am sorry, because the manager has never made such actions. I have to take this decision for his goodwill, so he can understand he was wrong. No provocation can justify that reaction," Della Valle said on Fiorentina's media website.
"With the due proportions, we will take serious disciplinary measures for Ljajic too. It is not up to me justifying Delio Rossi, but he has never done anything like that."
I know that at this moment Delio Rossi is suffering more than anyone else
Andrea Della Valle, Fiorentina president
Rossi's dramatic departure comes just months after he was signed in the hope of turning around the Tuscan team, which finished ninth last season.
He replaced the fired Sinisa Mihajlovic in November but has failed to significantly boost results, with the club 15th in the table, six points above the drop zone.
"I am sorry to witness this in my 10th year at the club and I believe the manager's contribution helped us to win in Rome and Milan," Della Valle said after the match.
"I believed we would have achieved safety from relegation tonight and, definitely, I was not expecting to take this decision tonight. This team requires more unity if we want to avoid relegation. I know that at this moment Delio Rossi is suffering more than anyone else and I want to respect the work he has done here for us."