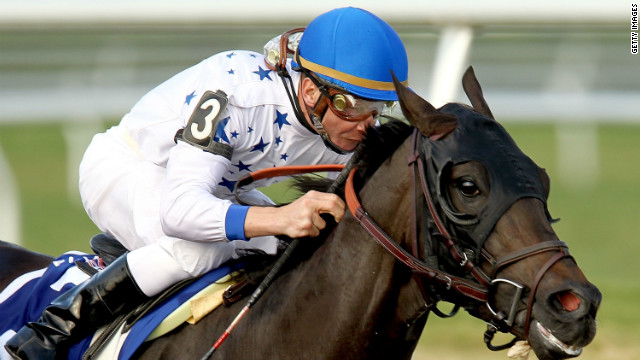 Jockey Calvin Borel hopes Take Charge Indy can deliver his fourth Kentucky Derby on Saturday. They have already won March's Florida Derby and will start off among the favorites for the 2012 "Run for the Roses."
Borel struggled to hold back tears at a press conference after winning the 2009 Kentucky Derby on Mine That Bird in a massive upset result, having come from a long way behind.
Borel celebrates after winning his first Kentucky Derby atop Street Sense in 2007. He was hugged by President George W. Bush at the White House after that victory.
Borel also crossed the finish line first on Super Saver in 2010. The sight of him hugging the rail is so familiar that fans know him as "Calvin Bo-Rail" -- while Kentucky Derby race caller Mark Johnson has nicknamed him "The Paint Stripper."
Can Take Charge Indy deliver?
Emotions run high
Winning sense
'The Paint Stripper'
STORY HIGHLIGHTS
Jockey Calvin Borel has won three of his last five Kentucky Derbys
The 45-year-old is hoping Take Charge Indy will put him close to all-time record
Borel, known for his emotional outbursts, is just 40 wins short of 5,000 in his career
Nicknamed "The Paint Stripper" for his distinctive rail-hugging style, Borel is a fan favorite
Kentucky (CNN) -- Jockey Calvin Borel has come from the small Louisiana town of St. Martinville to the summit of his profession -- the winners' enclosure at Churchill Downs.
"I was born to be a jockey," says Borel in his distinctive Cajun drawl, speaking during a break in morning track work at the venue of this weekend's Kentucky Derby. "Even before I knew I was going to be a jockey, I was."
Borel's father and brother both trained, and he grew up around horses. "In the deep, deep South, it's mostly sugarcane, and fields and horses. That's how people make their living," he says.
At 45 years old, Borel is on the brink of racing immortality, having won three out of the last five Kentucky Derby races. In 2007 he triumphed on board Street Sense, in 2009 with Mine That Bird and the following year on Super Saver.
He is just 40 wins short of 5,000 career victories, and an induction into the Hall of Fame is surely beckoning. He has already been a guest at the White House, where he was hugged by then President George W. Bush after his first Kentucky crowning and where also met Britain's Queen Elizabeth.
Kentucky Derby contender: Is this the new Barbaro?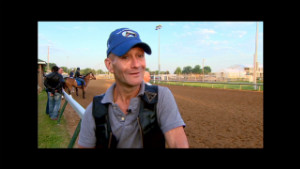 Why Borel is a Kentucky Derby legend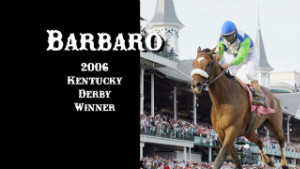 Barbaro trainer returns to Kentucky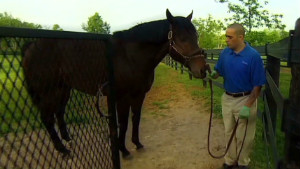 Breeding Kentucky Derby studs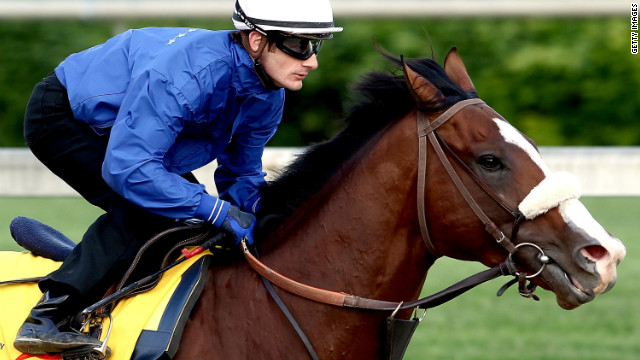 Union Rags, ridden by jockey Julien Laparoux, is among the hot favorites to win the 138th Kentucky Derby at Churchill Downs.
Union Rags has already had some success at Churchill Downs, finishing second in the Breeders' Cup Juvenile there in 2011. The colt was also third at the Florida Derby in March. "He's big, he's strong, he's fast -- so far I haven't found any faults in him. I think he's got a good chance," trainer Michael Matz said.
Matz also trained Barbaro, who won the hearts of a nation with his stunning victory at the 132nd Kentucky Derby in May 2006.
Matz looks on as jockey Edgar Prado celebrates Barbaro's commanding seven-length victory.
Hopes of a second-leg win in the Triple Crown were shattered after Barbaro broke early at the Preakness Stakes. He eventually started the race but misstepped early on and shattered his hind leg in more than 20 places.
Hundreds of fans signed a giant "Get Well" card for Barbaro. Although efforts were made to save the colt's leg with pioneering surgery, he eventually had to be put down.
Before he was a trainer, Matz was a world champion showjumper. He also won silver during the 1996 Atlanta Olympics, where he carried the American flag during the closing ceremony.
Now aged 61, Matz is hoping to win his second Kentucky Derby on May 5: "To know that you had one horse that could win it and possibly two -- it's a great feeling."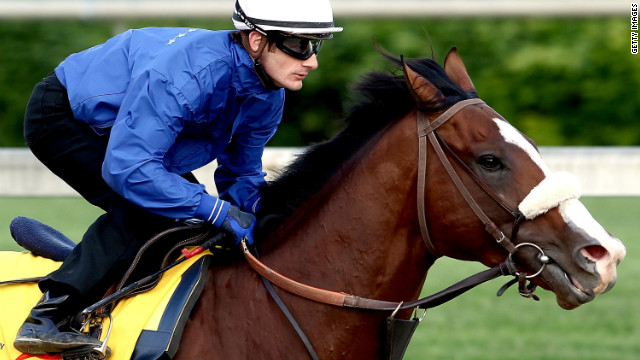 Matz's second Kentucky Derby winner?
Borel is one of the biggest personalities in horse racing. Easily given to displays of emotion, his feelings were laid bare for all to see three years ago after the most unlikely of his Kentucky Derby successes. Sent off at odds of 50-1, Mine That Bird was 20 lengths behind the leader at the halfway point.
"I was so far back, baby I couldn't see the horses in front of me," he recalls. "When we got to the 3/8 pole I put a squeeze on him to find me a little position and boy, he took me there! About six, seven horses we passed, quick. And I said, 'Dang, I maybe can run second or third!'
"Then I finally found him some room and he really broke, I tell you. Out of all the horses I rode in the Derby he was the one with the most impressive finish I've ever had."
Known for his distinctive, ground-saving style, the sight of Borel hugging the rail is so familiar that fans know him as "Calvin Bo-Rail," while Kentucky Derby race caller Mark Johnson has nicknamed him "The Paint Stripper."
This year he will be saving ground again, on the Patrick Byrnes-trained Take Charge Indy. The combination has already won the Florida Derby, and, with Borel up, the colt will surely start off among the favorites for Saturday's "Run for the Roses."
If Borel can capture a fourth Kentucky Derby, it will take him within one win of the all-time record by a jockey in America's most iconic horse race. But his success has not come without some cost: six broken ribs, a broken arm, two broken legs and a broken jaw. And those are just the injuries Borel can remember.
"It has its ups and downs," he concedes. "My wife keeps asking when I'm going to quit, but it's worse than drugs!
"(The Kentucky Derby) is just like our Super Bowl. It comes but once a year. My dream was always to ride in it, much less win it. So I'll be going into the race with a lot of confidence."
With that he hops on to Take Charge Indy like a rubber band, the Paint Stripper doing what he does best.