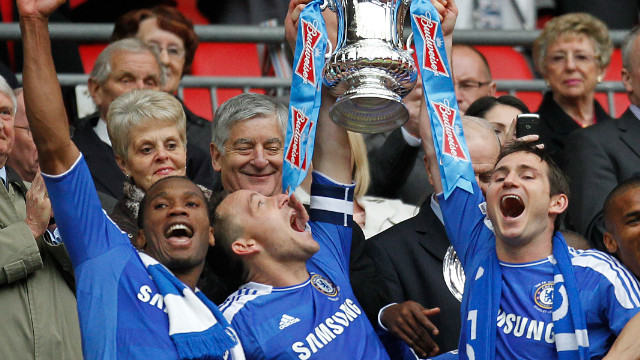 Chelsea's old guard of Didier Drogba (left), captain John Terry (center) and Frank Lampard celebrate Saturday's FA Cup win.
Chelsea's caretaker manager Roberto Di Matteo is thrown into the air in celebration by his players after their 2-1 victory against Liverpool at London's Wembley Stadium.
Liverpool came from 2-0 down and thought the scores had been leveled late in the match, but Chelsea goalkeeper Petr Cech made a desperate save from Andy Carroll's header underneath the crossbar.
Drogba celebrates after doubling Chelsea's lead, following up a first-half goal by Ramires. Both players scored in the Champions League semifinal matches against Barcelona.
Liverpool and Chelsea fans enjoy the atmosphere prior to the final. A lack of train services due to Monday's public holiday meant that Liverpool fans faced a long trip home after the match.
Fabrice Muamba attended the match, which was played less than two months after he collapsed on the pitch after suffering cardiac arrest in his team Bolton's FA Cup quarterfinal against Tottenham.
Chelsea's core strength
Lift off
Did it cross the line?
Didier does it
Big day out
Muamba's miracle
STORY HIGHLIGHTS
Chelsea win English FA Cup for the seventh time, beating Liverpool 2-1 in Saturday's final
Ramires and Didier Drogba score in each half before Andy Carroll reduces the deficit
Substitute Carroll goes close to equalizer as his header is cleared from under the bar
Victory boosts Chelsea ahead of UEFA Champions League final in Munich on May 19
(CNN) -- What started out as Chelsea's worst season since owner Roman Abramovich arrived in 2003 is now on the verge of becoming one of the English club's best.
Saturday's FA Cup final success, the London side's fourth in six years in the world's oldest football competition, is the latest step in a revival that could end in the realization of the Russian billionaire's longheld dream.
The nailbiting 2-1 victory at Wembley is but a tasty precursor to a Champions League final in Munich on May 19 that offers the chance for Abramovich to finally win Europe's top club prize.
He brought Premier League success to Stamford Bridge in 2005 after spending millions on coach Jose Mourinho and a swathe of star players, achieving Chelsea's first English title in 50 years.
Two more followed, but not before Mourinho departed after failing to repeat the European triumph at Porto that earned Abramovich's attention -- and Avram Grant, Luiz Felipe Scolari and Carlo Ancelotti also exited as Champions League success proved elusive.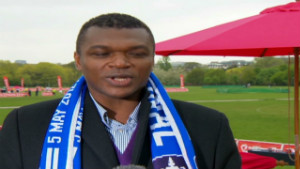 FA Cup Final preview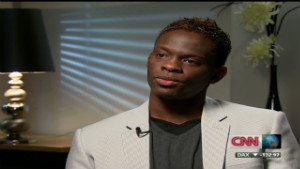 Louis Saha: 'Thinking inside the box'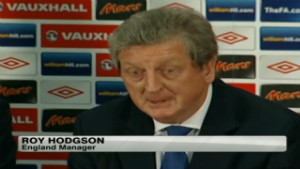 Hodgson 'not popular choice' for manager
Andre Villas-Boas, "the new Mourinho," was bought out of his contract at Porto to replace Ancelotti -- a European champion as both player and coach -- but the Portuguese prodigy alienated Chelsea's powerful old guard of players as he sought to stamp his authority and rebuild the squad.
His assistant Roberto di Matteo, a former Chelsea player himself, has had no such problems winning their respect as he has reverted to the style so successful under Mourinho, allowing the likes of veterans Frank Lampard and Didier Drogba to restore their pre-eminent roles in the team.
Drogba scored the vital winner in the first leg of the remarkable Champions League semifinal success against arguably the world's best team, Barcelona, and he netted the ultimately decisive second goal against Liverpool.
The 34-year-old Ivory Coast captain is now the only player to score in four FA Cup finals, equaling the five goals in total scored by legendary Liverpool striker Ian Rush in three title matches.
Drogba may yet make his Chelsea exit after the Bayern Munich clash in two weeks' time -- a match which not only holds the key to Abramovich's hopes, but could also be part of a solution to the challenges the club faces under European soccer's new financial fair play rules.
Each team will get a reported $66 million for making the final, when television money is added to the prize total on offer, representing a major budgetary boost for a club like Chelsea -- which under the new regulations can no longer rely on Abramovich's deep pockets.
Chelsea's bid to become more financially self-sufficient took another step ahead of Saturday's final, with news the club is seeking to buy the nearby iconic Battersea power station and turn it into a new home ground with capacity greater than the present one.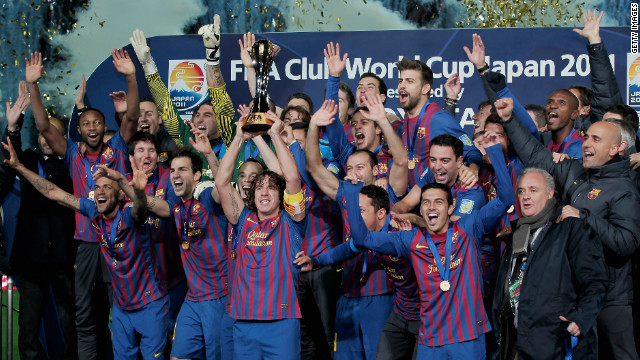 Barcelona's players are the best paid in the world according to a new report. The team kept its No. 1 place on the earnings table with each player taking home an average annual salary of $8.6 million (£5.2 million). That's a whopping $166,934 (£101,160) per week and a 10% rise on last year.
Spanish football teams continued to dominate the rankings, with Real Madrid keeping its No. 2 spot. It's players earned an average $7.7 million (£4.7 million) - a 6% rise on last year. Cristiano Ronaldo became the most expensive footballer in history in 2009 after moving from Manchester United to Real Madrid in a six-year deal worth $129 million (£80 million).
Manchester City moved up the rankings from 10th last year to 3rd in 2012, thanks to an average annual salary of $7.4 million for its players. It's a 26% increase on last year and demonstrates the wealth of the English club's owner Sheikh Monsour.
Russian billionaire Roman Abromovich's Chelsea team climbed the rankings from sixth to fourth, with players earning around $6.7 million a year -- the equivalent of $130,690 a week.
The first non-soccer entry in the rich list is the LA Lakers. The Americans are also the only bastketballers in the top 10, with players taking home $6.2 million annually -- about $120,732 per week.
Baseball's New York Yankees have continued to fall in the rankings -- dropping from No. 1 in 2010 to sixth this year. But the MLB team's players can still take comfort from an average yearly salary of $6.1 million -- around £118,968 a week.
Former Italian Prime Minister Silvio Berlusconi pumped even more money into his football club AC Milan last year. The Serie A champions rose from 14th in the list with players enjoying a yearly salary of $6.1 million, pocketing $117,399 per week.
Also rising in the rich list was Germany's Bayern Munich, up from 12th place last year. Players boasted a yearly salary of $5.9 million, taking home $113,609 a week.
The Philadelphia Phillies are one of just three U.S. teams in the top 10. The baseball franchise's players earned an average $5.8 million a year, or $111,884 per week.
Internazionale sneaked into the top 10 with an average yearly salary of $5.7 million for its players. It's a family affair for Italian oil tycoon Massimo Moratti, whose father Angelo also owned the club in the 1950s and '60s.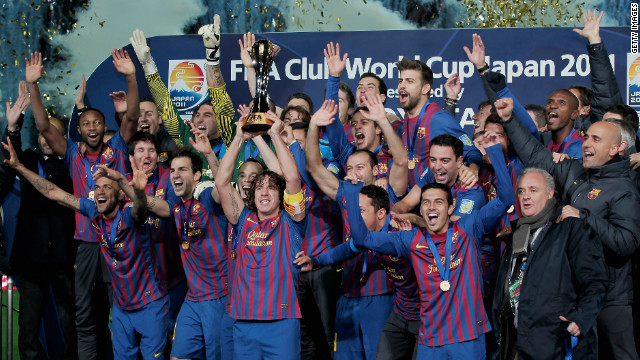 The world's 10 best-paid sports teams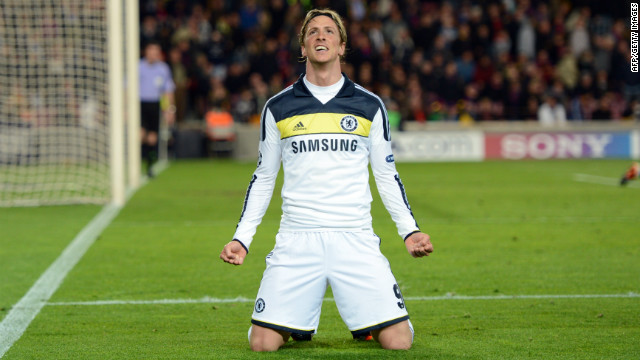 Misfiring striker Fernando Torres comes on to secure Chelsea's place in the Champions League final, giving his side an improbable 3-2 aggregate win over defending champions Barcelona.
After Barcelona miss several chances, Sergio Busquets puts them ahead on the night and level on aggregate after 35 minutes.
Chelsea suffer what looks like a critical blow when captain John Terry knees Alexis Sanchez from behind and is sent off in the 37th minute.
Chelsea, who have already lost Gary Cahill to injury, look set to fall apart when Andres Iniesta finishes off a typically slick Barcelona move in the 44th minute to put the Catalan side 2-1 up.
But Ramires runs through a static Barcelona defense and brilliantly chips Victor Valdes to put Chelsea ahead on away goals just before half time.
As Barcelona push forward, Torres goes clean through, rounds the keeper and Chelsea wrap up a 3-2 win.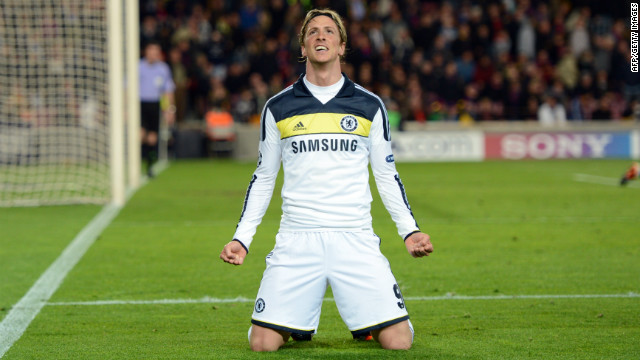 Chelsea stun Barcelona to reach final
The $2.9 million earned by winning the FA Cup final for the seventh time will also help, as well as furthering the prospects of Di Matteo being made Chelsea's permanent manager.
Brazil midfielder Ramires followed up his second-leg goal against Barcelona with the opening strike in the 11th minute as he beat goalkeeper Pepe Reina at the near post with a low shot.
Drogba doubled the lead seven minutes after halftime, but Liverpool substitute Andy Carroll ensured a nervy finish after reducing the deficit on 64.
The striker -- who has struggled since joining Liverpool for a club-record $50 million fee in January 2011 after Fernando Torres left for Chelsea for $30 million more than that -- thought he had leveled the scores with a late header.
However, Chelsea keeper Petr Cech clawed the ball clear off the underside of the crossbar apparently before it had crossed the line -- much to the disgust of Liverpool striker Luis Suarez, who was booked for remonstrating with the line official.
"We've been heavily criticised this season and we've got a trophy and we've got the chance for another," said Di Matteo, who scored in two FA Cup final wins for Chelsea in 1997 and 2000.
"This group of players have made the club proud. It's been hard work, but we came through it."
Liverpool will play in Europe next season, albeit the second-tier Europa League after winning the League Cup in February, but it has been an otherwise disappointing season under manager Kenny Dalglish.
The 18-time English champions trail sixth-placed Chelsea by 12 points with two games to play in the Premier League, a situation which cannot please the club's American owners -- who are looking to emulate the success they have had with baseball's Boston Red Sox.
"They were better than us for the first hour," Dalglish said after the final. "We finished really strong and if we'd started the way we'd finished we'd maybe have been happier than we are now. We've just got to learn the lessons."
Abramovich's hopes of Champions League football next season, meanwhile, appear to rest solely on victory in Munich, despite a slip-up by third-placed London rivals Arsenal on Saturday.
Arsenal's 3-3 draw with Norwich gave Tottenham and Newcastle the chance to move up to third and fourth with victories on Sunday.
Spurs, who hold the edge on goal difference only, face relegation-threatened Aston Villa while the in-form Magpies will seek to follow up Wednesday's 2-0 win over Chelsea with another result against league leaders Manchester City.
Both clubs are five points clear of Chelsea, but know that the fourth-placed team will be bumped down to the Europa League if Abramovich gets what he really wants in Germany.
City returned to the top on goal difference with a 1-0 win in Monday's Manchester derby, but second-placed local rivals United have easier opposition on Sunday as the defending champions host mid-table Swansea.