Juventus win Italian league
May 7, 2012 -- Updated 0325 GMT (1125 HKT)
STORY HIGHLIGHTS
Juventus won the Italian league after beating Cagliari 2-0
Inter's 4-2 defeat of rivals Milan handed the title to the Turin club
Juve's first title since a match fixing scandal saw them relegated in 2006
Milito's hat trick for Inter the first in Milan derby for over 60 years
(CNN) -- Juventus secured their sensational return to the elite of Italian football after winning the league title with a regulation 2-0 victory over Cagliari.
Goals from Mirko Vucinic and a Michele Canini own goal handed Juventus the advantage in the race for the Scudetto.
But even though the Old Lady of Turin has gone unbeaten this season, their fate ultimately rested with events at the San Siro stadium where the Milan derby was kicking off simultaneously.
Holders Milan started the day one point behind Juve but knew they had to beat Inter to take the title chase to the final weekend.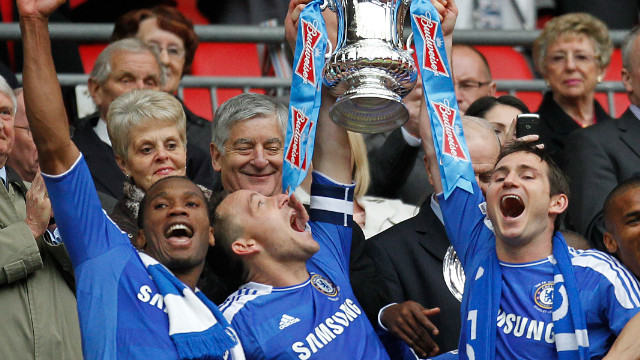 Chelsea's old guard of Didier Drogba (left), captain John Terry (center) and Frank Lampard celebrate Saturday's FA Cup win.
Chelsea's caretaker manager Roberto Di Matteo is thrown into the air in celebration by his players after their 2-1 victory against Liverpool at London's Wembley Stadium.
Liverpool came from 2-0 down and thought the scores had been leveled late in the match, but Chelsea goalkeeper Petr Cech made a desperate save from Andy Carroll's header underneath the crossbar.
Drogba celebrates after doubling Chelsea's lead, following up a first-half goal by Ramires. Both players scored in the Champions League semifinal matches against Barcelona.
Liverpool and Chelsea fans enjoy the atmosphere prior to the final. A lack of train services due to Monday's public holiday meant that Liverpool fans faced a long trip home after the match.
Fabrice Muamba attended the match, which was played less than two months after he collapsed on the pitch after suffering cardiac arrest in his team Bolton's FA Cup quarterfinal against Tottenham.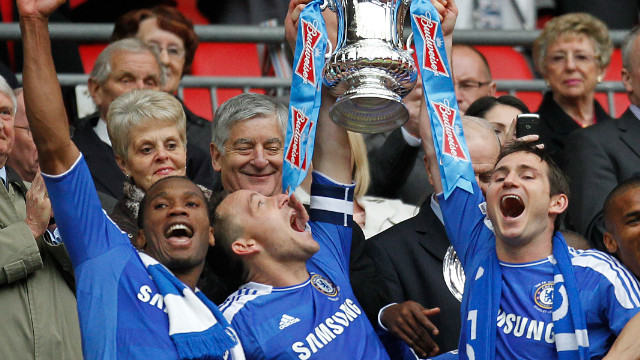 Chelsea's FA Cup final victory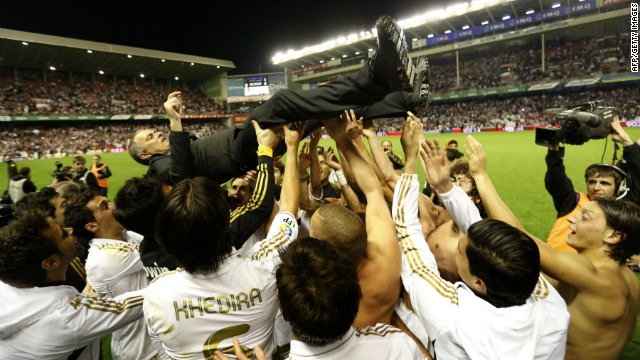 Real Madrid players lift Jose Mourinho after winning the Spanish title for the 32nd time. The Portuguese coach has also won league titles in Portugal, England and Italy.
Real Madrid supporters celebrate their team's triumph, which was clinched with two games to play after a 3-0 win at Athletic Bilbao.
Gonzalo Higuain celebrates his opener for Real against Bilbao. It was followed by goals from Mesut Ozil and Cristiano Ronaldo.
Bilbao's Javi Martinez was sent off late in the match at San Mames. His team had been expected to put up a tough test, having reached the final of the Europa League this season.
Barcelona may have lost the Spanish title after a three-year reign, but Lionel Messi broke Gerd Muller's longstanding record for goals in a European season. Messi's eighth hat-trick this season in the 4-1 win over Malaga took him to 68 overall and 46 in La Liga -- two ahead of Ronaldo.
As Real triumphed in Spain, Ajax Amersterdam won the Dutch league for the second year in a row as coach Frank de Boer's team beat VVV Venlo 2-0.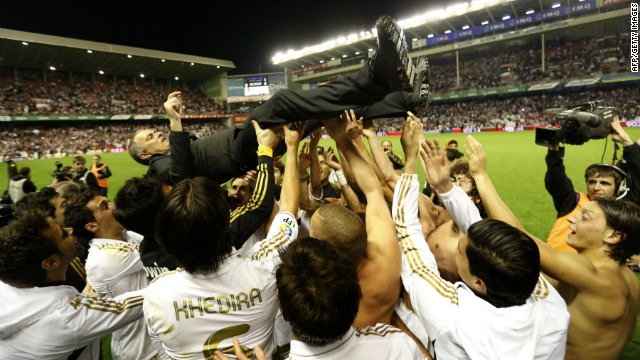 Real Madrid's La Liga triumph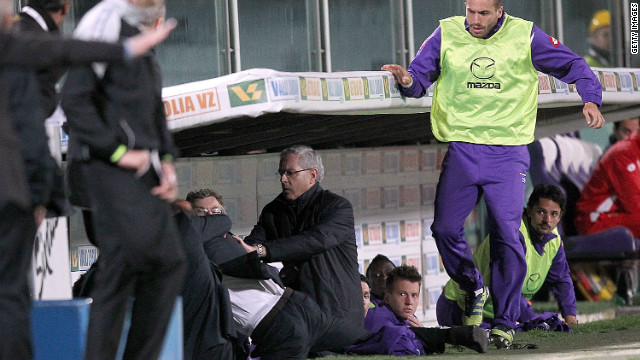 Delio Rossi lashes out at Adem Ljajic in the dug out after the midfielder sarcastically applauded his decision to replace him on the pitch. The outburst cost the Fiorentina coach Rossi his job.
Rossi's outburst came just 32 minutes into the match against Novara, with Fiorentina at 2-0 down against the relegated visitors.
La Viola recovered to earn a draw, but astill need a point from the final two games to avoid relegation to Serie B. Rossi replaced Sinisa Mihajlovic in November but has failed to significantly improve results.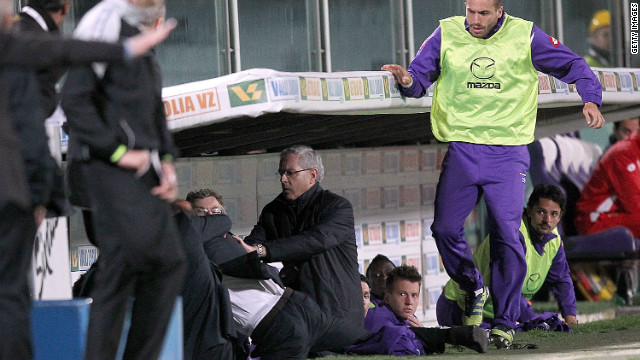 Fiorentina coach Delio Rossi sacked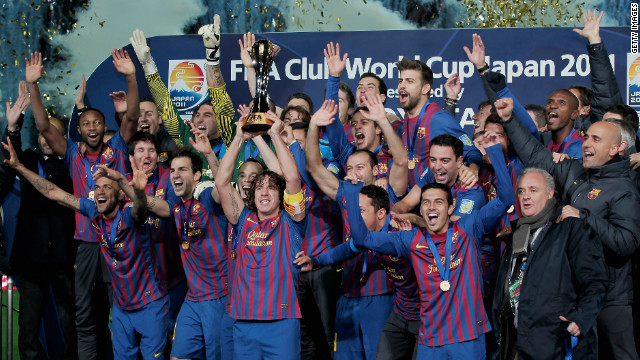 Barcelona's players are the best paid in the world according to a new report. The team kept its No. 1 place on the earnings table with each player taking home an average annual salary of $8.6 million (£5.2 million). That's a whopping $166,934 (£101,160) per week and a 10% rise on last year.
Spanish football teams continued to dominate the rankings, with Real Madrid keeping its No. 2 spot. It's players earned an average $7.7 million (£4.7 million) - a 6% rise on last year. Cristiano Ronaldo became the most expensive footballer in history in 2009 after moving from Manchester United to Real Madrid in a six-year deal worth $129 million (£80 million).
Manchester City moved up the rankings from 10th last year to 3rd in 2012, thanks to an average annual salary of $7.4 million for its players. It's a 26% increase on last year and demonstrates the wealth of the English club's owner Sheikh Monsour.
Russian billionaire Roman Abromovich's Chelsea team climbed the rankings from sixth to fourth, with players earning around $6.7 million a year -- the equivalent of $130,690 a week.
The first non-soccer entry in the rich list is the LA Lakers. The Americans are also the only bastketballers in the top 10, with players taking home $6.2 million annually -- about $120,732 per week.
Baseball's New York Yankees have continued to fall in the rankings -- dropping from No. 1 in 2010 to sixth this year. But the MLB team's players can still take comfort from an average yearly salary of $6.1 million -- around £118,968 a week.
Former Italian Prime Minister Silvio Berlusconi pumped even more money into his football club AC Milan last year. The Serie A champions rose from 14th in the list with players enjoying a yearly salary of $6.1 million, pocketing $117,399 per week.
Also rising in the rich list was Germany's Bayern Munich, up from 12th place last year. Players boasted a yearly salary of $5.9 million, taking home $113,609 a week.
The Philadelphia Phillies are one of just three U.S. teams in the top 10. The baseball franchise's players earned an average $5.8 million a year, or $111,884 per week.
Internazionale sneaked into the top 10 with an average yearly salary of $5.7 million for its players. It's a family affair for Italian oil tycoon Massimo Moratti, whose father Angelo also owned the club in the 1950s and '60s.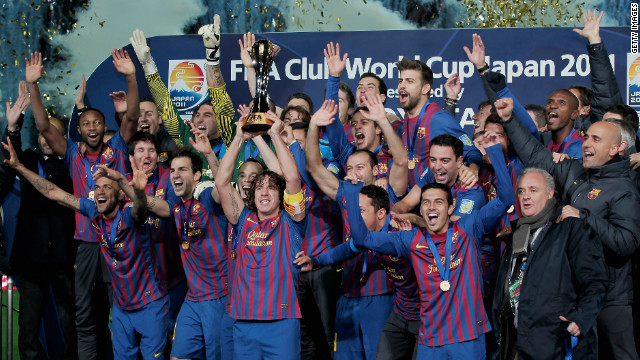 The world's 10 best-paid sports teams
What followed was one of the most memorable Milan derbies in recent years, as Inter ran out 4-2 winners with Diego Milito scoring a hat trick, the first person do so in this fixture in almost six decades. The victory handed Juventus title number 28.
Or so you would think.
As fans invaded the pitch in Trieste, where Cagliari are currently playing their matches, some held banners aloft proclaiming the triumph to be Scudetto number 30.
That's because in 2006 the club was stripped of the two titles they won under former England coach Fabio Capello following a match fixing scandal that engulfed the club and saw them relegated to Serie B.
It was a humiliating experience for one of world football's greatest clubs, but this season has seen something close to redemption, as the club has gone 37 games unbeaten under the reign of former Italian international Antonio Conte.
It is his first season in charge.
The team celebrated wildly with the fans in Trieste, while the Rossoneri wondered what might have been in the San Siro.
A highly dubious first half penalty converted by Swedish international Zlatan Ibrahimovic had canceled out Milito's opener.
Ibrahimovic, a former Juve player who has never been forgiven by the fans for leaving the club so soon after their relegation to Serie B, then gave Milan hope scoring his second 30 seconds after the start of the second half.
But Inter powered forward, winning their own penalty converted by Milito to secure his hat trick, before Maicon scored a stunning fourth and sealed Juventus' return to where many believe they have always belonged.