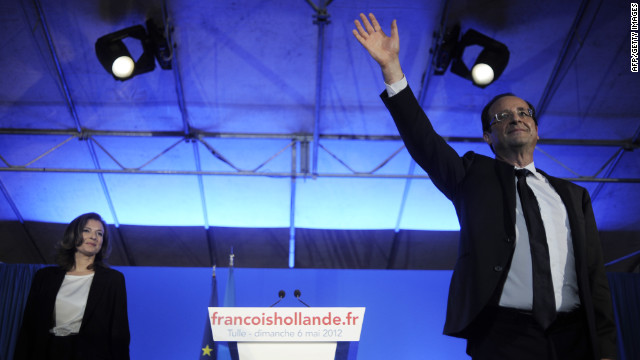 Socialist Party candidate Francois Hollande won France's presidential runoff election on Sunday, May 6. In his victory speech, he promised to be a president for all of France.
A vandalized campaign poster in Paris reads, "You've lost!" Defeating incumbent president Nicolas Sarkozy, Hollande will be the nation's first left-wing president since 1995.
A boy wearing a mask resembling Francois Hollande gestures before the politician's speech Sunday.
Hollande supporters celebrate his win Sunday at Place de la Bastille in Paris.
Nicolas Sarkozy addresses his supporters and concedes defeat Sunday. During the election season, he was fighting to keep his job amid a wave of discontent.
Sarkozy supporters react as results from exit polls and official tallies in the runoff election come in.
A woman picks up ballots before voting at a polling station in Marseille, France, on Sunday.
People on the French island of La Reunion in the Indian Ocean line up at a polling station in Saint-Denis. Voter turnout was reported at 73%.
In South America, a scrutineer unfolds a ballot for "Jesus Christ" as he counts votes in French Guiana's Remire-Montjoly.
A child looks under the curtain of a voting booth in Henin-Beaumont, France, near the border with Belgium.
Francois Hollande squeezes past members of the public to get into a car Sunday during a visit to Vigeois, in central France.
A man walks past a local office of the Socialist Party in Paris on Saturday, the day before the presidential runoff.
Sarkozy leaves the stage after his concession speech on Sunday. He was elected president of France in 2007.
French presidential runoff
French presidential runoff
French presidential runoff
French presidential runoff
French presidential runoff
French presidential runoff
French presidential runoff
French presidential runoff
French presidential runoff
French presidential runoff
French presidential runoff
French presidential runoff
French presidential runoff
STORY HIGHLIGHTS
NEW: New French leader agrees to visit Berlin to discuss austerity with Chancellor Angela Merkel
Merkel says growth must not be based on government debt
French President-elect François Hollande tells supporters that austerity is not the only option
After beating Nicolas Sarkozy, Hollande is scheduled to take office May 15
Editor's note: Read this report in Arabic.
Paris (CNN) -- The election of François Hollande as president of France sent shock waves through markets in Asia and Europe on Monday and prompted German Chancellor Angela Merkel to lay down red lines about Europe's future.
In his victory speech Sunday night, Hollande signaled a possible end to the sharp budget cuts that have become a European article of faith in response to economic and budget crises across the continent.
"Austerity can no longer be something that is inevitable," Hollande said after defeating President Nicolas Sarkozy.
Sarkozy must hand over power by midnight May 15, Hollande spokesman Pierre Moscovici said.
Merkel said Monday that she is in favor of economic growth but that it cannot be based on government debt.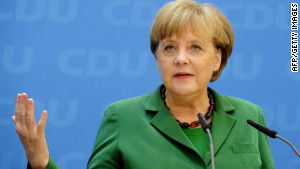 Merkel: EU fiscal pact not negotiable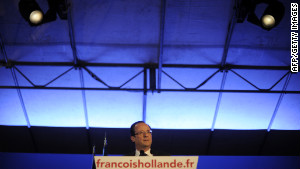 The challenges that Hollande will face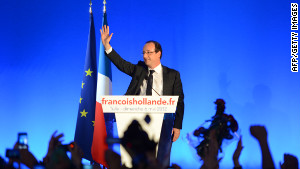 Hollande thanks supporters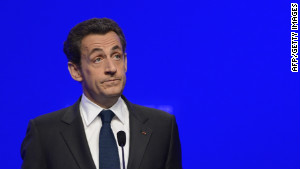 Sarkozy concedes election
"The core of the discussion is about whether we are going to have programs for growth that are on the back of debt or programs for growth that are going to be sustainable," she said.
Her spokesman, Steffen Seibert, said earlier Monday that it is "not possible" to renegotiate the European Union fiscal pact. The deal, championed by Merkel and Sarkozy, demands that EU governments stay within strict debt limits.
Merkel invited Hollande to Berlin "as soon as possible after he is sworn in" and said she would welcome him with "open arms," Seibert said.
"Both agree on how important tight German-French relations are and have assured one another that they'll strive to work together well and with trust," Seibert said on the chancellor's website.
Hollande will visit Berlin shortly after he takes office, Moscovici said.
Markets in Europe closed mostly flat after a morning dip in the wake of Hollande's election. France's CAC 40 closed up 1.8% after slipping an identical amount in early trading. Germany's DAX closed off 0.1% after early losses of as much as 2.3%.
After being closed Friday for a holiday, the Nikkei index in Tokyo fell 2.8% on concerns about European debt and Friday's weaker-than-expected jobs report in the United States. The Shangai Composite closed flat after initially falling more than 2%.
U.S. stocks were mixed, with the Dow Jones Industrial down a fraction of a percent and the Nasdaq up a fraction in early afternoon trading.
Hollande officially won 51.62% of the vote Sunday, while Sarkozy took 48.38%. The vote was a runoff between the two top finishers of the first round of elections in April.
A little more than 80% of registered voters cast ballots Sunday, including 4.66% who handed in blank ballot papers, the Interior Ministry said.
Speaking to supporters Sunday in the city of Tulle, Hollande alluded to becoming the first Socialist president since François Mitterand left office in 1995.
"Many people have been waiting for this moment for many long years. Others, younger, have never known such a time. ... I am proud to be capable to bring about hope again," he told the cheering crowd.
Later, Hollande went to Paris, where he addressed a large crowd at the Bastille. Supporters waved flags and shouted his name.
"I know what many people feel -- years and years of wounds, of ruptures, and we have to repair, recover, unite. That is what we're going to do together," he vowed.
Crowds roared at the center-left candidate's campaign headquarters as the exit poll results came out Sunday evening. Celebratory car horns blared along the Champs-Élysées in Paris.
"It's a great night, full of joy for so many young people all across the country," said Thierry Marchal-Beck, president of the Movement of Young Socialists.
U.S. President Barack Obama called Hollande shortly after results were in to congratulate him and invite him to the White House.
Sarkozy had fought to keep his job amid a wave of discontent over his inability to rein in unemployment. He defended his economic record despite low growth and unemployment at about 10%, saying the impact of Europe's debt crisis could have been far worse.
France is a key player in plans to lead the eurozone out of its debt crisis.
Sarkozy's defeat marks the latest -- and most significant -- of more than half a dozen European leaders swept from office during the eurozone economic crisis, including the Greek and Italian prime ministers.
France's vote came the same day as the Greek parliamentary election. Greece's ruling coalition suffered steep losses, while parties on the far left and far right made significant gains amid anger over austerity measures.
Sarkozy has been president since 2007. He becomes the first sitting French president in three decades not to be re-elected.
CNN's Diana Magnay, Jim Bittermann, Hala Gorani, Saskya Vandoorne and Stephanie Halasz contributed to this report.