Third time lucky to score Olympic tickets?
May 9, 2012 -- Updated 1158 GMT (1958 HKT)
STORY HIGHLIGHTS
London 2012 organizers to begin another batch of ticket sales on Friday
A group of 20,000 people will be eligible to apply for 900,000 seats in the first 31 hours
Applicants who missed out on first round will get five-day window to buy four tickets
Babies under 12 months old will now be allowed into some venues without a ticket
(CNN) -- British sports fans who struck out twice trying to land Olympic tickets will get a third chance starting Friday.
Only 20,000 people will be eligible to apply for the 900,000 seats on offer in the first 31 hours. These hopefuls failed to get any tickets during the first two rounds of ticket selling for London 2012.
Then one million applicants, who got no tickets in the first round last year, will get an exclusive five-day window to buy up to four tickets on a first come, first served basis.
Organizers hope this will ease criticism they faced when many people with UK addresses were unable to buy tickets during the first two rounds, due to high demand.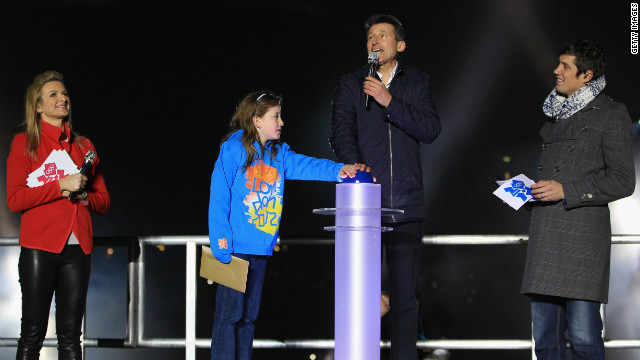 Nine-year-old schoolgirl Niamh Clarke-Willis makes history as she presses the button to officially open the Olympic stadium along with London 2012 chairman Sebastian Coe. They were joined on stage by TV presenters Gabby Logan and Vernon Kay.
Paralympic gold medalist archer Danielle Brown also took part in the ceremony. The opening weekend included the British Universities and Colleges Sports Outdoor Championships, the first athletics meeting at the 80,000-seater stadium.
Brown fired arrows into a spinning target, covered with the names of 100 children in the crowd -- and Clarke-Willis was the lucky winner.
Logan looks on as her husband Kenny, a former rugby union international, competes in a celebrity tug-of-war. About 40,000 spectators watched entertainers including impressionist Jon Culshaw, actor Hugh Bonneville, former Spice Girl Melanie C, rapper Chipmunk and comedian Jack Whitehall.
Wet weather didn't stop thousands of visitors turning up. The venue was built using 10,000 tons of steel, considerably less than other Olympic stadiums organizers say, and with an emphasis on sustainability. Construction began in May 2008 and was completed in March 2011.
James Ellington, left, celebrates winning the men's 100 meters final during the weekend's BUCS VISA Athletics Championships, one of the Olympic test events.
Katy Sealy throws in the javelin event. The track and field competition was watched by a reported crowd of around 6,000 during the day before numbers swelled for the evening show.
It was the first time many visitors had walked around the Olympic grounds, including the new aquatics center. They appeared cautiously optimistic about the site, with one family telling CNN the seats were comfortable but there was a lack of rubbish bins.
A sculpture by Turner Prize-winning artist Anish Kapoor looms over the Olympic Park. The 115-meter ArcelorMittal Orbit includes two viewing platforms for spectators to view the site.
Visitors had to queue for events as they passed through airport-style checks. Security was high at the event, with police helicopters fyling overhead and armed officers patrolling the grounds.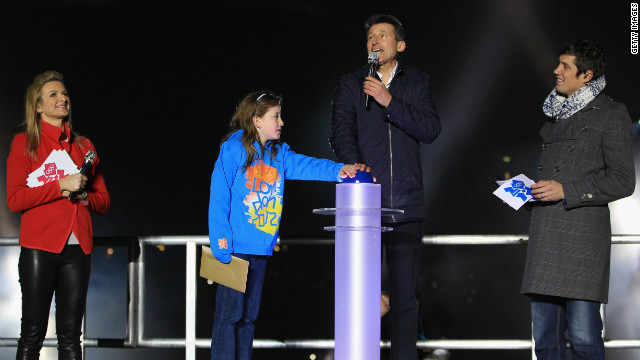 London 2012 Olympic stadium opens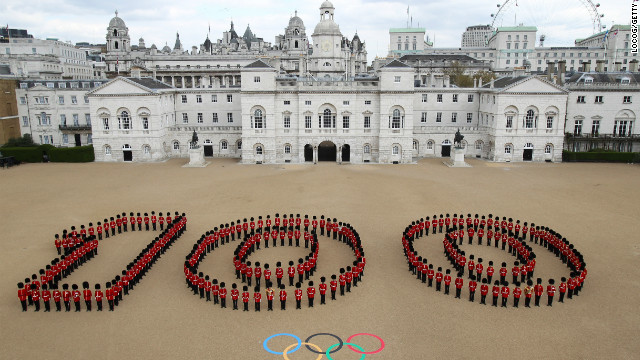 More than 250 Guardsmen mark 100 days until the London 2012 Olympics starts on on July 27. They are at Horse Guards Parade in central London, which will host beach volleyball.
China, which hosted the previous Olympics in 2008, also marked the milestone as athletes performed outside the Bird's Nest stadium in Beijing.
Melissa Wu, a diving silver medallist four years ago, poses with Australia's Boxing Kangaroo Olympic mascot as the 100-day landmark is celebrated in Sydney.
The future of London's new Olympic stadium is one of the unresolved issues surrounding the Games' legacy.
Olympic mascots Wenlock and Mandeville strike a pose outside the London 2012 store at Heathrow Airport.
Giant Olympic rings are towed on the River Thames in front of the city's iconic Tower of London on February 28, 2012.
The Arcelor Mittal Orbit viewing platform seen next to the Olympic stadium. World-renowned sculptor Anish Kapoor designed the skyscraping sculpture that stands at 115 meters high.
London 2012 Olympic Torchbearers Dinah Gould and Dominic John MacGowan pose with Mayor of London Boris Johnson on March 19, 2012.
The Duchess of Cambridge, Kate Middleton, meets Great Britain's Hockey Team at London's Olympic Park on March 15, 2012.
Members of the emergency services take part in a London Olympics security drill entitled Exercise Forward Defensive on February 22, 2012. The exercise was to test responses to a possible terrorist incident during the Games.
British rowing legend Matthew Pinsent helps lift in the first of 16,000 beds to be installed in London's Olympic Village on January 26, 2012.
Analyst Jignasha Patel prepares a sample for testing in the anti-doping laboratory which will test athletes' samples from the London 2012 Games on January 19, 2012.
Workers carry out the installation of artist Monica Bonvicini's "RUN'"sculpture in the plaza of the London 2012 Handball Arena at the Olympic Park on January 12, 2012.
Models wear the Volunteers Uniform for London 2012 at a photocall at the Olympic Park on November 22, 2011.
Organizers expect 80% of the eight million ticket-holders to use the various rail systems, including the tube, during the Games. There will also be an Olympic Route Network where road traffic will be shut off to allow 55,000 athletes, officials and media to get to venues each day.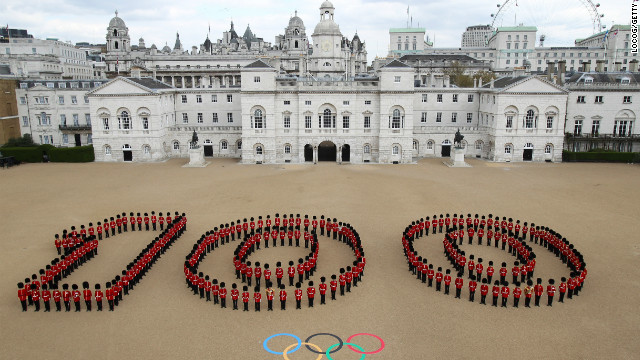 London 2012 Olympics: 100 days to go
"We promised we would prioritize these fans when we released the contingency tickets, which is exactly what we are doing," London 2012 chairman Sebastian Coe said in a press release.
Most people from outside the UK will continue to have to buy tickets through authorized resellers in each country ahead of the Olympics' opening ceremony on July 27.
For those who want to experience to the Olympic Park without Games tickets, they will soon be able to buy access to the grounds for £10 ($16). Some 70,000 access tickets are becoming available, so fans will be able to watch events on large-screen televisions inside the park during the first week.
Similarly priced tickets will be made available for access to the Wimbledon Hill and big screen during Olympic tennis matches.
After much criticism, organizers have also confirmed that babies under 12 months old will be allowed into some London venues without a ticket, but not venues with "one person, one ticket" policies like Wembley Stadium and the O2 Centre.