Barcelona: Messi is not racist
May 11, 2012 -- Updated 1721 GMT (0121 HKT)
STORY HIGHLIGHTS
Royston Drenthe accuses Lionel Messi of calling him "negro" during matches
Barcelona say the accusations against Messi "are well wide of the mark"
Drenthe on loan at Everton from Real Madrid but has been left out recently for disciplinary reasons
(CNN) -- Lionel Messi has been dragged into the row about racism in football, but his club Barcelona insists that accusations against the three-time world player of the year are "well wide of the mark."
Messi is said to have frequently directed a racial term at Real Madrid's Royston Drenthe during matches in the Spanish top flight.
Drenthe, who has spent this season on loan at English Premier League club Everton, claimed in an interview with a Dutch magazine that Messi repeatedly called him "negro" (meaning black).
It is the same word that caused huge controversy in English football this season when Manchester United's black defender Patrice Evra accused Liverpool striker Luis Suarez of using the term several times during a Premier League match between the teams.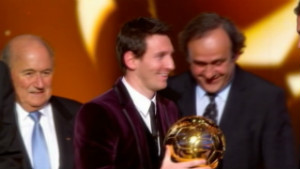 Messi wins third straight Ballon D'or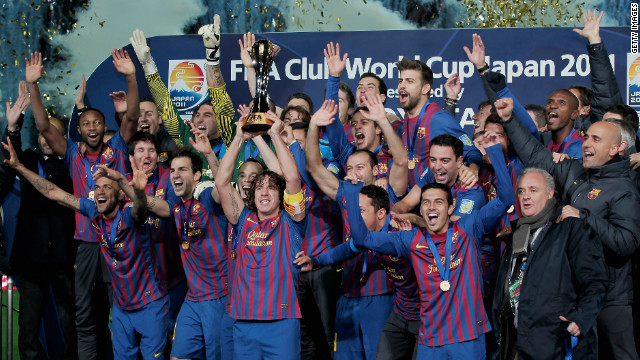 Barcelona's players are the best paid in the world according to a new report. The team kept its No. 1 place on the earnings table with each player taking home an average annual salary of $8.6 million (£5.2 million). That's a whopping $166,934 (£101,160) per week and a 10% rise on last year.
Spanish football teams continued to dominate the rankings, with Real Madrid keeping its No. 2 spot. It's players earned an average $7.7 million (£4.7 million) - a 6% rise on last year. Cristiano Ronaldo became the most expensive footballer in history in 2009 after moving from Manchester United to Real Madrid in a six-year deal worth $129 million (£80 million).
Manchester City moved up the rankings from 10th last year to 3rd in 2012, thanks to an average annual salary of $7.4 million for its players. It's a 26% increase on last year and demonstrates the wealth of the English club's owner Sheikh Monsour.
Russian billionaire Roman Abromovich's Chelsea team climbed the rankings from sixth to fourth, with players earning around $6.7 million a year -- the equivalent of $130,690 a week.
The first non-soccer entry in the rich list is the LA Lakers. The Americans are also the only bastketballers in the top 10, with players taking home $6.2 million annually -- about $120,732 per week.
Baseball's New York Yankees have continued to fall in the rankings -- dropping from No. 1 in 2010 to sixth this year. But the MLB team's players can still take comfort from an average yearly salary of $6.1 million -- around £118,968 a week.
Former Italian Prime Minister Silvio Berlusconi pumped even more money into his football club AC Milan last year. The Serie A champions rose from 14th in the list with players enjoying a yearly salary of $6.1 million, pocketing $117,399 per week.
Also rising in the rich list was Germany's Bayern Munich, up from 12th place last year. Players boasted a yearly salary of $5.9 million, taking home $113,609 a week.
The Philadelphia Phillies are one of just three U.S. teams in the top 10. The baseball franchise's players earned an average $5.8 million a year, or $111,884 per week.
Internazionale sneaked into the top 10 with an average yearly salary of $5.7 million for its players. It's a family affair for Italian oil tycoon Massimo Moratti, whose father Angelo also owned the club in the 1950s and '60s.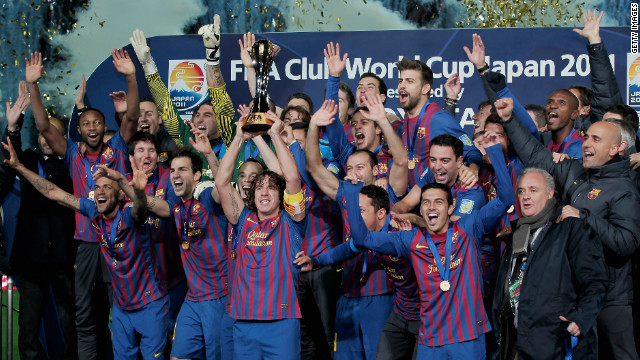 The world's 10 best-paid sports teams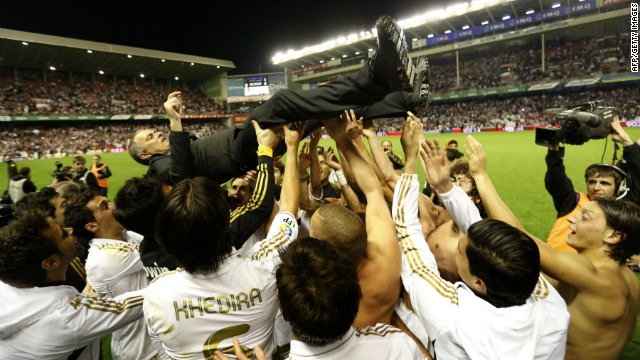 Real Madrid players lift Jose Mourinho after winning the Spanish title for the 32nd time. The Portuguese coach has also won league titles in Portugal, England and Italy.
Real Madrid supporters celebrate their team's triumph, which was clinched with two games to play after a 3-0 win at Athletic Bilbao.
Gonzalo Higuain celebrates his opener for Real against Bilbao. It was followed by goals from Mesut Ozil and Cristiano Ronaldo.
Bilbao's Javi Martinez was sent off late in the match at San Mames. His team had been expected to put up a tough test, having reached the final of the Europa League this season.
Barcelona may have lost the Spanish title after a three-year reign, but Lionel Messi broke Gerd Muller's longstanding record for goals in a European season. Messi's eighth hat-trick this season in the 4-1 win over Malaga took him to 68 overall and 46 in La Liga -- two ahead of Ronaldo.
As Real triumphed in Spain, Ajax Amersterdam won the Dutch league for the second year in a row as coach Frank de Boer's team beat VVV Venlo 2-0.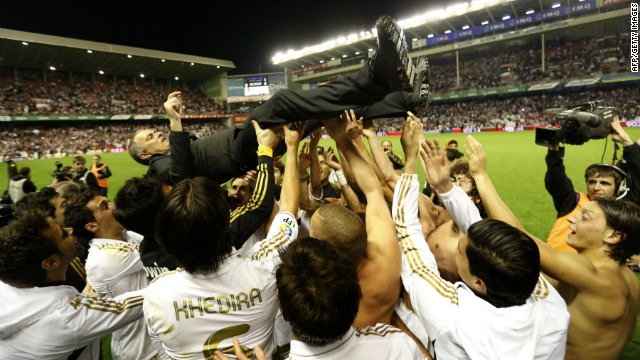 Real Madrid's La Liga triumph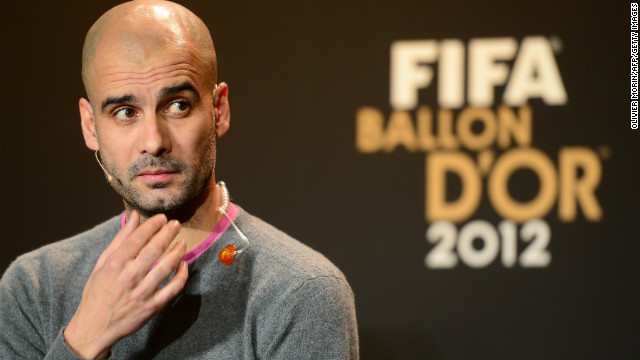 Pep Guardiola has been on a year-long sabbatical in the U.S. after stepping down as Barcelona coach, but he returned to Europe in January for the Ballon d'Or when he was shortlisted for FIFA's world coach of the year award.
When he confirmed he was to end his four-year reign as Barcelona coach, Guardiola gave an emotional press conference.
Guardiola announced his intent to quit at the end of last season just three days after the club's Champions League semifinal exit against Chelsea, drawing 2-2 at home and losing 3-2 on aggregate. He left a remarkable legacy.
He was massively popular at the Camp Nou after four trophy-laden seasons. Here he is thrown in the air by his players after winning the FIFA Club World Cup for the second time in December 2011, having been the first team from Spain to win it two years earlier.
Guardiola congratulates Barca players Cesc Fabregas and Javier Mascherano after winning the Spanish Supercup against Real Madrid at the start of the 2011-12 season.
Guardiola lifts the 2011Champions League trophy after Barca beat Manchester United at Wembley. The 41-year-old has earned a reputation as a coach who prepares meticulously for matches.
Guardiola won the FIFA Men's Football Coach of the Year award in January 2012. "I can't promise you silverware, but I can say that we'll keep on battling to the end and you'll be proud of us," he said after becoming coach four years ago.
In the 2009 calendar year, Guardiola won six trophies in total -- the Copa del Rey, La Liga, the European Champions League, the Spanish Supercup, the UEFA Supercup and the Club World Cup.
Former Barcelona president Joan Laporta shakes hands with Guardiola on June 5, 2008. The Catalan club's 15th coach arrived with the mission to end a two-season trophy drought -- he didn't disappoint.
As a player, Guardiola spent more than a decade in Barcelona's senior team, winning six Spanish titles and one European Cup. He captained Spain to a gold medal at the 1992 Barcelona Olympics and went to the 1994 World Cup.
He joined Barca's famed La Masia youth academy in 1984, and wore the No. 4 shirt until leaving for Italy in 2001.
He had two spells at Serie A side Brescia either side of a brief time at Roma, and is pictured playing against Perugia in 2002.
Guardiola left Europe to join Qatar's Al-Ahly from 2003 to 2005, then joined Mexico's Dorades de Sinaloa for a season before finally hanging up his boots.
Guardiola is pictured here with fellow Spaniard Jose Maria Olzabal at the Ryder Cup after Europe produced a remarkable comeback to win the tournament at Medinah in the U.S.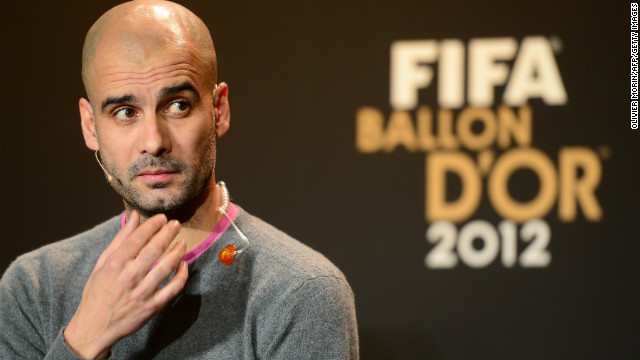 The end of an era: Josep Guardiola
Suarez was banned for eight matches and fined £40,000 ($64,330). He maintained that the word "negro" is used commonly in his native Uruguay and is not a form of racial abuse.
But Barcelona strongly rejected any suggestion that Argentine forward Messi would have used the same term.
"The player has always shown a maximum respect and sportsmanship towards his rivals, something which has been recognized by his fellow professionals many times, and we are sure that any accusations to the contrary are well wide of the mark," a spokesman said.
"His behavior throughout his career has always been exemplary."
Messi has had another outstanding season individually, scoring an unprecedented 72 goals in all competitions and a record 50 in La Liga alone ahead of Saturday's final match at Real Betis.
However, his team have fallen short of their usual high standards, losing out in the Spanish title race to Real Madrid and suffering a shock loss to Chelsea in the Champions League semifinals when Messi hit the bar with a crucial penalty in the second leg.
Drenthe's spell at Everton has ended miserably. The 25-year-old hasn't been picked since he was dropped from the FA Cup semifinal against Liverpool on April 14 for unspecified disciplinary reasons.
The Dutch midfielder joined Real Madrid for a reported €14 million ($18.1 million) in 2007 but has spent the last two seasons out on loan. He has been quoted as saying he wants to return to Feyenoord, where he played before joining Madrid.