STORY HIGHLIGHTS
Female F1 test driver Maria de Villota admits she'd like a family one day
As a youngster the Spaniard joined racing father Emilio on the track
Her first taste of racing was as a five-year-old beating her brother go-karting
She admits she has had to work hard to compete with men
(CNN) -- For any professional woman, finding the right balance between work and family is never any easy task.
And when your office job is racing Formula One cars for a living, the leap between the daily grind and bouncing baby feels even wider.
It's a juggling act Maria de Villota will one day tackle -- she's just got a few things to do on the track first.
De Villota became the first female driver in Formula One in 20 years after joining Russian team Marussia in March in a testing role.
She now works alongside Marussia's newly-formed lineup of German veteran Timo Glock and French rookie Charles Pic, and plans to get behind the wheel during the 2012 season.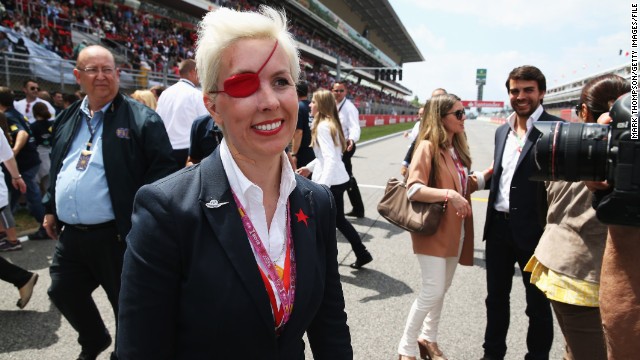 Former Formula One test driver Maria de Villota passed away aged 33. "It is presumed to be death by natural causes," a National Police spokeswoman said Friday.
Spain's De Villota was the first female driver to join a Formula One team in 20 years.
Maria's father Emilio de Villota is a pilot and former racing driver. He runs his own team in the Spanish Formula Three championship.
He entered 15 Formula One races between 1976 and 1982, but qualified to start only two of them with a best finish of 13th.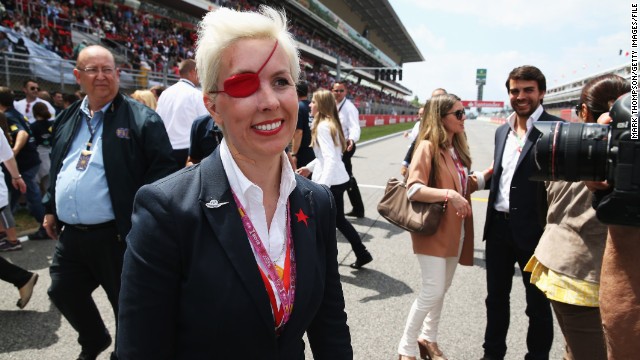 F1 family: The De Villotas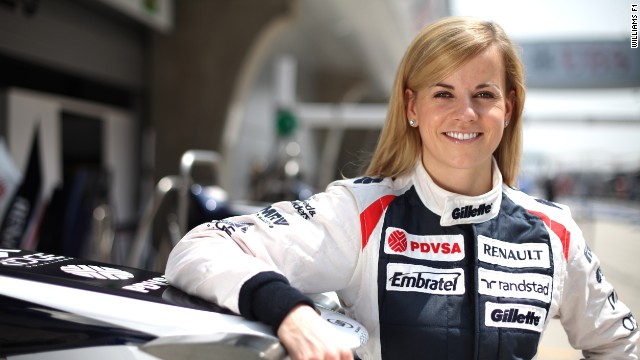 Susie Wolff, 29, joined Williams F1 as a development driver in April.
In Shanghai for the 2012 Chinese Grand Prix in April, Wolff with the Williams F1 team (L-R): Pastor Maldonado, Wolff, Bruno Senna and fellow development driver Valtteri Bottas.
At a DTM touring car presentation in Wiesbaden, Germany.
Signing autographs for fans -- in 2010, Wolff finished ahead of David Coulthard and Ralph Schumacher in the DTM championship.
With husband Toto Wolff, a Williams F1 board member.
In the driver's seat: Wolff with tennis player Mansour Bahrami at the 2010 Laureus Sports Awards in Abu Dhabi.
At the 2006 DTM championship in Germany. In motorsport, Wolff says, you have to put up an emotional wall. "My family say when they see me on a race weekend, I'm a different person."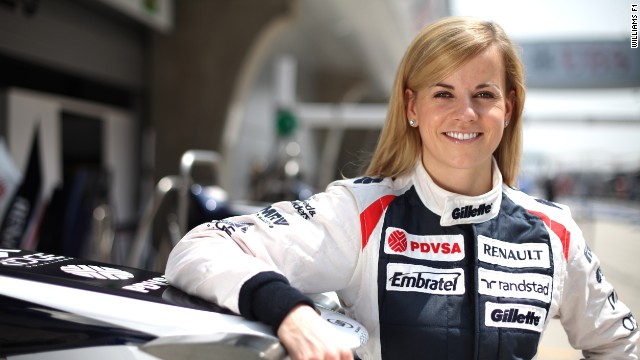 Formula One's Susie Wolff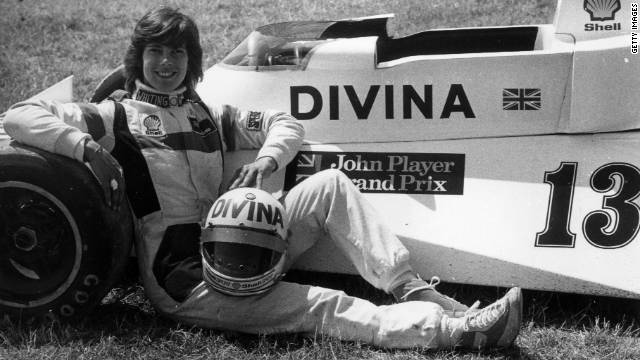 Divina Galica made her Formula One debut at the 1976 British Grand Prix. Despite entering three grands prix, the British driver did not qualify for a race.
Before discovering motorsport, Galica (far right) was an Olympic skier. She was captain of the British ski team and competed at the Winter Olympics in 1964, 1968 and 1972. Until March 2007, Galica held the female British speed skating record, clocking 125 miles per hour in 1994.
Maria Teresa de Filippis was a true pioneer, becoming the first woman to enter a grand prix at Monaco in 1958. One month later, the Italian was the first female driver to finish a race, coming last at the Belgian Grand Prix.
Filippis was succeeded by compatriot Lella Lombardi, who made her own piece of F1 history in 1975. While driving for March at that year's Spanish Grand Prix, Lombardi became the first, and only, woman to register a point-scoring finish in a grand prix.
South African driver Desire Wilson failed to qualify for the 1980 British Grand Prix while competing for Brands Hatch Racing. She did take part in the 1981 South African Grand Prix, but the race was later stricken from F1 records for political reasons.
Giovanna Amati was the last female driver to enter a grand prix. The Italian failed to qualify for the first three races of 1992 season while representing the Brabham team.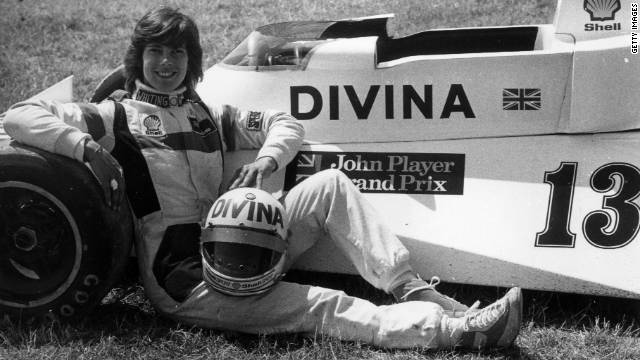 Women in Formula One
The 32-year-old Spaniard admitted it's been a hard slog to get there -- and she's not going to give it up for a baby anytime soon.
"My family is huge and we are all the time together. Of course I would like to have the same thing for me. If you have a baby, I don't know how my body, my mind, is going to react," she told CNN.
"If one day I do make that decision I'll make sure that all my racing goals are achieved. I need to make sure of what I'm thinking -- which is being competitive and not about a little kid waiting at home for me."
But de Villota is proof that kids and the track can mix, having grown up the daughter of former F1 driver Emilio de Villota.
"He was a driver in the late '70s, early '80s and I used to go to see him race. I remember the moment when he would tell me, 'Please hold my helmet.' It was really good having that chance being beside him," she said.
"I think he didn't want me to be a racing driver but in the end I just wanted to be like him."
Considering her racing family, it's no surprise De Villota took to the track at an early age -- an experience that gave her a taste of her dream job.
"My racing career started in Madrid, where I was born, in a go-kart track," she said.
"I remember it was Christmas time and my brother had a go-kart and I had my first drive that day. I was around five and I just went all the way into the front.
I think he didn't want me to be a racing driver but in the end I just wanted to be like him
Maria de Villota on father Emilio
"He was crying and saying, 'You're crazy, I'm not going to share with you anymore.' "
De Villota is the first woman to be part of the elite motorsport since Italy's Giovanni Amati entered three grands prix for Brabham in 1992, but failed to qualify for a race.
Just weeks after De Villota signed with Marussia, 29-year-old Briton Susie Wolff joined Williams as a test driver.
Wolff is just the seventh female F1 driver in the 60-year history of the sport and her recruitment, along with De Villota, was seen as an important step forward in the gender divide.
It hasn't been an easy ride, though.
"Being a woman didn't stop me. I realized I could do it and I could do it good," De Villota said.
"Endurance has been tough because we're not as strong as men. I had to work really hard in order to make sure I could be strong enough to be driving Formula One."