STORY HIGHLIGHTS
Novak Djokovic loses 7-6 (2), 6-3 to Janko Tipsarevic in Madrid
Djokovic says he will not play in Madrid again while the clay is blue
Nadal said he would also boycott the event after his loss a day earlier
Roger Federer, Serena Williams and Victoria Azarenka all through to semifinals
(CNN) -- A day after Rafael Nadal exited the Madrid Masters and vowed never to return while the clay is still blue, a similarly disgruntled Novak Djokovic suffered a shock 7-6 (2), 6-3 loss to fellow Serb Janko Tipsarevic.
The world No. 1 said he would join Nadal in boycotting the Madrid tournament next year if organizers did not restore standard red clay to the courts.
"I want to forget this week as soon as possible and move on to the real clay courts," Djokovic said. "It took me at least a week to try to get used to this surface and somehow find a way to win matches and play a decent level of tennis.
"There is no discussion in my eyes, it's very simple. No blue clay for me."
Nadal lost to fellow Spaniard Fernando Verdasco on Thursday for his earliest exit in a clay-court tournament in eight years. Verdasco was routed 6-1, 6-2 by Tomas Berdych in Friday's quarterfinals.
The blue clay is the brainchild of tournament owner Ion Tiriac, who claims it helps fans see the ball and creates a better viewing experience.
And while Djokovic and Nadal have crashed out, Roger Federer has thrived at the tournament, beating David Ferrer 6-4, 6-4 on Friday to advance to the semifinals.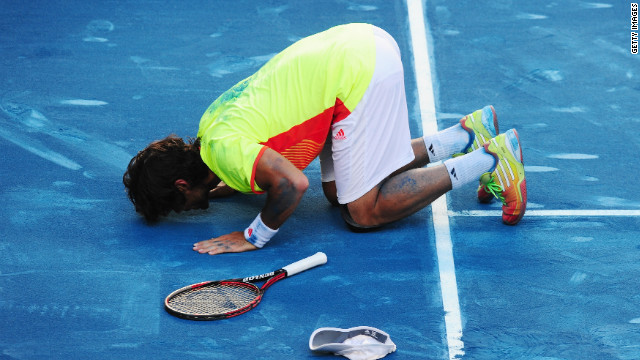 Fernando Verdasco kisses the blue clay in Madrid after beating world No. 2 Rafael Nadal in a huge upset. "I never was in control of the match, I didn't know how to win a point," said Nadal, who is the modern era's "King of Clay."
Nadal's shock exit only added fire to complaints the blue clay is too slippery. Even before his defeat, the Spaniard tweeted: "The history of clay court was on red. It wasn't on blue. Only one person wins -- the owner of the tournament."
Novak Djokovic, who beat Nadal in last year's final on red clay, has been an outspoken critic of the surface, saying: "I played my first official match on blue clay and I have to admit I was not very happy. Next time I have to bring skates instead of shoes, it was sooo slippery."
Not all the feedback has been negative. "I think it's the same, it's just you don't get as dirty," Serena Williams tweeted.
Behind the blue revolution is Romanian billionaire, Ion Tiriac. The former French Open doubles winner and manager to Boris Becker pioneered the first blue hard courts at his indoor event in Stuttgart -- a lead followed by the Australian and U.S. Opens.
Nadal throws his towel -- emblazoned with the logo of sponsor Mutua Madrilena -- into the crowd. Tiriac says improving the experience for television viewers watching his $10.6 million tournament was a major factor in the switch to blue.
Performance specialist Alistair McCaw says the slippery surface isn't due to the color but the implementation. "The amount of clay covering the surface is lesser than normal. If you dig your foot into the surface and remove some of the clay, you will notice that the underlying surface is a hard rubber-like mat," he said.
Recently-retired tennis star Ivan Ljubicic says the biggest challenge at Madrid isn't the clay -- it's the altitude. Balls fly faster through thinner air, and Madrid is 650 meters above sea level.
The blue clay court is made the same way as the red, with bricks ground into tiny fragments and spread over the ground in two different layers. However, in Madrid these bricks are stripped of their iron oxide (the chemical that provides the original color) and then treated with dye.
The tournament is seen as an important buildup to the real clay court crown -- the French Open. Players have argued it's difficult enough adjusting to the conditions in Madrid, without then having to change their game at Roland Garros at the end of the month.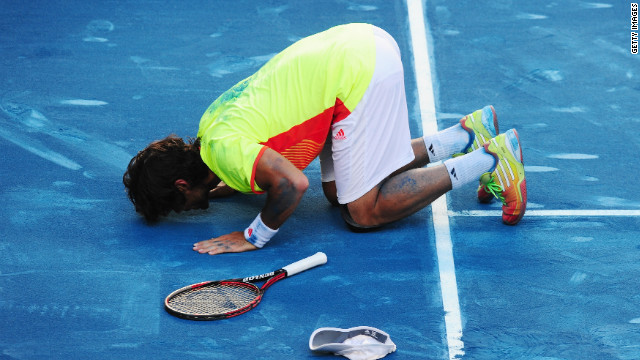 Madrid's clay controversy: Why so blue?
The 16-time Grand Slam champion, president of the ATP Players' Council, said he sympathized with Nadal and Djokovic.
"Yes of course, I said it from the start. It's not something we actually wanted," he said. "I understand their frustrations. It's a bit tricky for everyone and we definitely have to look into things for next year."
Federer will replace Nadal at No. 2 in the rankings if he wins the tournament, thereby increasing his chances of being seeded second for the French Open.
Federer, who didn't face a single break point against Ferrer, will play Tipsarevic in the semifinals, while Juan Martin del Potro meets Berdych in the other after a comfortable 6-3, 6-4 win over Alexandr Dolgopolov.
Serena Williams, too, has been in blistering form in Madrid and won a battle of former No. 1s in typically ruthless style, thrashing Maria Sharapova 6-1, 6-3 .
Both players were unbeaten on clay coming into the match, but Williams extended her winning streak over the Russian to seven while winning her 10th straight match.
Williams said the clay was "extremely slippery" but she wouldn't join the top men's stars in skipping Madrid next year.
There is no discussion in my eyes, it's very simple. No blue clay for me
Novak Djokovic
"If I'm not here next year, it won't be because of the clay," said the 13-time Grand Slam champion. "I don't think there's been any improvement in the courts over the week, but every clay court is different.
"This is not the best court -- definitely not what they play like at Roland Garros -- but it's what they use at Madrid."
Williams will face Lucie Hradecka for a place in the final after the Czech qualifier upset fifth-seeded Sam Stosur 7-6 (8), 7-6 (6).
World No. 1 Victoria Azarenka avoided another upset when she recovered to beat French Open champion Li Na 3-6, 6-3, 6-3.
She will play Agnieszka Radwanska for the sixth time this year in Saturday's semifinals, and said any complaints about the courts would have to wait.
"I'm not a fan of this court, that's for sure," she added. "But I don't want to sit here and complain about it.
"Nothing is going to change this year. We can talk after the tournament about possible changes."