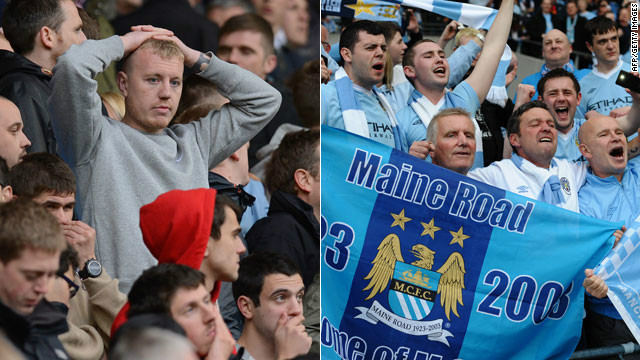 On a day of high drama and emotion, the blue half of Manchester was left to celebrate as Manchester City pipped their city rivals to the title. Click on for the highlights ...
20 mins: Manchester United, relying on City to slip up against QPR, score first through Wayne Rooney in their must-win match at Sunderland. Advantage United!
39 mins: Back in Manchester, Pablo Zabaleta puts City back in the driving seat as Paddy Kenny fails to keep his shot out.
48 minutes: A terrible mistake from Joleon Lescott allows Djibril Cisse (center) to race through and equalize for QPR. Advantage well and truly with United!
54 minutes: With City looking shell-shocked, QPR captain Joey Barton is sent off after a clash with Carlos Tevez.
66 mins: Unbelievable! Jamie Mackie (3rd from left) puts 10-man QPR 2-1 ahead after a rare counter attack. Classic smash and grab -- the City players can't believe it.
92 minutes: With time added on City grab a lifeline through substitute Edin Dzeko (right). But City need to win. United have beaten Sunderland 1-0!
95 minutes: City have done it! Argentina striker Sergio Aguero is mobbed by teammates after scoring the winner with seconds to go in injury time.
City manager Roberto Mancini (center) runs to greet his jubilant players after their breathtaking victory.
Victorious captain Vincent Kompany holds aloft the Premiership trophy ...
... while United players look dejected as the result from Manchester filters through.
How Battle of Manchester was won
STORY HIGHLIGHTS
Premier League title decided in stoppage time of Manchester City's game with QPR
Manchester City win their first league title since 1968
Arsenal qualify for Champions League after win at West Brom
Bolton relegated after 2-2 draw at Stoke
London (CNN) -- Manchester City won the English league title for the first time in 44 years to deny rivals Manchester United a 20th domestic championship in a gripping conclusion to the Premier League season.
Defending champions United had looked on course to win the title after winning 1-0 at Sunderland thanks to Wayne Rooney's first-half effort, but City scored two remarkable stoppage-time goals to fashion an improbable 3-2 home victory against Queens Park Rangers.
City had led the table on goal difference at the start of Sunday and Pablo Zabaleta's first-half goal suggested Roberto Mancini's side would comfortably win their first title since 1968.
But a mistake by Joleon Lescott allowed Djibril Cisse to level and following a red card for QPR midfielder Joey Barton, Jamie Mackie popped up to head in the visitors' second goal to give United fans hope that their team might yet snatch the title from their city rivals.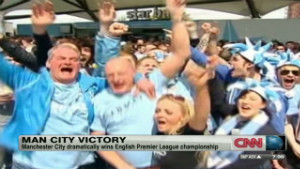 Fans celebrate Manchester City's big win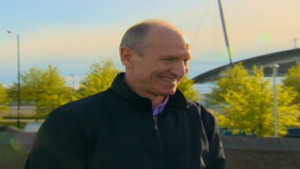 Man City legend on EPL success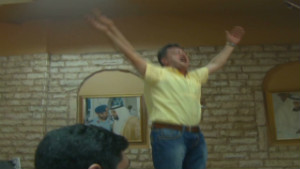 Abu Dhabi celebrates Man City win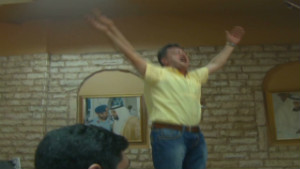 Abu Dhabi celebrates Man City win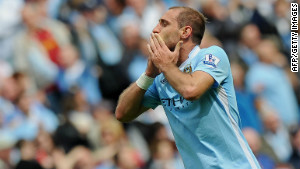 Man City's last gasp goal wins title
City bombarded the QPR penalty area and in stoppage time Edin Dzeko headed home to give their fans hope, before Sergio Aguero scored a stunning individual winner in a finale that no script writer would have dared pen.
It was a goal that ensured City won the title on goal difference in the Premier League's 20th season, arguably the most dramatic finish in its history given it was decided in the last three minutes.
"To win it like this is incredible," Mancini, who at times during the second half gave the impression he could barely believe his side appeared to be doing all they could to throw away the title, told Sky Sports. "I don't think I've ever seen a finale like this.
"We didn't deserve to lose, we had a lot of chances and we deserved to win the game and championship.
"It's fantastic for the club and the supporters after 44 years. It's been a crazy season and a crazy last minute."
In 1999 United won the Champions League final with two stoppage-time goals against Bayern Munich in Barcelona and Sunday's epic events bore parallel, though this time the Red Devils manager Sir Alex Ferguson had to suffer as victory was snatched away from him in those heart-palpitating final moments.
"I would like to say on behalf of Manchester United congratulations to our neighbors," said Ferguson. "It's a fantastic achievement to win the Premier League. It's the hardest league in the world and anyone who wins it deserves it."
The rollercoaster game at the Eithad Stadium that wrung every ounce of emotion out of both City and QPR fans had consequences at the other end of the table given a Rangers defeat would have condemned them to relegation if Bolton Wanderers had beaten Stoke City away -- and at one stage Owen Coyle's side led 2-1 at the Britannia Stadium.
But a 77th-minute Jonathan Walters goal earned Stoke a 2-2 draw to relegate Bolton to the Championship and allow QPR -- managed by former Manchester City manager Mark Hughes -- to stay up in the Premier League.
Arsenal finished third after a 3-2 win at West Brom to secure their Champions League place, while north London rivals Tottenham Hotspur beat Fulham 2-0 to take fourth.
Premier League's expansion over 20 years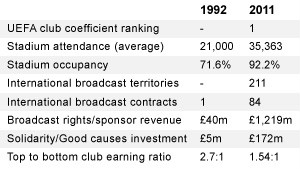 Spurs will join Arsenal in the Champions League only if Chelsea lose to Bayern Munich in the European Cup final on May 19.
Newcastle's hopes of a Champions League place evaporated after a 3-1 defeat at Everton, though Alan Pardew's team have the consolation of a Europa League place.
It is estimated that Manchester City's owner Sheikh Mansour from the ruling family of Abu Dhabi in the United Arab Emirates has invested close to $1.6 billion in securing this Premier League title.
The title gives City's owners huge kudos, though not necessarily immediate financial benefits.
"It should be remembered that there is a price of success, namely bonus payments to players and managers," financial blogger Kieron O'Connor, who writes the Swiss Ramble blog, told CNN.
"In fact, it is entirely possible that the net financial result might be negative for a direct comparison between finishing first or second, though it might be different if the comparison is against coming, say, sixth the previous season."
It is a title that City probably should have wrapped up a long time ago.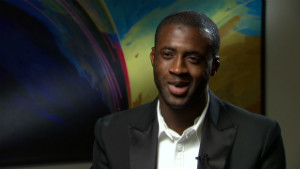 Yaya Toure on Man City's title bid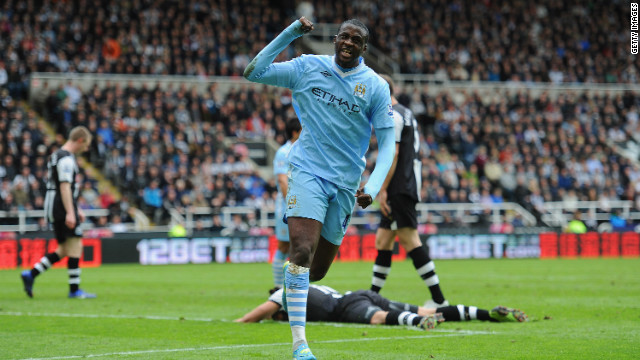 Yaya Toure's two goals against Newcastle put Manchester City in pole position to clinch the English Premier League title. The club's last domestic championship came in 1968.
The Ivory Coast international scored the only goal in last year's English FA Cup final against Stoke, ending a 35-year trophy drought for City.
Toure's older brother Kolo joined Manchester City a year earlier in 2009, having moved from English rivals Arsenal.
The midfielder was not such a key player at his previous club Barcelona, and filled a central defensive role in the 2009 Champions League final victory against Manchester United.
Two weeks earlier, also playing in defense, Toure scored the opening goal as Barcelona beat Athletic Bilbao 4-1 in the Spanish Cup final.
Toure played in the Ivory Coast's first World Cup in 2006, and also appeared at the 2010 tournament. He suffered defeat in final of the 2012 Africa Cup of Nations, and his six-week absence was crucial to City's loss of form.
Toure has played in the European Champions League for several seasons, and is pictured here on duty for Greek club Olympiakos against Lyon in 2004.
He started his European career with Beveren in Belgium, before moving to Ukraine's Metalurh Donetsk in 2004 along with compatriots Arsene Ne (left) and Igor Lolo (center).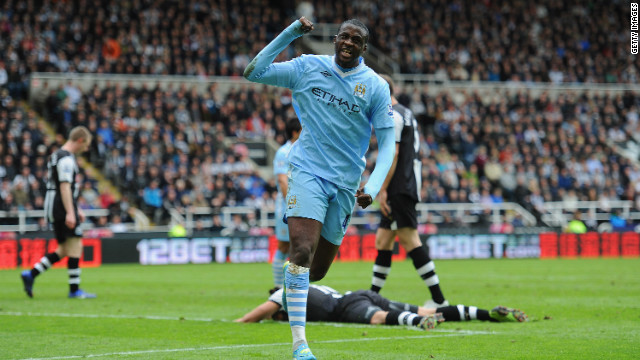 Yaya Toure's football journey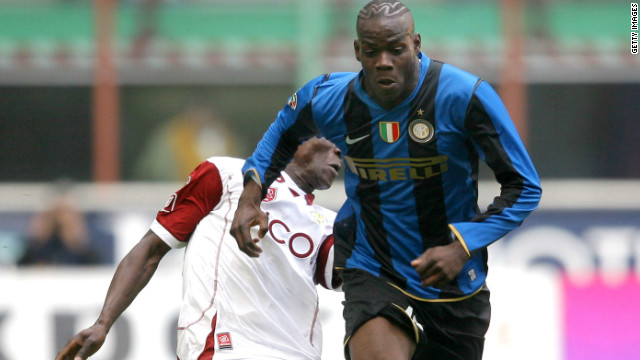 Balotelli's first-team debut came in December 2007 as a subsitute with Internazionale. Three days later the 17-year-old scored two goals during Inter's 4-1 Coppa Italia win against Reggina.
Balotelli became the youngest Inter player to score in the Champions League in November 2008 when he netted against Cyprus's Anorthosis Famagusta. He was 18 at the time.
Man City signed Balotelli from Inter for £24m in August 2010. The deal was made under manager Robert Mancini who this week hinted the player may be sold unless he reels in his controversial behavior.
Balotelli is red-carded after a foul on Arsenal's Barcary Sagna on Sunday. Man City lost the match 1-0, with manager Robert Mancini later saying: "It's clear he's created big problems, but he's scored important goals."
Berlotelli's off-pitch antics have taken their toll on the squad with manager Robert Mancini admitting last week he'd punch the forward in the head if they were teammates. It's been a rocky year for the 21-year-old who caused severe damage when he let off fireworks in his bathroom and on Thursday crashed his Bentley in Manchester.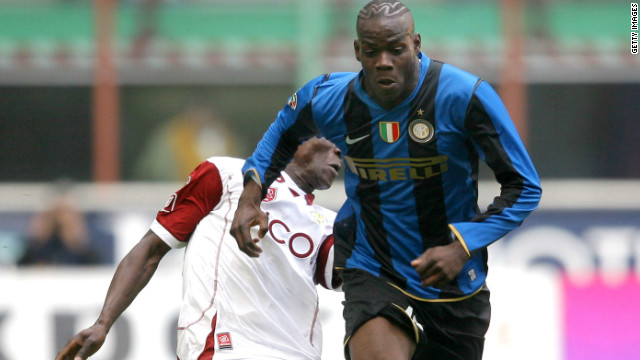 The highs and lows of Mario Balotelli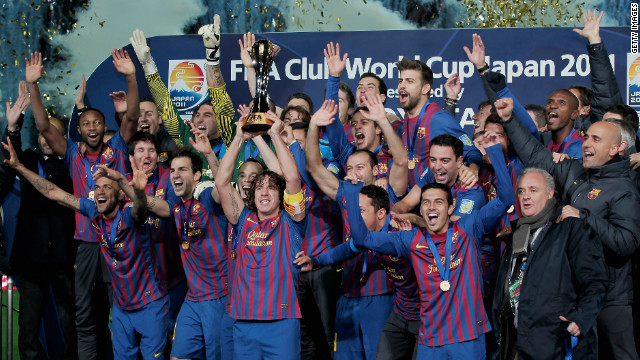 Barcelona's players are the best paid in the world according to a new report. The team kept its No. 1 place on the earnings table with each player taking home an average annual salary of $8.6 million (£5.2 million). That's a whopping $166,934 (£101,160) per week and a 10% rise on last year.
Spanish football teams continued to dominate the rankings, with Real Madrid keeping its No. 2 spot. It's players earned an average $7.7 million (£4.7 million) - a 6% rise on last year. Cristiano Ronaldo became the most expensive footballer in history in 2009 after moving from Manchester United to Real Madrid in a six-year deal worth $129 million (£80 million).
Manchester City moved up the rankings from 10th last year to 3rd in 2012, thanks to an average annual salary of $7.4 million for its players. It's a 26% increase on last year and demonstrates the wealth of the English club's owner Sheikh Monsour.
Russian billionaire Roman Abromovich's Chelsea team climbed the rankings from sixth to fourth, with players earning around $6.7 million a year -- the equivalent of $130,690 a week.
The first non-soccer entry in the rich list is the LA Lakers. The Americans are also the only bastketballers in the top 10, with players taking home $6.2 million annually -- about $120,732 per week.
Baseball's New York Yankees have continued to fall in the rankings -- dropping from No. 1 in 2010 to sixth this year. But the MLB team's players can still take comfort from an average yearly salary of $6.1 million -- around £118,968 a week.
Former Italian Prime Minister Silvio Berlusconi pumped even more money into his football club AC Milan last year. The Serie A champions rose from 14th in the list with players enjoying a yearly salary of $6.1 million, pocketing $117,399 per week.
Also rising in the rich list was Germany's Bayern Munich, up from 12th place last year. Players boasted a yearly salary of $5.9 million, taking home $113,609 a week.
The Philadelphia Phillies are one of just three U.S. teams in the top 10. The baseball franchise's players earned an average $5.8 million a year, or $111,884 per week.
Internazionale sneaked into the top 10 with an average yearly salary of $5.7 million for its players. It's a family affair for Italian oil tycoon Massimo Moratti, whose father Angelo also owned the club in the 1950s and '60s.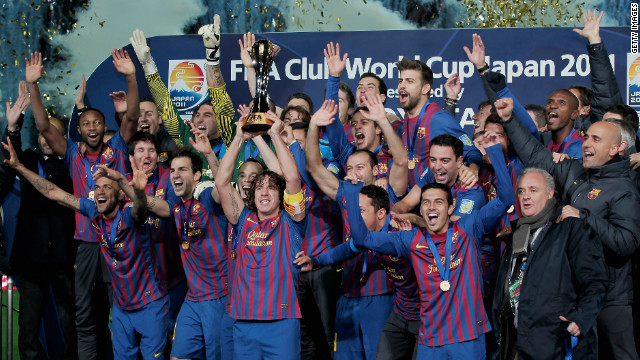 The world's 10 best-paid sports teams
At one stage in December after their barnstorming start to the season -- notably a 6-1 win over the defending champions at Old Trafford -- City were eight points of United after beating Norwich 5-1.
However, a combination of Carlos Tevez going AWOL after falling out with Mancini, Yaya Toure's absence as he played for the Ivory Coast at the African Cup of Nations, David Silva's dip in form and Mario Balotelli's ill-disciplined antics allowed the defending champions to claw back that deficit and go eight points clear.
But a disastrous April for United -- including a 1-0 defeat by City at the Eithad Stadium -- enabled Mancini's team to move top on goal difference going into the final round of matches.
Sunday's games were broadcast to 211 countries around the world -- testament to the Premier League's global appeal.
The remarkable end to the season could not have come at a better time for the league given it has recently announced the new tender for its next three-year broadcasting rights starting from the 2013-14 season.
"Games going down to the last game of the season will certainly increase interest and may in turn show the league as more valuable because of the unresolved title, Champions League and relegation issues," said lawyer Daniel Geey of Field Fisher Waterhouse.
Sunday's 10 games also ensured this was the most prolific Premier League season ever with 1,066 goals, beating last season's record total of 1,063.