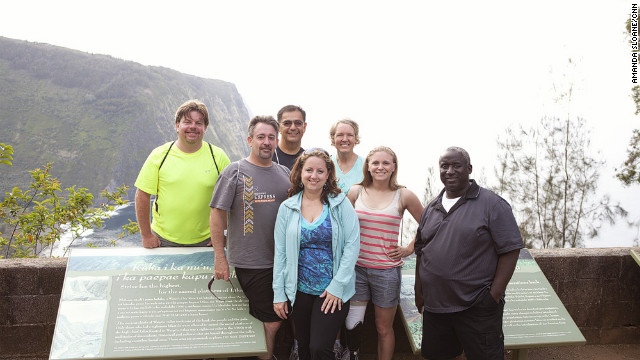 The Fit Nation "Lucky 7" arrives in Kailua-Kona, Hawaii, on Sunday, May 13, for a week of training. The group will be participating in the Nautica Malibu Triathlon with CNN's Dr. Sanjay Gupta in September. Here they take a group picture before hiking down the Waipio Valley Trail.
Fit Nation athletic director April Burkey rocks a pink hat while waiting for the "Lucky 7" to get fitted for rental bikes in Hawaii.
Glenn Keller Sr., a truck driver and pastor from Burleson, Texas, leads the pack of 2012 Fit Nation Triathlon Challenge participants near Mauna Lani Bay.
Fit Nation Challenge participants Nancy Klinger, left, and Adrienne LaGier bike through the lava fields on the Big Island of Hawaii.
Jeff Dauler, an Atlanta radio personality, and other bikers take a training ride through the lava fields.
The "Lucky 7" strike a pose after a training ride. From left: Glenn Keller, Rick Morris, Adrienne LaGier, Nancy Klinger, Denise Castelli, Jeff Dauler and Carlos Solis.
The team learns about "transition spaces," where athletes place their biking or running gear in certain positions to make it easy to go from swimming to biking or biking to running. Here sneakers are lined up with a triathlete's race number.
Castelli, an athlete from Netcong, New Jersey, gets ready to run after biking. Castelli's right leg was amputated below the knee following several surgeries to combat an infection.
Rick Morris, a Web developer and volunteer firefighter from Canton, North Carolina, goes for a run with his teammates.
Carlos Solis, an elementary school teacher from Ontario, California, tries to stay hydrated as he runs through the lava fields.
Athletic director Burkey leads the "Lucky 7" team in a stretch after a long run.
Klinger, a mother from Afton, Minnesota, shares a laugh with her teammates during a stretch.
Castelli gets into the downward dog position as the team does yoga after a run.
Keller joins his teammates in stretching exercises.
Klinger wins the race for getting into a wetsuit the fastest during the team's first swim workout.
Burkey gives swimming instructions to the "Lucky 7" before the team enters the waters in Mauna Lani Bay.
The Fit Nation team receives more instructions before their first open-water swim.
Roni Selig, Fit Nation coach and director of the CNN Medical Unit, helps Castelli out of the water.
Morris attempts to take off his wetsuit while practicing the transition to biking.
Castelli takes in the scenic beauty of the black sand beach in Waipio Valley.
Fit Nation in Hawaii
Fit Nation in Hawaii
Fit Nation in Hawaii
Fit Nation in Hawaii
Fit Nation in Hawaii
Fit Nation in Hawaii
Fit Nation in Hawaii
Fit Nation in Hawaii
Fit Nation in Hawaii
Fit Nation in Hawaii
Fit Nation in Hawaii
Fit Nation in Hawaii
Fit Nation in Hawaii
Fit Nation in Hawaii
Fit Nation in Hawaii
Fit Nation in Hawaii
Fit Nation in Hawaii
Fit Nation in Hawaii
Fit Nation in Hawaii
Fit Nation in Hawaii