200-year-old shipwreck discovered in northern Gulf of Mexico
May 17, 2012 -- Updated 2011 GMT (0411 HKT)
STORY HIGHLIGHTS
Scientists believe the wooden shipwreck dates back to the 19th century
A rare type of stove, cannons and stacked muskets were on the ship
Exploration used new technology
The wreck was originally detected during an oil-and-gas survey by Shell
(CNN) -- A wooden ship believed to be over 200 years old was discovered during a recent exploration of the northern Gulf of Mexico, according to a press release from the U.S. National Oceanic and Atmospheric Administration (NOAA).
Scientists were able to view the remains of "anchors, navigational instruments, glass bottles, ceramic plates, cannons, and boxes of muskets" aboard the ship, NOAA stated.
Shipwreck found on Gulf floor while thousands watched
"Artifacts in and around the wreck and the hull's copper sheathing may date the vessel to the early to mid-19th century," said Jack Irion, a maritime archaeologist with the Interior Department's Bureau of Ocean Energy Management.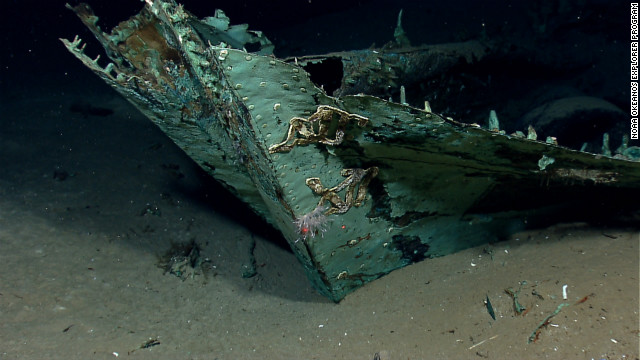 Images of a shipwreck found in the Gulf of Mexico showed that its wooden construction has been destroyed by underwater organisms, but copper sheeting that protected the ship's hull also helped it retain its shape.
Artifacts discovered at the wreck site included ceramic plates, platters, and bowls. A wide variety of glass bottles for liquor, wine, medicine and food were also found -- including some of their original contents.
An anemone rests on a collection of muskets that belonged to the ship. These weapons could indicate what the ship was used for and where it was going.
Intriguing sealife was also discovered during the expedition, like this octocoral. Nearly 80,000 people participated in the NOAA expedition through telepresence technology over the course of a few weeks.
NOAA's Seirios Camera Platform, operating above the Little Hercules ROV, images the shipwreck and its remnants, including its anchor.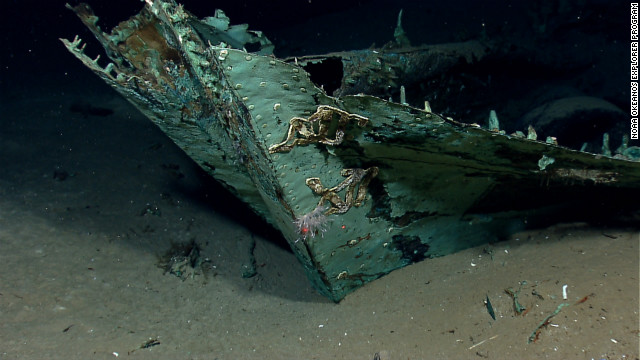 "Some of the more datable objects include what appears to be a type of ceramic plate that was popular between 1800 and 1830, and a wide variety of glass bottles. A rare ship's stove on the site is one of only a handful of surviving examples in the world and the second one found on a shipwreck in the Gulf of Mexico."
Scientists aboard the NOAA ship "Okeanos Explorer" were able to view the wreckage using advanced multi-beam mapping sonar technology and a remotely operated underwater vehicle, named "Little Hercules." Little Hercules made 29 dives during the 56-day mission in March and April, according to NOAA.
The Bureau of Ocean Energy Management requested that NOAA investigate the site after it was originally detected as an "unknown sonar contact" by Shell Oil Company during a 2011 oil and gas survey of the Gulf, government officials said.
The expedition also used "telepresence" technology that allowed scientists and citizens on shore to partake in the exploration via the Internet as it happened. According to daily logs posted on NOAA's website, others followed the exploration remotely using e-mail, on-line chat rooms, video streams, and file transfer sites to exchange information.
"Shipwrecks help to fill in some of the unwritten pages of history," said Frank Cantelas, a maritime archaeologist with NOAA's Office of Ocean Exploration and Research. "We explored four shipwrecks during this expedition and I believe this wreck was by far the most interesting and historic."
The shipwreck site was located approximately 200 miles off the U.S. Gulf coast in water that was over 4,000 feet deep, according NOAA. Until now, the area has been relatively unexplored.

Part of complete coverage on
MainSail
August 19, 2014 -- Updated 1136 GMT (1936 HKT)

Over 300 miles from the nearest ocean, competitors in one of the world's fastest sailing races prepare for battle.
August 11, 2014 -- Updated 1544 GMT (2344 HKT)

London's new superyacht hotel is so enormous, authorities had to lower the water level by five meters just to fit it under a bridge.
August 21, 2014 -- Updated 1155 GMT (1955 HKT)

His mast-walking stunts have attracted over 3.5 million hits on YouTube, but Alex Thomson just wants to get back to doing what he does best.
July 28, 2014 -- Updated 1432 GMT (2232 HKT)

Elizabeth Meyer talks to CNN's Mainsail about the "Armageddon battle" to restore the pioneering J-class boat Endeavour.
August 21, 2014 -- Updated 1150 GMT (1950 HKT)

Ship captains of the future won't be salty sea dogs with their hand at the helm, and the ocean at their feet.
July 10, 2014 -- Updated 1348 GMT (2148 HKT)

Like "Downton Abbey," Henley's Royal Regatta reminds its visitors of an England of old. But for how much longer?
August 21, 2014 -- Updated 1156 GMT (1956 HKT)

Nine months at sea, one change of clothes, freeze-dried food and a strange language. Could you cope?
June 11, 2014 -- Updated 1317 GMT (2117 HKT)

Can a $134 million budget and the royal seal of approval bring the coveted America's Cup back to British shores for the first time in sailing history?
June 3, 2014 -- Updated 1554 GMT (2354 HKT)

Bored of lounging on your superyacht in the Mediterranean? An increasing number of millionaires are now sailing their luxury vessels to the ends of the Earth, to get their kicks.
May 22, 2014 -- Updated 1613 GMT (0013 HKT)

He's one of the great landscape artists, but JMW Turner also had a watery passion -- and his maritime travels are being retraced.
May 20, 2014 -- Updated 1022 GMT (1822 HKT)

How do you get a foot on the property ladder, when you live in one of the most expensive cities in the world? The answer may lie in the water...
May 6, 2014 -- Updated 1142 GMT (1942 HKT)

Quadriplegic yachtswoman Hilary Lister was saved from suicide through the sport of sailing. Now she is plotting a voyage across the Atlantic.
Today's five most popular stories