200-year-old shipwreck discovered in northern Gulf of Mexico
May 17, 2012 -- Updated 2011 GMT (0411 HKT)
STORY HIGHLIGHTS
Scientists believe the wooden shipwreck dates back to the 19th century
A rare type of stove, cannons and stacked muskets were on the ship
Exploration used new technology
The wreck was originally detected during an oil-and-gas survey by Shell
(CNN) -- A wooden ship believed to be over 200 years old was discovered during a recent exploration of the northern Gulf of Mexico, according to a press release from the U.S. National Oceanic and Atmospheric Administration (NOAA).
Scientists were able to view the remains of "anchors, navigational instruments, glass bottles, ceramic plates, cannons, and boxes of muskets" aboard the ship, NOAA stated.
Shipwreck found on Gulf floor while thousands watched
"Artifacts in and around the wreck and the hull's copper sheathing may date the vessel to the early to mid-19th century," said Jack Irion, a maritime archaeologist with the Interior Department's Bureau of Ocean Energy Management.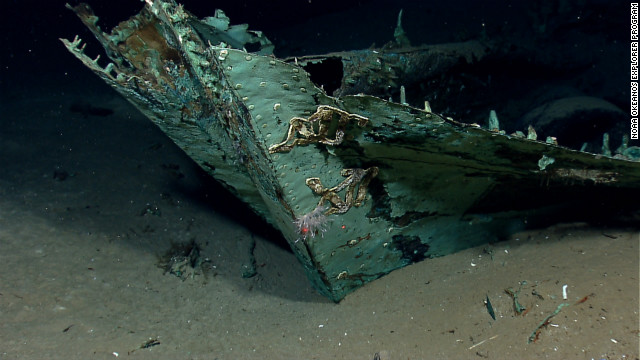 Images of a shipwreck found in the Gulf of Mexico showed that its wooden construction has been destroyed by underwater organisms, but copper sheeting that protected the ship's hull also helped it retain its shape.
Artifacts discovered at the wreck site included ceramic plates, platters, and bowls. A wide variety of glass bottles for liquor, wine, medicine and food were also found -- including some of their original contents.
An anemone rests on a collection of muskets that belonged to the ship. These weapons could indicate what the ship was used for and where it was going.
Intriguing sealife was also discovered during the expedition, like this octocoral. Nearly 80,000 people participated in the NOAA expedition through telepresence technology over the course of a few weeks.
NOAA's Seirios Camera Platform, operating above the Little Hercules ROV, images the shipwreck and its remnants, including its anchor.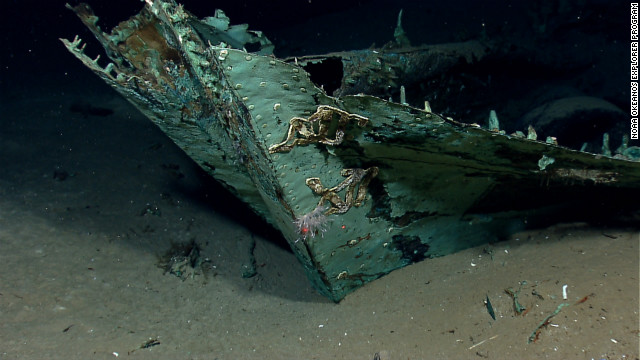 "Some of the more datable objects include what appears to be a type of ceramic plate that was popular between 1800 and 1830, and a wide variety of glass bottles. A rare ship's stove on the site is one of only a handful of surviving examples in the world and the second one found on a shipwreck in the Gulf of Mexico."
Scientists aboard the NOAA ship "Okeanos Explorer" were able to view the wreckage using advanced multi-beam mapping sonar technology and a remotely operated underwater vehicle, named "Little Hercules." Little Hercules made 29 dives during the 56-day mission in March and April, according to NOAA.
The Bureau of Ocean Energy Management requested that NOAA investigate the site after it was originally detected as an "unknown sonar contact" by Shell Oil Company during a 2011 oil and gas survey of the Gulf, government officials said.
The expedition also used "telepresence" technology that allowed scientists and citizens on shore to partake in the exploration via the Internet as it happened. According to daily logs posted on NOAA's website, others followed the exploration remotely using e-mail, on-line chat rooms, video streams, and file transfer sites to exchange information.
"Shipwrecks help to fill in some of the unwritten pages of history," said Frank Cantelas, a maritime archaeologist with NOAA's Office of Ocean Exploration and Research. "We explored four shipwrecks during this expedition and I believe this wreck was by far the most interesting and historic."
The shipwreck site was located approximately 200 miles off the U.S. Gulf coast in water that was over 4,000 feet deep, according NOAA. Until now, the area has been relatively unexplored.

Part of complete coverage on
MainSail
February 28, 2014 -- Updated 1247 GMT (2047 HKT)

It's an exclusive holiday home for the rich and famous -- and now Richard Branson has opened up his private island for a new photo book.
February 14, 2014 -- Updated 1833 GMT (0233 HKT)

In 1973, a dozen men set out on what would be the longest known raft voyage in human history, from Ecuador to Australia.
January 30, 2014 -- Updated 1409 GMT (2209 HKT)

After witnessing decades of incredible sailing innovations, renowned photographer Onne van der Wal now feels like he's an "astronaut of the sea."
January 24, 2014 -- Updated 1805 GMT (0205 HKT)

The tropical cruise was once the traditional getaway of the elderly retiree -- now it's a haven for metalheads.
January 13, 2014 -- Updated 1244 GMT (2044 HKT)

Having grown a big beard to ward off jellyfish during an epic swim, Sean Conway is now making his home on a rundown wartime vessel.
January 10, 2014 -- Updated 1147 GMT (1947 HKT)

Played by sailors in a brief window of opportunity once each year, this cricket match is never stopped by rain -- but the tide can be a problem.
December 12, 2013 -- Updated 1354 GMT (2154 HKT)

When you've spent 100 days alone on the high seas, battling sleep deprivation and monster waves, it can be difficult to adjust to life on land.
December 10, 2013 -- Updated 1334 GMT (2134 HKT)

From giant yachts in raging oceans to youth regattas, check out the 20 images in contention to win a top photography award.
December 5, 2013 -- Updated 2113 GMT (0513 HKT)

When Enric Sala dips his toes in a pool of water, he does so in the knowledge he may well be the first man on the planet to do so.
November 28, 2013 -- Updated 1118 GMT (1918 HKT)

Alex Caizergues smashes the World Sailing Speed Kitesurfing record over 500 meters, reaching an average speed of 56.62 knots (104.8 kph).
November 22, 2013 -- Updated 1348 GMT (2148 HKT)

Venice is one of the most beautiful cities in the world -- and it wants to stay that way, so it is cracking down on cruise ships.
September 17, 2013 -- Updated 1058 GMT (1858 HKT)

MainSail takes a sneak peak inside the Wally workshop in Monaco, which has built some of the world's most expensive boats.
August 23, 2013 -- Updated 1704 GMT (0104 HKT)

At just 22 meters long, the new America's Cup yacht is 3m shorter than its predecessor. But that hasn't stopped it making big waves.
Today's five most popular stories