STORY HIGHLIGHTS
Real Madrid's Cristiano Ronaldo talks to CNN's Pedro Pinto
He has won the Spanish title, scoring 46 goals, a record for him
Ronaldo says that he believes he is better than Lionel Messi
He believes Jose Mourinho is the best coach in the world
(CNN) -- It's not a phrase that usually gets said out loud, but you have to feel sorry for Cristiano Ronaldo.
The Real Madrid player has just finished the season of his life, winning Spain's La Liga while vanquishing the club's hated Catalan foes Barcelona.
He scored more goals than he ever has before too, 46 in the league to be precise, and 60 overall. Yet even though Madrid finished nine points clear of second place, it is Barca's Lionel Messi that still gets all the attention.
"Some people say I'm better, other people say it's him, but at the end of the day, they're going to decide who is the best player," Ronaldo told CNN in an exclusive interview before this weekend's Champions League final between Bayern Munich and Chelsea at Munich's Allianz Arena.
"At the moment ... I think it is me," he laughs.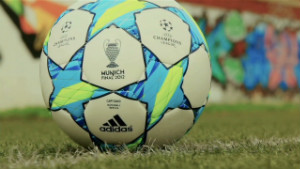 Road to the Champions League final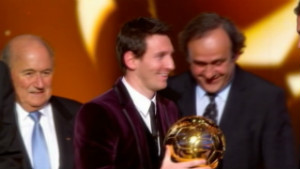 Messi wins third straight Ballon D'or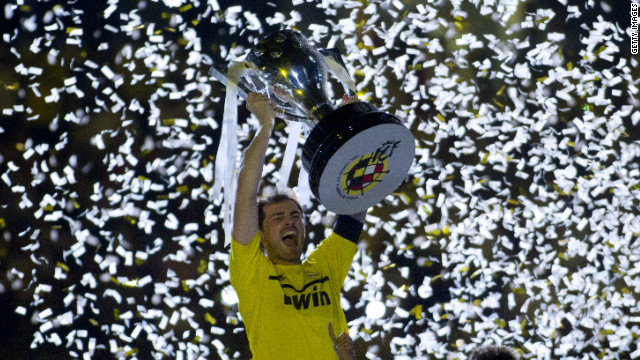 Real Madrid captain Iker Casillas lifts the Spanish Primera Division trophy after Jose Mourinho's team defeated Mallorca 4-1 on Sunday. The 32-time Spanish champions finished the season with 100 points, a record amount.
Villarreal midfielder Marcos Senna cut a forlorn figure after a 1-0 defeat to Atletico Madrid condemned the 2006 European Champions League semifinalists to relegation from the Spanish top flight.
Manchester City beat archrivals and neighbors Manchester United to the English Premier League title on goal difference, after two goals in stoppage gave Roberto Mancini's side a 3-2 victory against Queens Park Rangers.
Defeat in Manchester would have sent QPR down, if Bolton Wanderers had beaten Stoke City. But Owen Coyle's team could only draw 2-2 at the Britannia Stadium, a result which ended Bolton's 11-year stay in the Premier League.
Veteran striker Alessandro del Piero celebrated his final game for Juventus in style, scoring as the Italian champions beat Atalanta 3-1. Juventus were undefeated throughout the 38-game league season.
Filippo Inzaghi marked his final game for AC Milan in similar style to Del Piero, netting the winner in a 2-1 defeat of Novara. Milan finished second, four points behind Juve.
Borussia Dortmund were crowned champions of Germany for a second year in a row, with Jurgen Klopp's side finishing eight points ahead of Champions League finalists Bayern Munich.
At the bottom of the Bundesliga, Hertha Berlin were relegated after losing a two-legged playoff against Fortuna Dusseldorf 4-3 on aggregate. The result means Fortuna, who finished third in Bundesliga 2, will return to the top flight next season for the first time in 15 years.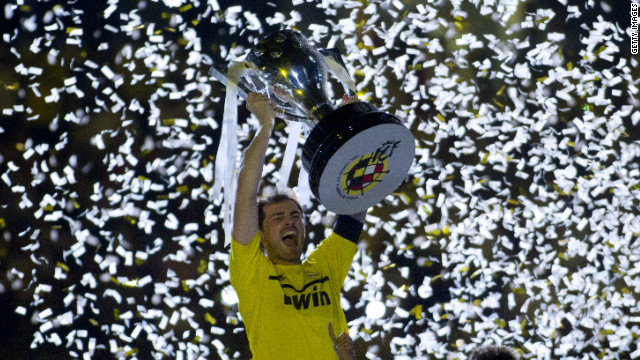 European football season review
"Sometimes (the comparisons with Messi) makes me tired ... for him too because they compare us together all the time.
Messi breaks Barcelona's all-time scoring record
"You cannot compare a Ferrari with a Porsche because it's a different engine. You cannot compare them. He does the best things for Barcelona, I do the best things for Madrid.
"I think we push each other sometimes in the competition, this is why the competition is so high. This is why Madrid and Barcelona are the best teams in the world because everyone pushes each other, not just me and Messi but other players."
Good cop/bad cop
Perhaps Ronaldo is right. The world needs the "good cop/bad cop" routine of Messi and Ronaldo to bring the best out of both them. It might be the reason why neither has set the world alight on the international stage.
But while Messi is hailed as a secular saint, Ronaldo is derided for his self-confidence, some would say over-confidence. How does he cope with the vitriol he provokes in opposition fans?
"Sometimes, you have to put on a mask. You cannot smile every time for all the people. It's impossible, I cannot do that," he says.
"This is not my type of personality. And people really don't know me. And I do it for that because I don't want every person to know me, just close friends ... you know, my friends, teammates. These people know me very well. Other people, to be honest, I really don't care about that."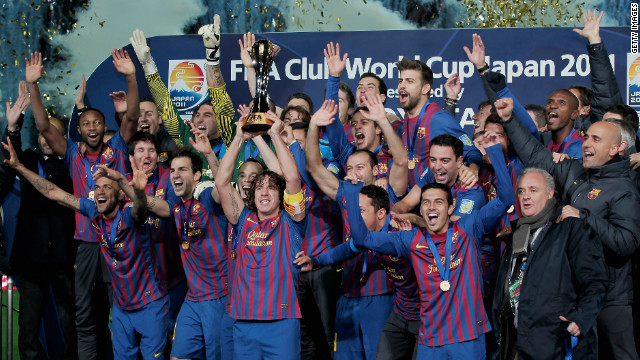 Barcelona's players are the best paid in the world according to a new report. The team kept its No. 1 place on the earnings table with each player taking home an average annual salary of $8.6 million (£5.2 million). That's a whopping $166,934 (£101,160) per week and a 10% rise on last year.
Spanish football teams continued to dominate the rankings, with Real Madrid keeping its No. 2 spot. It's players earned an average $7.7 million (£4.7 million) - a 6% rise on last year. Cristiano Ronaldo became the most expensive footballer in history in 2009 after moving from Manchester United to Real Madrid in a six-year deal worth $129 million (£80 million).
Manchester City moved up the rankings from 10th last year to 3rd in 2012, thanks to an average annual salary of $7.4 million for its players. It's a 26% increase on last year and demonstrates the wealth of the English club's owner Sheikh Monsour.
Russian billionaire Roman Abromovich's Chelsea team climbed the rankings from sixth to fourth, with players earning around $6.7 million a year -- the equivalent of $130,690 a week.
The first non-soccer entry in the rich list is the LA Lakers. The Americans are also the only bastketballers in the top 10, with players taking home $6.2 million annually -- about $120,732 per week.
Baseball's New York Yankees have continued to fall in the rankings -- dropping from No. 1 in 2010 to sixth this year. But the MLB team's players can still take comfort from an average yearly salary of $6.1 million -- around £118,968 a week.
Former Italian Prime Minister Silvio Berlusconi pumped even more money into his football club AC Milan last year. The Serie A champions rose from 14th in the list with players enjoying a yearly salary of $6.1 million, pocketing $117,399 per week.
Also rising in the rich list was Germany's Bayern Munich, up from 12th place last year. Players boasted a yearly salary of $5.9 million, taking home $113,609 a week.
The Philadelphia Phillies are one of just three U.S. teams in the top 10. The baseball franchise's players earned an average $5.8 million a year, or $111,884 per week.
Internazionale sneaked into the top 10 with an average yearly salary of $5.7 million for its players. It's a family affair for Italian oil tycoon Massimo Moratti, whose father Angelo also owned the club in the 1950s and '60s.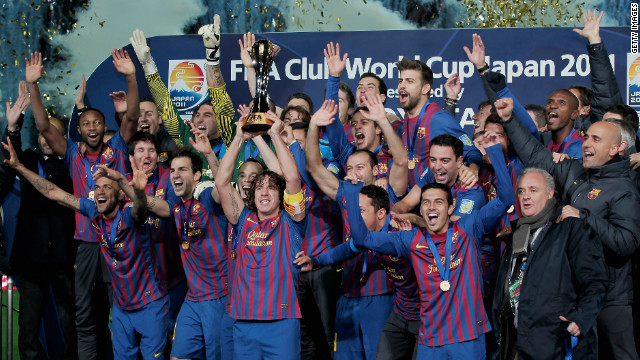 The world's 10 best-paid sports teams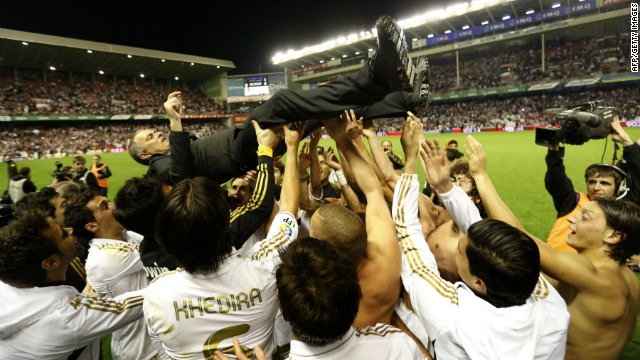 Real Madrid players lift Jose Mourinho after winning the Spanish title for the 32nd time. The Portuguese coach has also won league titles in Portugal, England and Italy.
Real Madrid supporters celebrate their team's triumph, which was clinched with two games to play after a 3-0 win at Athletic Bilbao.
Gonzalo Higuain celebrates his opener for Real against Bilbao. It was followed by goals from Mesut Ozil and Cristiano Ronaldo.
Bilbao's Javi Martinez was sent off late in the match at San Mames. His team had been expected to put up a tough test, having reached the final of the Europa League this season.
Barcelona may have lost the Spanish title after a three-year reign, but Lionel Messi broke Gerd Muller's longstanding record for goals in a European season. Messi's eighth hat-trick this season in the 4-1 win over Malaga took him to 68 overall and 46 in La Liga -- two ahead of Ronaldo.
As Real triumphed in Spain, Ajax Amersterdam won the Dutch league for the second year in a row as coach Frank de Boer's team beat VVV Venlo 2-0.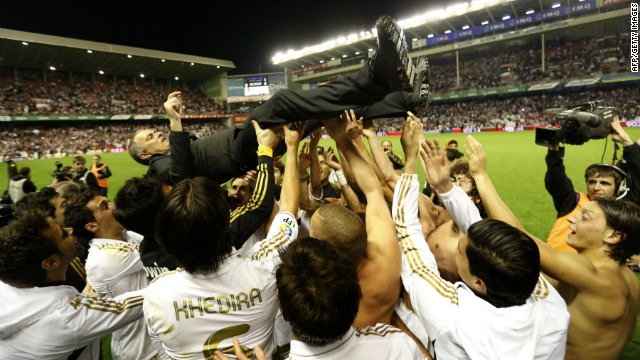 Real Madrid's La Liga triumph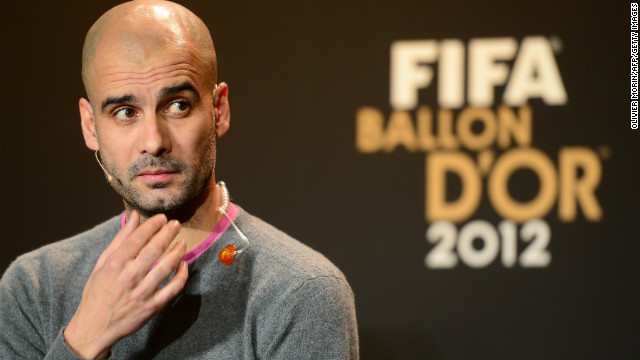 Pep Guardiola has been on a year-long sabbatical in the U.S. after stepping down as Barcelona coach, but he returned to Europe in January for the Ballon d'Or when he was shortlisted for FIFA's world coach of the year award.
When he confirmed he was to end his four-year reign as Barcelona coach, Guardiola gave an emotional press conference.
Guardiola announced his intent to quit at the end of last season just three days after the club's Champions League semifinal exit against Chelsea, drawing 2-2 at home and losing 3-2 on aggregate. He left a remarkable legacy.
He was massively popular at the Camp Nou after four trophy-laden seasons. Here he is thrown in the air by his players after winning the FIFA Club World Cup for the second time in December 2011, having been the first team from Spain to win it two years earlier.
Guardiola congratulates Barca players Cesc Fabregas and Javier Mascherano after winning the Spanish Supercup against Real Madrid at the start of the 2011-12 season.
Guardiola lifts the 2011Champions League trophy after Barca beat Manchester United at Wembley. The 41-year-old has earned a reputation as a coach who prepares meticulously for matches.
Guardiola won the FIFA Men's Football Coach of the Year award in January 2012. "I can't promise you silverware, but I can say that we'll keep on battling to the end and you'll be proud of us," he said after becoming coach four years ago.
In the 2009 calendar year, Guardiola won six trophies in total -- the Copa del Rey, La Liga, the European Champions League, the Spanish Supercup, the UEFA Supercup and the Club World Cup.
Former Barcelona president Joan Laporta shakes hands with Guardiola on June 5, 2008. The Catalan club's 15th coach arrived with the mission to end a two-season trophy drought -- he didn't disappoint.
As a player, Guardiola spent more than a decade in Barcelona's senior team, winning six Spanish titles and one European Cup. He captained Spain to a gold medal at the 1992 Barcelona Olympics and went to the 1994 World Cup.
He joined Barca's famed La Masia youth academy in 1984, and wore the No. 4 shirt until leaving for Italy in 2001.
He had two spells at Serie A side Brescia either side of a brief time at Roma, and is pictured playing against Perugia in 2002.
Guardiola left Europe to join Qatar's Al-Ahly from 2003 to 2005, then joined Mexico's Dorades de Sinaloa for a season before finally hanging up his boots.
Guardiola is pictured here with fellow Spaniard Jose Maria Olzabal at the Ryder Cup after Europe produced a remarkable comeback to win the tournament at Medinah in the U.S.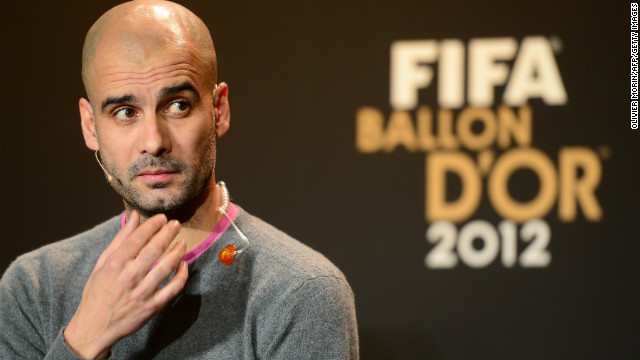 The end of an era: Josep Guardiola
Still, such has been Madrid's dominance in the league that Ronaldo is entitled to feel, if not exactly sycophantic praise, then at least recognition of his and his team's achievements.
"My high point (in my career) is to win the title here in Madrid, La Liga," he explains.
Clasico win gives Real the edge over rivals
"(It) was my first time, so I was so happy because it's my best moment here in Madrid, the most important trophy. In terms of individual, it was great for me, the goals that I scored, to break my own record ... to do 100 points in the Spanish league which is a record too. It's phenomenal.
"For me this is the most difficult league in the world. To compete with Barcelona, as everyone knows is very complicated and we beat them. Nine points ahead ... so it was an amazing year."
In Barca's shadow?
Barcelona. It is the shadow that follows not just Ronaldo, but also Real coach Jose Mourinho, who has also had a remarkable season in Spain. You could argue it is a shadow that follows the city of Madrid around too.
"The points speak for themselves," Ronaldo replies when asked about the rivalry.
"Nine points separated Madrid and Barcelona; it's a lot here in Spain. We played better than them this year, I'm sure about that. I remember we went there one month ago and we won 2-1...nobody can do that, it's very difficult so we deserve to win the league. We are better than them at the moment, but we have to respect them because they are a great team too."
You cannot compare a Ferrari with a Porsche because it's a different engine
Ronaldo on Messi
Now there has never been a better time for Real Madrid to break the spell of Barcelona. With coach Pep Guardiola gone and questions being raised about the age of the Barca squad, Ronaldo believes that Madrid could go on to do something special, with the "Special One" at the helm.
"As a person (Jose Mourinho's) a humble guy ... he's very simple. We joke all the time, with funny stories all the time. It's great. In terms of coaching, he's completely different. He's so serious, so professional."
For Ronaldo, Mourinho has proven himself to be the best coach in the world.
"This is why he wins the titles that he won. Because for me, not just because I work with him, but he's the best because of what he does: the tactics, everything around the players, the motivation ... and you know, the titles speak for themselves. He won in every country that he's passed, so I think that's great. I think nobody ... two or three coaches do that in their lives, so we have to appreciate that."
The worst day
Yet the season has not been without its disappointments. It may well have delivered the greatest single triumph in Ronaldo's career so far, but it also delivered its nadir -- losing to Bayern on penalties in the Champions League semifinals.
Ronaldo missed a spot-kick during the shootout as Real's wait for a record-extending 10th European title spilled into its second decade.
Most people think that Bayern is going to win easily. I don't think so
Ronaldo on the Champions League final
"To be honest, it was one of the worst days in my career so far," he admits.
Ronaldo, Real Madrid suffer heartache
"It's always tough when you lose something, when you lose on penalties. But I'm not really worried about that because if I didn't score the two goals most of the players aren't going to shoot the penalties, so I have to appreciate what I did in the Champions League, what I did for the club."
The dream Madrid-Barcelona final didn't happen. Instead we have a final that no one could predict. On the one hand a Bayern Munich side that unexpectedly fought back to knock out Madrid. On the other hand a Chelsea side that shocked Barcelona, the world, and one suspects, even themselves. Who does Ronaldo think will win?
"Most people think that Bayern is going to win easily. I don't think so," he says, perhaps remembering the battles he had with Chelsea while playing for Manchester United in the English Premier League.
"Don't forget that Chelsea beat Barcelona, which is very, very tough. It will be an interesting game. I don't know which team is going to win. I'm not going to bet on anything because Chelsea is very strong. They defend well, they have a good counterattack. Bayern is a fantastic team too, so it will be a good game."
In 12 months' time he will hope to realign the order of things and play in the 2013 Champions League final. For now he'll have to make do with being the best player in the best league with the best manager in the world.
Should you feel sorry for Cristiano Ronaldo? So far everything seems to be going just fine.
To celebrate the release of the documentary Castrol EDGE Presents Ronaldo Tested To The Limit for free on iTunes, fans were given the chance to challenge the player live through Facebook in a new test #RonaldoLIVE
To see if Ronaldo had the strength to perform against his fans see www.youtube.com/castroledge