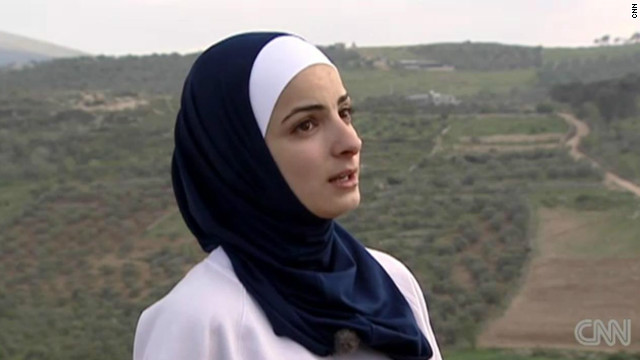 Woroud Sawalha will be one of four athletes competing under the Palestinian flag at the London Olympics, and the only woman.
Palestinian athletes have been training in substandard conditions against the backdrop of the region's continuing fight for independence from Israel.
The 20-year-old Sawalha competed at the world indoor championships in Turkey in March -- her first experience of top-level international competition.
Bahaa al-Farra, a 400-meter runner, has no proper track to train on near his home in Gaza and no starting blocks.
Al-Farra knows he faces an unequal struggle in London but he hopes to prove he can compete even without proper training facilities.
Palestinian pride
Fight for recognition
International debut
Running in Gaza
Unequal struggle
STORY HIGHLIGHTS
Four Palestinian athletes will compete at the 2012 Olympics in London
Woroud Sawalha, 20, will take part in the women's 800 meters event
Bahaa al-Farra, a 21-year-old from Gaza, will run in the men's 400 meters
Al-Farra has no proper track to train on, and works out in a public gym
(CNN) -- Woroud Sawalha knows she won't win a medal at the London Olympics. She isn't likely to get beyond the first round of the 800 meters.
But for the 20-year-old and her three teammates, just competing under the Palestinian flag is a source of pride.
The appearance itself is controversial: the U.N. does not recognize a Palestinian state but athletes have been allowed to compete under a Palestinian flag by the International Olympic Committee and soccer's ruling body FIFA since 1996 and 1998 respectively.
"It means a lot for me that I am female and representing Palestine," she told CNN's Aiming For Gold. "I will represent my hometown Asira ash-Shamaliya, Palestine and my university."
Asira ash-Shamaliya is a village of fewer than 10,000 inhabitants in the northern West Bank, where protests and tear gas form part of everyday life in a region still fighting for independence from Israel after two decades of struggle.
Sawalha, who will be immediately recognizable by her black headscarf, long-sleeved top and long trousers, knows that when she steps up to the line in London, she won't just be representing herself.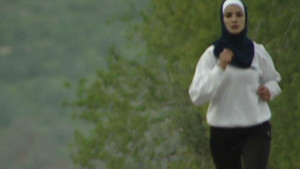 Running under the Palestinian flag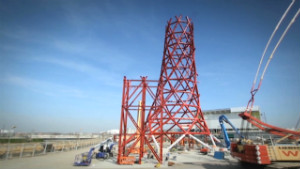 Watch London's Olympic tower rise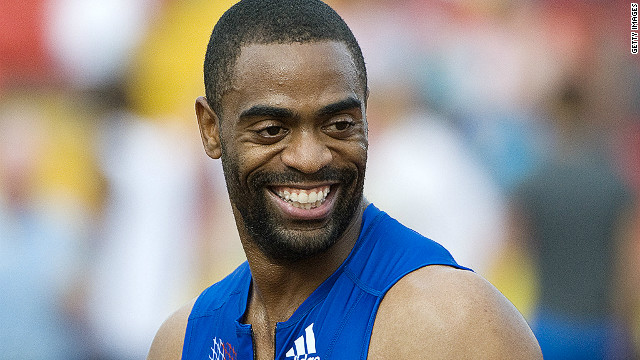 American sprinter Tyson Gay says he's in his prime and fit and ready for the London Olympics.
Gay will be hoping to repeat his performance at the 2007 IAAF World Athletic Championships in Osaka, Japan where he crossed the line first in the 200m ahead of Usain Bolt.
But Gay stormed to gold in the 100m, beating Derrick Atkins of the Bahamas (left) and Jamaica's Asafa Powell in a time of 9.85 seconds.
Gay also won gold as part of the U.S. 4x100m relay team.
Two years later in Berlin though, triple Olympic champion Bolt won gold in the 100m and 200m, setting world record times in both. Gay had to settle for silver in the 100m.
Prior to the Beijing Olympics, Gay was troubled by a hamstring injury which meant he arrived at the Games in less than perfect shape and he failed to win a medal. Here Gay (far left) finishes fifth in the 100m semifinal to miss out on the final, won by Bolt in record time.
Gay counts America's retired sprinter Maurice Greene as both a hero and a mentor. The former Olympic 100m champion's advice and support "really means a lot to me," says Gay.
Gay's first outing at the World Championships at Helsinki's Olympic Stadium in 2005 ended without a medal. Here he can be seen (second from left) finishing fourth in the 200m final.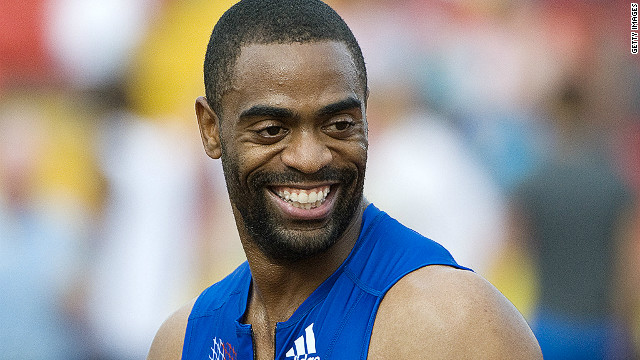 Human to Hero: Tyson Gay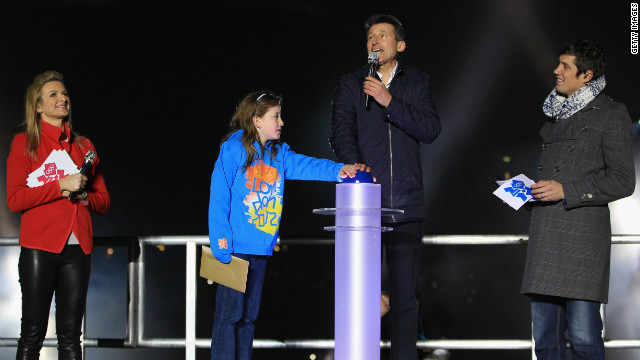 Nine-year-old schoolgirl Niamh Clarke-Willis makes history as she presses the button to officially open the Olympic stadium along with London 2012 chairman Sebastian Coe. They were joined on stage by TV presenters Gabby Logan and Vernon Kay.
Paralympic gold medalist archer Danielle Brown also took part in the ceremony. The opening weekend included the British Universities and Colleges Sports Outdoor Championships, the first athletics meeting at the 80,000-seater stadium.
Brown fired arrows into a spinning target, covered with the names of 100 children in the crowd -- and Clarke-Willis was the lucky winner.
Logan looks on as her husband Kenny, a former rugby union international, competes in a celebrity tug-of-war. About 40,000 spectators watched entertainers including impressionist Jon Culshaw, actor Hugh Bonneville, former Spice Girl Melanie C, rapper Chipmunk and comedian Jack Whitehall.
Wet weather didn't stop thousands of visitors turning up. The venue was built using 10,000 tons of steel, considerably less than other Olympic stadiums organizers say, and with an emphasis on sustainability. Construction began in May 2008 and was completed in March 2011.
James Ellington, left, celebrates winning the men's 100 meters final during the weekend's BUCS VISA Athletics Championships, one of the Olympic test events.
Katy Sealy throws in the javelin event. The track and field competition was watched by a reported crowd of around 6,000 during the day before numbers swelled for the evening show.
It was the first time many visitors had walked around the Olympic grounds, including the new aquatics center. They appeared cautiously optimistic about the site, with one family telling CNN the seats were comfortable but there was a lack of rubbish bins.
A sculpture by Turner Prize-winning artist Anish Kapoor looms over the Olympic Park. The 115-meter ArcelorMittal Orbit includes two viewing platforms for spectators to view the site.
Visitors had to queue for events as they passed through airport-style checks. Security was high at the event, with police helicopters fyling overhead and armed officers patrolling the grounds.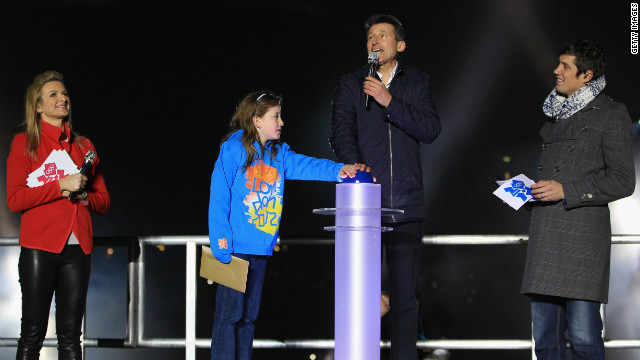 London 2012 Olympic stadium opens
"This will reflect on my female friends and on sports in Palestine," she said. "Maybe the view of girls will change from practicing sports in a more professional way and more freely in front of people."
The International Olympic Committee is hopeful that the 2012 Games will be the first to feature female athletes on every team.
Three teams have never sent women. Palestinians have competed in the Olympics under their flag since 1996, sending their first female athlete in 2000.
However, Sawalha believes the fact that she was only told six months ago that she would be going to London is a sign of how lightly women's sport is taken in the Palestinian territories.
She had her first taste of top-level international competition earlier this year at the world indoor championships in Istanbul.
She clocked two minutes 51.87 seconds in her heat for a personal best that was still more than 53 seconds slower than the gold medal-winning time.
Given her lack of preparation and the scant training resources available in her homeland, Sawalha knows a medal is beyond her, so her target is to further improve her personal best.
"Miracles do happen, and with God's help I will hopefully get a good result," she said. "Since they selected me for the Olympics, my running time has gone from four minutes to just under three, so I've seen a big improvement."
Training on pot-holed roads in Gaza, dodging cars and horses and carts, Bahaa al-Farra knows that only so much improvement is possible.
Like Sawalha, the 400-meter runner must rely on an invitation from the IOC to compete in London because neither has reached the required qualifying standard.
When he isn't running, al-Farra works out in a dingy public gym with shabby white concrete walls.
I need a proper track to train on -- at the moment I just run on the roads or on sand
Palestine athlete Bahaa al-Farra
"I need a proper track to train on," he said. "At the moment I just run on the roads or on sand. Also, proper starting blocks are unavailable in Gaza."
So when he arrives in London, he'll not only have the daunting prospect of a first Olympic Games to consider but he'll also have to quickly get accustomed to unfamiliar conditions.
"Hopefully, the lack of training tools won't affect me, and I can prove to the world that we can compete even without them," he said.
For al-Farra, competing in London won't leave him completely fulfilled. He hopes it is only the start of a long athletics career.
"My dream is to become a world-known runner and compete with world champions in overseas competitions and hopefully I can achieve my dream in the near future," he said.
"My dream is to do something for Palestine and show the world that Palestine deserves to live and stand on the podium."