Forgettable song, memorable outfit: The crazy clothes of Eurovision
May 25, 2012 -- Updated 0759 GMT (1559 HKT)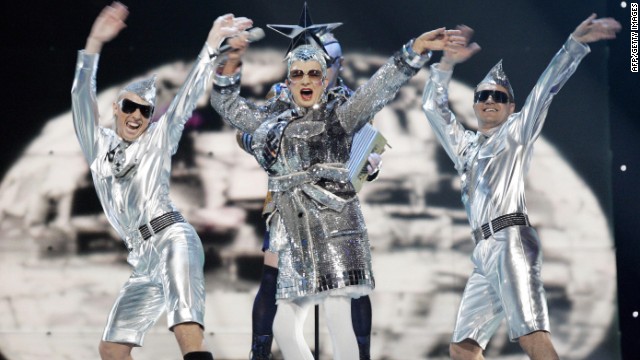 Eurovision has always been a stage for outlandish costume design. In 2007, drag act Verka Serduchka finished second in the competition with the song "Dancing Lasha Tumbai."
Monster masks, flaming axes, rotting flesh -- Finland's 2006 entry had it all. The metal band Lordi smashed all previous voting records in becoming the first ever rock band to win Eurovision with their song "Hard Rock Hallelujah."
Malta's Thea Garrett performed the song "My Dream" in front of a dancing silver bird-man in Eurovision 2010, but failed to qualify for the final.
Burlesque artist Dita Von Teese accompanied German duo Alex Swings Oscar Sings in the 2009 contest, but her star power was unable to prevent the singers finishing in the bottom five.
Representing Belarus in the country's second Eurovision appearance, the three female singers of the group 3+2 sprouted butterfly wings for the climactic key change in their song "Butterflies." They finished second to last.
The identical twin brothers in Irish duo Jedward are known for their towering blond quiffs and outrageous costumes. Having finished eighth in last year's competition, they will represent their country again in Baku.
In 2009, Ukraine's Svetlana Loboda was accompanied by dancers wearing gladiator costumes as she performed "Be My Valentine."
Lithuanian group InCulto stripped down to glittery hot pants for the climax of their song "Eastern European Funk" in 2010.
The Czech Republic's Romani hip hop group Gipsy.cz scored the dreaded "nul points" or no points in their 2009 semi-final.
Austria's Eric Papilaya was backed by performers in Vivienne Westwood-designed costumes, intended to resemble a giant red ribbon and raise awareness of HIV.
Ukraine 2007
Finland 2006
Malta 2010
Germany 2009
Belarus 2010
Ireland 2011
Ukraine 2009
Lithuania 2010
Czech Republic 2009
Austria 2007
STORY HIGHLIGHTS
Eurovision outfits have become more flamboyant since the advent of televoting
The "Barbara Dex Award" is an annual prize made by a fan site to the worst dressed artist
The award is named for Belgium's 1993 entry who performed in a homemade dress
The first unorthodox outfit was worn in 1958 by Margot "Miss Jukebox " Hielscher
London (CNN) -- One of the perennial criticisms of Eurovision is that, for a song contest, the compositions are seldom very memorable.
But for the millions who tune in each year, drawn to the promise of outrageous outfits and performances, the contest is as much about spectacle as it is about the music.
For diehard fans, what an artist wears can be a bigger talking point than what they sing. The more misguided an outfit, the better.
In 1997, fan website House of Eurovision founded the "Barbara Dex Awards," an annual prize for the worst dressed artist. The award was named after a Belgian singer who appeared in the 1993 competition wearing an unflattering homemade dress.
Melodifestivalen: Sweden's not-so-guilty Eurovision pleasure
"Her song wasn't at all bad, but her performance was overshadowed by that awful self-made dress, and as a result she ended up last," said Edwin van Thillo, who runs the fan site.
Acts only have three minutes to get their song heard and their message across, and they have to compete against 25 other songs to be remembered
Sam Broderick, writer for Eurovision fan website ESC Nation
Attention-grabbing outfits have always been part of Eurovision's DNA. Germany's 1958 entry Margot Hielscher performed wearing a sash saying "Miss Jukebox," and brandishing vinyl records at the audience. But the past 15 years have seen the costumes reach new heights of flamboyance.
"Visuals have become so much more important since televoting was introduced in 1998," said Sam Broderick, a writer for ESC Nation, one of the most popular Eurovision fan websites.
"Acts only have three minutes to get their song heard and their message across, and they have to compete against 25 other songs to be remembered," he said. "I think that's why so many acts have gimmicks on stage -- and an outrageous costume is just another gimmick. It's all part of the glitz and the glamor of the contest too, and I think that's why people love Eurovision."
But dressing up as a bird, butterfly or robot doesn't guarantee success. Many of the acts featured in our gallery finished near the bottom of the table, or failed to progress past the semi-finals.
"A terrible outfit can destroy any chances a song may have had," said Broderick.
"I remember watching rehearsals in Oslo in 2010 when the Maltese entrant Thea Garrett came on stage with her backing dancer dressed as a massive bird. The whole press center was in howls of laughter," he said. "It was quite highly regarded before then, but I really think that big bird put paid to the song's chances."

Today's five most popular stories
Part of complete coverage on
May 24, 2012 -- Updated 1623 GMT (0023 HKT)

It's not just any old talent show, it's an institution -- an annual mix of camp and politics that attracts a global audience of 125 million.
May 24, 2012 -- Updated 1051 GMT (1851 HKT)

Activists want to use a song contest to highlight Azerbaijan's human rights record. CNN's Atika Shubert reports.
May 23, 2012 -- Updated 0907 GMT (1707 HKT)

Without Eurovision, where would Abba, Celine Dion and Riverdance be now?
May 24, 2012 -- Updated 1739 GMT (0139 HKT)

Organizers insist it is apolitical, but the Eurovision has always been a political stage, say experts.
May 25, 2012 -- Updated 0919 GMT (1719 HKT)

Maran Turner argues that repression means the music festival should not be hosted by Azerbaijan.
May 25, 2012 -- Updated 0057 GMT (0857 HKT)

Cliff Richard talks about his Eurovision experiences and allegations he was cheated out of the top prize.
May 25, 2012 -- Updated 0757 GMT (1557 HKT)

The Scandinavian nation has a reputation for being stylish and glacially cool -- so why is it obsessed with Eurovision?
May 25, 2012 -- Updated 0759 GMT (1559 HKT)

Why seasoned Eurovision watchers value the performers' costume selection as much as their choice of tune.
May 24, 2012 -- Updated 1407 GMT (2207 HKT)

Musician, Johnny Logan plays his 1987 Eurovision Song Contest winning song "Hold Me Now" for CNN,
March 2, 2012 -- Updated 1352 GMT (2152 HKT)

The nation that gave us the Beatles and the Rolling Stones reckons its best hope of winning Eurovision is a senior crooner.