Chen's brother back home from Beijing
May 26, 2012 -- Updated 1750 GMT (0150 HKT)
STORY HIGHLIGHTS
Chen Guangfu wants Beijing lawyers to represent his son
The father said he heard his son was beaten up
The son's uncle is activist Cheng Guangcheng, now in the U.S.
Beijing (CNN) -- The brother of Chinese human rights activist Chen Guangcheng said he's worried about his incarcerated son and has met with attorneys in Beijing to get legal advice for him.
Chen Guangfu told CNN Saturday that he's back home in Shandong province village of Dongshigu after meeting with Beijing lawyers in the case of his son Chen Kegui. The son was arrested and accused of murder this month shortly after his activist-uncle, Chen Guangcheng, escaped from their village.
Chen Guangcheng's arrival in the United States last week brought an end to a diplomatic firestorm between Beijing and Washington that erupted after he escaped from house arrest in Shandong province and took to YouTube to air the abuses he said his family suffered at the hands of authorities.
Chinese activist Chen gives first in-depth TV interview since escape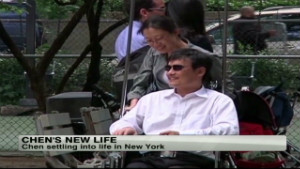 Chinese dissident Chen's new life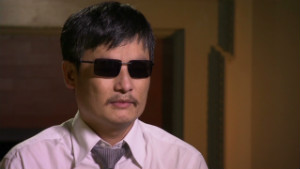 Chen Guangcheng: I'm doing fine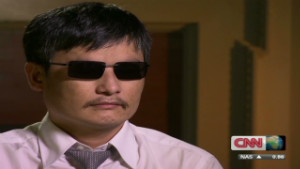 Chen's flight from China
The activist and his wife and children have traveled to the United States for Chen Guangcheng to study at New York University, but activists remain concerned that extended family such as his brother and nephew remain vulnerable to further crackdowns.
The son surrendered to police and was formally arrested on May 9, Chen Guangfu said. The family hasn't been allowed to see Chen Kegui in custody, and authorities have maintained heavy security around the family's village. Chen Guangfu said people have said his son was beaten.
China hits back on U.S. human rights
It's unclear what the next step is in the case, but Cheng Guangfu said he hopes his son will be represented by his Beijing lawyers and not government-appointed ones in Shandong.
Ding Xikui, Chen Guangfu's lawyer, told CNN Thursday in a phone interview he met with Cheng Guangfu to discuss the case of his son.
Ding said Chen Guangfu told him during his visit Thursday that he escaped in the middle of the night. Ding said Chen Kegui's wife had authorized him and another lawyer to defend Chen Kegui's case but was told by local officials that government lawyers had been appointed to represent him.
Chen Guangfu told CNN he left Bejjing voluntarily on Friday night and arrived in Dongshigu safely.
The village has been heavily guarded since Chen Guangcheng's escape last month, according to another lawyer, Jiang Tianyong, who spoke to Chen Guangfu briefly on the phone Thursday.
Chen Guangcheng was sentenced in 2006 to four years and three months in prison for "damaging property and organizing a mob to disturb traffic," charges that his supporters say were trumped up by authorities to punish his legal advocacy for victims of what he called abusive family planning policies, including forced abortions and sterilization.
The self-taught legal activist was then held under constant lockdown in his village.
In an April video after his escape, Chen addressed the Chinese premier, Wen Jiabao, detailing alleged abuses during the family's 18 months of heavily guarded home detention.

Today's five most popular stories
Part of complete coverage on
China's blind crusader
May 25, 2012 -- Updated 0458 GMT (1258 HKT)

In his first TV interview since his dramatic escape from house arrest, Chinese activist Chen Guangcheng described how he and his wife were beaten periodically.
May 21, 2012 -- Updated 1407 GMT (2207 HKT)

China may have allowed Chen Guangcheng to flee to the U.S. but Stan Grant says a brutal crackdown on dissidents continues there.
May 20, 2012 -- Updated 0050 GMT (0850 HKT)

CNN's Steven Jiang flew with Chen Guangcheng from China and says the activist has "mixed feelings" about his journey.
May 6, 2012 -- Updated 0140 GMT (0940 HKT)

Could the separate crises engulfing disgraced politician Bo Xilai and blind dissident Chen Guangcheng together influence dramatic change?
May 3, 2012 -- Updated 1107 GMT (1907 HKT)

CNN spoke with Chinese activist Chen Guangcheng and his wife Yuan Weijing from his Beijing hospital room after he left the U.S. embassy.
May 2, 2012 -- Updated 1943 GMT (0343 HKT)

The blind activist at the center of a storm involving China and the United States says he was encouraged to leave the American Embassy in Beijing.
May 3, 2012 -- Updated 0940 GMT (1740 HKT)

Chen Guangcheng says he feels misled by U.S. offiicals. Journalist Frida Ghitis says if he was, it will be a "dark mark of shame" for the U.S.
May 3, 2012 -- Updated 0217 GMT (1017 HKT)

Before Chen Guangcheng became known as a human rights crusader, his neighbors knew him as the man to go to when they had trouble with local authorities.
May 5, 2012 -- Updated 0145 GMT (0945 HKT)

A CNN team attempted to visit Chen Guangcheng's hometown of Dongshigu. But mention of his name seemed to provoke awkward and evasive reactions.
December 16, 2011 -- Updated 0125 GMT (0925 HKT)

Hollywood actor Christian Bale discusses his violent experience trying to visit blind activist Chen Guangcheng under house arrest.