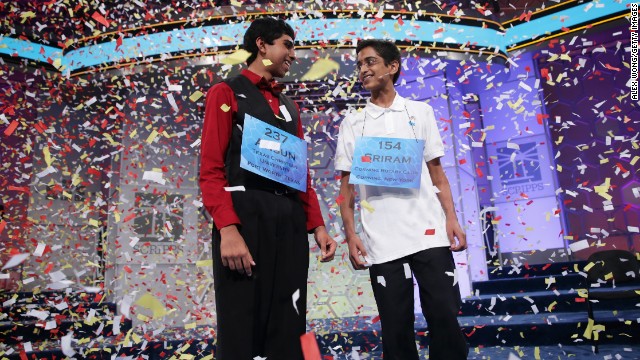 Ansun Sujoe, left, and Sriram Hathwar became co-champions of the 2014 Scripps National Spelling Bee competition Sujoe spelled the word "feuilleton" and Hathwar spelled the word "stichomythia." They both spelled their words correctly as they exhausted the words on the bee's list, becoming the first co-champions since 1962.
Arvind Mahankali won the 2013 Scripps National Spelling Bee after spelling "knaidel," which is a dumpling. Click through to see the rest of the winners from the past 15 years. The definitions of their winning words are from the Merriam-Webster dictionary.
Snigdha Nandipati won in 2012 with the word "guetapens," which means an ambush.
Sukanya Roy won in 2011 with the word "cymotrichous," an adjective that means "having the hair wavy."
Anamika Veeramani won in 2010 with the word "stromuhr," which is an instrument that measures the amount and speed of blood flow through an artery.
Kavya Shivashankar won in 2009 when she correctly spelled "laodicean," which means lukewarm or indifferent, particularly in matters of politics or religion.
Sameer Mishra won in 2008 with the word "guerdon," which is a reward or recompense.
Evan O'Dorney won in 2007 with the word "serrefine," small forceps used for clamping a blood vessel.
Katharine Close won in 2006 by correctly spelling "ursprache," a language that is reconstructed from evidence of later languages.
Anurag Kashyap won in 2005 with the word "appoggiatura," a smaller embellishing note or tone that precedes a melodic note or tone.
David Tidmarsh won in 2004 with the word "autochthonous," an adjective that means indigenous or native.
Sai R. Gunturi won in 2003 with the word "pococurante," meaning indifferent or nonchalant.
Pratyush Buddiga won in 2002 with the word "prospicience," which is the act of looking forward or having foresight.
Sean Conley won in 2001 with "succedaneum," defined as "a substitute."
George Abraham Thampy won in 2000 with the French word "démarche," meaning a course of action, typically in politics.
Nupur Lala won in 1999 with the word "logorrhea," meaning excessive and incoherent talkativeness or wordiness.
Jody-Anne Maxwell won in 1998 after correctly spelling "chiaroscurist," which is an artist who specializes in chiaroscuro, or contrasting the effects of light and shade in a work of art.
National Spelling Bee champions
National Spelling Bee champions
National Spelling Bee champions
National Spelling Bee champions
National Spelling Bee champions
National Spelling Bee champions
National Spelling Bee champions
National Spelling Bee champions
National Spelling Bee champions
National Spelling Bee champions
National Spelling Bee champions
National Spelling Bee champions
National Spelling Bee champions
National Spelling Bee champions
National Spelling Bee champions
National Spelling Bee champions
National Spelling Bee champions
STORY HIGHLIGHTS
CNN's Kat Kinsman participated in the National Spelling Bee in 1986
Kinsman lost with the word "phyllophorous"
She says the pressure on participants is tremendous
(CNN) -- In 2001, I walked into the editorial pit of the men's magazine where I was working as an art director and saw the almost all-dude staff glued to ESPN coverage. As I glimpsed the TV screen, a shock of panic and nausea wracked my body, and I bolted from the room. A friend followed to find me huddled in a ball at my desk.
"I was ... there," I admitted. "In the Bee. I lost."
He grabbed my shoulders and shoved me back in front of my colleagues, still staring rapt at the rows of fresh-faced kids, competing their hearts out at the National Spelling Bee.
"DUDE! Kat was THERE!" They swarmed around and pressed me for details: the words, the kids, the prizes, meeting the president, the "crying room," the pressure. It began to dawn on me that they didn't give two sloppy syllables that I hadn't won -- just that I'd been there, and that was incontrovertibly cool.
But it didn't feel cool at the time, and here I am again, in the middle of my annual freakout. Karla Miller is right there with me.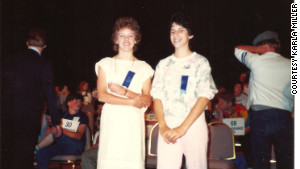 Karla Miller and Kat Kinsman at the National Spelling Bee in 1986.
The two of us met as competitors in the 1986 National Spelling Bee, where I wilted in the third round on "phyllophorous" and she slogged through until nearly the end, eventually biting it on "dentifrice." We re-struck a friendship at this time last year, mostly because we both still shared the solid core of warmth and weirdness that drew us together 25 years before but also because it helps to have someone around who's endured a similar trauma.
Being a Bee kid is rough stuff, and it sticks with you. Miller, now an associate director of editorial communications at KPMG and author of the Washington Post Magazine's @Work Advice column, can't stomach the media coverage.
"I get this sickly twist in my gut when I see it on TV," she said. "I haven't seen 'Spellbound' (a documentary about the Bee), although everyone tells me I should. I know it sounds like I'm being dramatic, but I think watching it requires a level of detachment that's hard to achieve when you've been there."
READ: National Spelling Bee fast facts
Katie Lambert agrees. The Atlanta-based editor still feels the sting of her 1998 Bee loss. She declines to disclose the word that felled her, and though she realizes that being a Bee veteran holds some geek cachet, she mostly just wants to put it all behind her. "That fear of getting onstage and choking completely still haunts me," she said.
"For a time, I was a Middle Eastern dancer, and I think that lingering fear held me back from ever doing my best. I would get onstage, see the lights and the people, and flash back. To this day, when I see coverage of the Bee, I feel a little sick. That loss still hurts, and the humiliation is still there." And with annual Bee hysteria at a fever pitch, it's inescapable these days.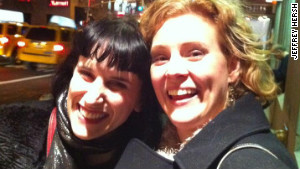 Kat Kinsman and Karla Miller more than two decades after their National Spelling Bee appearance.
Miller, Lambert and I took the stage in the era before the @scrippsbee Twitter feed blasted a blow-by-blow account of the early rounds, spectator seats went for $20 to $40 a pop and the ESPN broadcast became appointment viewing for people not directly related to the wee, trembling geeks onstage. The gut-gnarling stress of attempting to piece together words plucked from a seemingly alien tongue (spellers faced "leucoryx" "barukhzy" and "hoomalimali" just Wednesday) is more than most reasonable adults could bear. Having to do so onstage, at the apex of one's awkward phase, in front of a battery of news cameras and reporters feels like a twisted sociological experiment -- and it leaves a scar.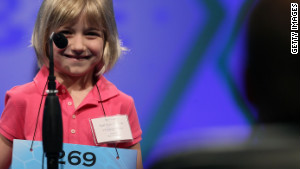 In 2012, Lori Anne Madison became the youngest contestant ever in the Scripps National Spelling Bee.
In 2012, 6-year-old Lori Anne Madison, the youngest speller on record with the Scripps National Spelling Bee, told the Washington Post that she didn't feel undue pressure during Bee competition. Perhaps she overcame her awkward phase in utero and will be spared such indignity in her inevitable future appearances on the Bee stage. Lucky her.
My job often requires speaking unscripted on live television at a moment's notice or addressing crowds of a hundred people who've forked over cash in part to hear me yammer. That's a skip through a sun-dappled meadow compared with my brief, ignominious Bee foray. While I wasn't especially bent on winning for my own sake, I was keenly aware that my family, school, hometown and the local sponsoring newspaper had invested an awful lot of time, cash and care into my trip to Washington, and I did not want to fail them. I did fail, and for that, I was deeply ashamed.
READ: National contest isn't bee-all and end-all
In 1998, Justin Warner (fatal word: "tarpaulin") empathized as his fellow competitors folded.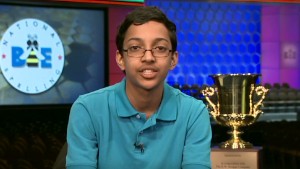 Spelling whiz didn't feel any pressure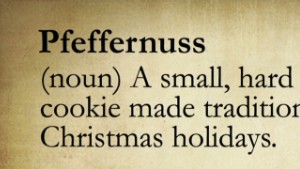 Could you spell THIS word?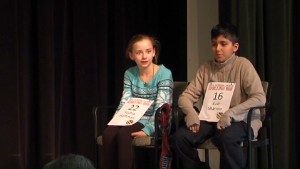 Spelling bee runs out of ... words?
"Watching kids put so much emotion in to what is essentially a game really affected my personal growth," said the proprietor of Brooklyn, New York's much-lauded Do or Dine restaurant and a current contestant on "The Next Food Network Star." "There were plenty of kids that were there to have a good time and rock out some serious spelling, but there were also plenty that seemed like they were going to be eliminated from society as opposed to a game. Hanging out in the 'Kiss and Cry' room after being eliminated was so sad to me, not because I was eliminated early but because there were so many crying kids!"
That fabled place, officially labeled the "Comfort Room," is no longer a cookie-and-lemonade-laden refuge for tearstained spellers. Not because the need was lessened and the current crop of competitors are automatons; rather, Scripps spokeswoman (and Bee vet) Kara Hadge says, "We just ran out of room." After the dreaded bell tolls, the child -- weeping, shocked, relieved or simply numb -- is escorted from the stage and handed off to a parent, who has probably been absorbing the shock of every syllable.
"Whatever I was suffering onstage, my family -- Mom in particular -- went through it a hundredfold in their seats," Miller said. "But they helped give me perspective. When I left the stage, I was never made to feel that I had blown it. It was just, 'Hey, tough break; we're proud of you; ready for some ice cream?' "
Warner used the trip to the nation's capital to indulge in his first fine dining experience, exposure to an industry that would become his life's work.
"When I went to the national level, I knew I'd be up against kids who believed that this was their only shot towards excellence, fame and fortune," he said. "I was more excited about getting a meal at Michel Richard's Citronelle. I had squab for the first time."
READ: Sweet 'spell' of success
No one at the Bee is there by accident. While this might be someone's first outing in the orthographic Super Bowl, it takes many rounds -- from school bees to local to regional -- to qualify for the National Spelling Bee. Even Warner, who says he didn't put much effort into his studies, went through practice sessions with his father -- and later realized he'd made the exact flub that sealed his fate at the Bee. Other spellers -- weaned on academic combat like Olympics of the Mind, speech competitions and Mathletics -- arrived in D.C., eschewed all social activities and hunkered down in their rooms for a final training sprint.
For most, that was for naught, but for Stephanie Petit, winner of the 1987 Bee, it paid off with the correct spelling of "staphylococci." The San Francisco-based attorney admits, "I opted out of most of the fun activities. I am of two minds about this. Some part of me definitely wishes I had taken the time to acquaint myself better with the other spellers. But of course, a part of me says it's a good thing I did as I did, since perhaps that's what worked."
Despite Petit's victory, some residual emotion comes to the fore during Bee season. "It brings me back, and I get a little bit nervous again, as when I was in the competition. Maybe that's why I don't follow the actual competition in progress so much. I always read about the results, the winning word, the finalists, the composition of the contestants, and all of that always makes me happy." She also credits her Bee stint with aiding in her professional development, giving her nerves steady enough to endure high-pressure situations.
Jon Pennington, who rocketed past both Miller and me to become the 1986 victor on the word "odontalgia," came to the Bee possessed of a tremendous passion for spelling and spelling bees -- as well as a lower-than-average fear of public speaking -- and his mother's sunglasses. The bright lights of the cameras bothered his eyes, and a friend back home mistook his victory picture for one of Corazon Aquino, who was in the news for having just overthrown the Philippine government of Ferdinand Marcos.
Pennington says he caught a private plane to New York to appear on "Good Morning America" and then returned to Washington to meet President Reagan in the White House Rose Garden. He weathered the exposure well.
"My main emotional reaction is pride," he said. "The kids competing in the Spelling Bee today are competing at such a higher level than what I remember from 25 years ago. If anything, I'm glad that there's been a change in our culture, where people are willing to accept the label of 'nerdy' and 'dorky,' because of their pride in their intellectual interests and accomplishments."
Pennington, who recently completed an MBA program at the Carlson School of Management at the University of Minnesota, still watches the Bee. Although he admits he no longer has the accuracy rate he used to, he says he still spells a few words right in the later rounds sometimes and thinks to himself, "I still got it."
As for me, for years, I was able to avoid the very existence of the Bee. That is, until that fateful day in 2001, when I walked into a Bee-induced panic attack.
I still can't get anywhere near the coverage without danger of near-retroperistalsis, but I have (mostly) forgiven myself for the loss. I came, I dorked, I fumbled, I failed, but at least I was there. And as Miller says, "Fate either smiles or blows you a raspberry. No matter how embarrassing the loss, almost no one will remember it in a year's time. And I learned that the fuller your life is, the less the individual stumbles bother you."
Were you a bee kid? Share your memories in the comments, on Twitter @CNNschools or on CNN Living's Facebook page!