Egypt lifts unpopular emergency law
June 2, 2012 -- Updated 1450 GMT (2250 HKT)
STORY HIGHLIGHTS
NEW: Human Rights Watch urges an investigation into abuses committed under the law
The emergency law was a focal point for anti-Mubarak demonstrators
It was first enacted in 1958, but suspended during Sadat's rule
The unpopular law returned after Mubarak took power in 1981
(CNN) -- Egypt's emergency law -- which was in place for more than 30 years -- has been lifted, a spokesman for the ruling Supreme Council of the Armed Forces said Thursday.
The unpopular and wide-ranging law became a focal point for demonstrations demanding the ouster of President Hosni Mubarak more than a year ago.
The emergency law gave authorities broad leeway to arrest citizens and hold them indefinitely without charges, according to Human Rights Watch. It was first enacted in 1958.
Although it was suspended during the rule of President Anwar Sadat, it had been in place since Mubarak took power in 1981, according to the group.
Abolishing the emergency law was on top of the lists of demands announced by pro-democracy protesters during the 2011 uprising.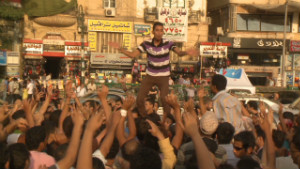 Egyptians angry over runoff candidates
The law was partially suspended by the country's military rulers early this year, but critics said that move didn't go far enough.
Human Rights Watch urged Egypt's new parliament to act Wednesday, saying it had "an opportunity to close an abusive chapter in Egypt's history" by ending all measures related to the law when its current extension expired Thursday.
"The Egyptian parliament should make sure that this state of emergency, a hallmark of Hosni Mubarak's abusive police state, has no future," Joe Stork, deputy Middle East director at Human Rights Watch, said in an online statement.
"Parliament should also initiate a comprehensive investigation into human rights violations that flourished under the emergency law, and the public prosecutor should make sure that the key people responsible for systematic torture and enforced disappearance are prosecuted."
The rights group quotes the Muslim Brotherhood's presidential candidate, Mohamed Morsi, as saying Tuesday: "There is no going back to the state of emergency, we do not need the state of emergency ... the existing laws are sufficient."
Morsi is one of two candidates who made it through a first round of voting this month. He will face former Prime Minister Ahmed Shafik in a June 16-17 runoff vote.
The head of Egypt's ruling military council, Hussein Tantawi, announced the partial suspension of the emergency law in January. But opposition figures said the suspension was simply a sop to appease protesters.
The suspension did not include crimes by "thugs" who commit acts of violence against citizens or use weapons to destroy public and government property, officials said.
Journalist Mohammed Fadel Fahmy contributed to this report.

Today's five most popular stories
Part of complete coverage on
June 25, 2012 -- Updated 0140 GMT (0940 HKT)

The Muslim Brotherhood's Mohamed Morsi is Egypt's first Islamist head of state. What direction will he steer the country?
June 24, 2012 -- Updated 1509 GMT (2309 HKT)

CNN's Christiane Amanpour and Ben Wedeman comment on the significance of the Egyptian presidential election.
June 25, 2012 -- Updated 0933 GMT (1733 HKT)

The Muslim Brotherhood is a religious and political group founded on the belief that Islam is not simply a religion, but a way of life.

Visit CNN Arabic for the latest news on developments in the Egyptian presidential elections, in Arabic.
June 24, 2012 -- Updated 1634 GMT (0034 HKT)

CNN's Dan Rivers speaks to a disappointed supporter of defeated Egyptian presidential candidate Ahmed Shafik.

Already 2012 has seen a continuation of the violence experienced the previous year as protests swept the Arab world.
June 7, 2012 -- Updated 2333 GMT (0733 HKT)

CNN's Ben Wedeman reports on a disillusioned, diminutive street fighter in the Egyptian revolution.
June 7, 2012 -- Updated 1403 GMT (2203 HKT)

The revolution forced equality but no system is in place to support it, researcher says.
June 6, 2012 -- Updated 1535 GMT (2335 HKT)

In 2011 young Egyptians marched for charge. Now the nation's new leaders must tackle the nation's education.