STORY HIGHLIGHTS
The poor are "forgotten" by the revolutionaries, says one Egyptian
Some say the housing and infrastructure situation in Cairo is near a breaking point
One researcher says the revolution forced equality, but no system is in place to support it
(CNN) -- From a cracked window, Khaled Gamal looks across a smoggy skyline of drab tenements and hanging laundry. But on this day, something is different.
He watches a voting line form on his street in Manshiyat Nasr, one of Cairo's poorest neighborhoods. After more than 30 years of life under former President Hosni Mubarak's ironclad autocratic rule, it's a sight many didn't think they'd ever see: Egyptians voting -- from among 13 candidates, no less -- in the freest presidential election in its history.
Rhythmic street music rises into the two-room flat he shares with his mother, grandmother and three siblings. His fatigued mother, Umm Ahmed, has hung sepia-toned portraits of relatives and pictures of Islam's holiest city, Mecca.
Gamal, 18 years old, looks down at his freshly purple-inked finger.
He just voted for the first time. He supports Abdelmonen Abol Fotoh, an independent Islamist and former member of the Muslim Brotherhood, one of the world's largest and most influential Islamist movements.
Still, Gamal doesn't appear to be fazed. It's just another day.
He tried to stay up to hear returns from the first round of voting but fell asleep. He awoke to news of a runoff between the Muslim Brotherhood's Mohammed Morsi and former president Hosni Mubarak's last prime minister, Ahmed Shafiq.
Listen at left: Don't try to tell Fatema Bayad the Muslim Brotherhood is against women.
The runoff, set for June 16-17, pits candidates who represent Egypt's historic clash between political Islam and remnants of the Mubarak regime. But while the two men arm-wrestle over Egypt's future, Gamal is in a fight for his own that he says no one man -- Islamist or secularist -- can help him win.
After his father died of an illness -- he and his mother don't even know the name of it -- Gamal dropped out of school at age 10 and became the family's sole breadwinner. He toiled away in a workshop making plastic pyramid souvenirs for a nearby tourist market.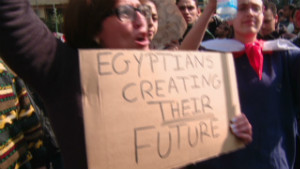 Does Egypt need an education revolution?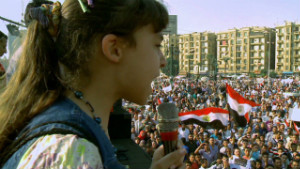 Egypt takes to Tahrir in political fight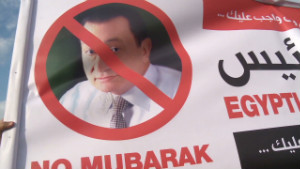 Lessons for dictators in Mubarak's trial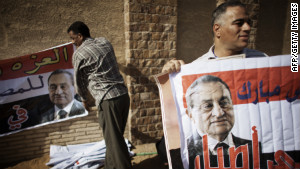 How will Mubarak verdicts affect Egypt?
He quips that his makeshift "revolution command center" is a desk he found in the rubble at the workshop, not the now-famous Tahrir Square (where activists continue to protest the presidential election and a judge's decision to clear a number of Hosni Mubarak's top officials after sentencing the deposed president to life in prison).
The desk is now covered with potato chips and math worksheets. He's been studying the past few weeks for Egypt's state examination. It's an exam that will chart his fate: a ticket to a coveted university spot in a country where class mobility is akin to running through tar.
"I'm proud of the life I live, but it's the type of life that had us in Tahrir the first few days fighting for a better one," he said, noting that he often couldn't protest because he had to work instead. "I want a better sewage system, a good high school. The poor are constantly forgotten by the regime and even the revolutionaries."
It's a battle cry that can be heard throughout the dusty mazes of slums that cover Egypt. Two-thirds of Cairenes live in informal shantytowns called ashwiyats (literally meaning "random" in Arabic). The unplanned settlements have proliferated across the city over the past three decades of Mubarak's rule. It's a result of the widening gap between Egypt's rich and poor and the regime's failure to address a lack of affordable, sustainable housing.
This brown cement universe has became Egypt's burden, borne over more than 30 years of dictatorship that thrived off a majority of Khaled Gamals buried under a relentless accumulations of no's and can'ts.
"Unless you're the son or daughter of well-known people, or unless you know someone high up, you can't get anything done and you definitely can't move up," he said, lighting a cigarette with expert precision. He's been smoking since he was 12. "The system has always been and still is the rule of wasta ('connections' in Arabic)."
'These people are forgotten'
With 20 million people, more than the populations of Libya, Lebanon and Jordan combined, Cairo is the largest city in Africa and the Middle East. (By contrast, the most populous city in the United States, New York City, is a bit more than 8 million.) Cairo's size has increased more than sixfold in the past 60 years.
Gamal's backyard is a postcard of Egypt's plunging economy. The nation ranked 112th out of 177 nations on the United Nations' Human Development Index last year, an index based on life expectancy, education and standards of living. More than 40% of Egyptians earn less than $2 a day. And despite the uprising's success in putting two former housing ministers behind bars for sweetheart land deals with real estate companies and the squandering of public funds, there has been nearly total silence about plans and projects for a country stuck dangling between its past and future.
"This is a country that revolted because of the inequities, but still, these people are forgotten," says Cairo urban planner David Sims, author of "Understanding Cairo: the Logic of a City Out of Control." Instead of taking a historic opportunity to effect change, he says, the current housing and related ministries are staffed by the same Mubarak-era people. Many say the new housing minister, Mohammed Fathy ElBaradei, is cut from the same cloth. Sims says they've continued the regime's trademark approach to housing: neglect, marginalization and thoughtless prescriptions in a city designed to house half its current population.
By 2030, when greater Cairo's population is predicted to top 30 million, the government estimates that half of those residents will live not in Cairo proper, but in a satellite city. Due to massive population pressure in the 1950s, city officials began developing land farther outside Cairo.
Beginning in the 1980s, so-called New Towns began to be planned. These satellite cities were expected to absorb half the growth between 1998 and 2017, but their distance from the city center, as well their lack of services and opportunities, make them unattractive and still unaffordable for the majority of Egyptians. Instead, according to the 2006 census, informal areas have absorbed nearly 79 percent of Cairo's population growth.
Some of Gamal's relatives moved to one housing project outside Cairo, but after spending almost their entire salaries on daily transportation to and from factories where they worked in central Cairo, they decided to move back to the city.
"If there are not comprehensive plans put in place, frustration will continue to mount," says Sims. "Simply, the whole country needs a blueprint; we've seen that the center cannot hold."
During Mubarak's regime, government planners unveiled a plan for city development called "Cairo 2050" -- a 260-slide PowerPoint presentation that garnered immediate condemnation for its top-down mandates delivered as mega-projects that would relocate large numbers of mostly poor residents. It was an effort to turn Cairo into a "global city" along the lines of its flashy neighbor Dubai.
But the plan mirrored Mubarak's unscrupulous marriage of politics and business, explains Cairo architect and planner Dina Shehayeb.
"Isolate the poor -- push them out of the city, reward your crony-businessmen friends," Shehayeb described the plan. "But these new towns are more unlivable than the supposedly haphazard and unruly slum areas the people managed to create for themselves."
She fears the current government is taking the same approach. Last fall, the Ministry of Housing announced plans to offer 100,000 plots of land in new towns for those of limited income, all on undesirable lands, many south of Cairo in rural Egypt. The plan is an indication, says Sims, that the government desperately needs to be seen as active on housing, no matter its efficacy.
In the Ministry of Housing's dim halls that seem like a throwback to better days in the 1950s, Heba Abdelfadel, an architect and consultant for the division of the ministry that headed Cairo 2050, hunches over blueprints of a slum where she hopes to create wider roads in order to open the community to commerce.
"It will take a while for the system to become decentralized and not as bureaucratic, for old habits to break," she said. "Let's see how much of my advice is implemented. I really hope we see some changes."
Others within the housing ministry are less optimistic.
"We're dealing with the same regime -- the same thinking," said one architect who has been working here for the past 10 years. "Congratulations and happy revolution."
It's not just about housing
But it's not just a housing crisis in Egypt, many planners say. The issue is more systemic and runs much deeper into a divide not only between Islamist and secular, but rich and poor.
Scholars have long held that revolutions are never made by the poor, like Gamal, who stopped protesting shortly after Mubarak was ousted simply because he had to work. Instead, they say, revolutions are made by urban, upwardly mobile activists and political elite who then often fail to connect with the working people in the cities and the countryside.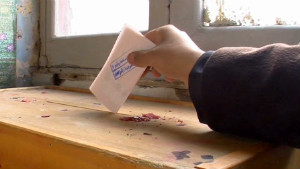 Obstacles to Egypt's future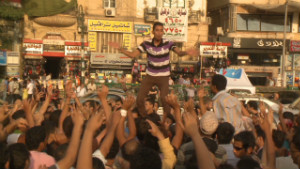 Egyptians angry over runoff candidates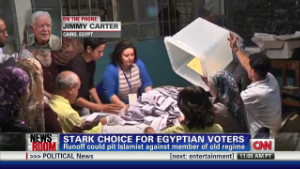 Jimmy Carter observes Egyptian vote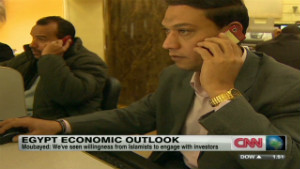 Investors have close eye on Egypt
Gamal's mother grew up 12 hours south of Cairo in the countryside. She doesn't want to talk about the revolution. To her, it's a far-removed fantasy that causes more harm than good and ignores the practical needs of everyday life.
"The revolutionaries got us into this mess and abandoned us to cause chaos and more protests instead of working to help us get daily bread," Umm Ahmed said a she sat on a tattered couch, swatting away flies. "Instead of Tahrir Square, they should have been here."
"It's a classist society," says Hani Hinawwi, an architect who works in many of Cairo's impoverished areas. "It's the one of the issues no one wants to talk about."
His wife and fellow architect, Sana, has tried to foster a vibrant, grass-roots civil society in these areas through nongovernmental organizations (NGOs) -- one of which plucked Gamal out of a dismal workshop and put him back in school.
"There is no class integration in Egypt; it's why the political elite can't connect to the streets," she says, dropping notebooks and other supplies off at the NGO. "Mubarak kept us that way, divided and afraid, so we'd never know and connect with the other."
Since the uprising there has been an increase in awareness and efforts to help the poor. Dramatic visits to slums with Egyptian celebrities such as Nobel Laureate Mohammed ElBaradei in tow have become standard fare for some television shows.
"Seeing this (institutional neglect of the poor) makes me embarrassed to be Egyptian," a choked-up ElBaradei said in an edition of "One from the People" on Dream TV last fall.
Parallel lives
Yahia Shawkat, an architect who researches and analyzes urban policy on his blog Shadow Ministry of Housing, visits Cairo's informal areas and films residents in order to humanize their experiences and spread awareness. "There's a huge stigma around these areas and poor people in Cairo, even though they're the majority. They're our neighbors, but we live parallel lives in Egypt."
Along Cairo's main highway, the other polished parallel universe is prominently displayed, with billboards that promise "exclusive" and "modern" gated communities with names like "Dreamland" and "Utopia." At night, electronic advertisements for these communities light up the skyline. One pamphlet advertises Madinaty's ("My city") new district of villas with a mall, golf course, soccer field. The ads show attractive families eating croissants and sipping orange juice.
Madinaty's owner, the Talaat Moustafa Group (TMG), is Egypt's largest listed property developer. It recently came under fire for illicit land deals, but a court ruled in November that the company's purchase of state land for its Madinaty project was valid. Other mega-developers have since tried to circumvent legal action by handing back land to the state, but architect Minnawi says "under-the-table deals are still the name of the game."
About a 15-minute drive from Gamal's neighborhood, farther up on a cliff, sits "Uptown." Ads for the new gated neighborhood, "a city within a city," announce that the "the heart of Cairo is changing" and show beautifully exotic women bathing in rose petals and families in designer clothes looking off into the sunset. Construction updates on the project can even be added to one's Pinterest.
"Life goes on," said a sales representative who refused to be named, noting the community is almost sold out. "We can't be blamed just because we have money," said a woman who was looking through glossy ads in the group's sales center. "And when you have money in Egypt you're forced to live secluded from the rest."
But even those who live in the privileged communities say they aren't sustainable. Heba, 41, an advertising account manager, sits in a new upscale café on a posh, green, island enclave in central Cairo. A view of the Nile can be enjoyed while munching on macaroons. But the river view comes with an ignored stretch of slums on the far bank -- a reminder of life on the other side.
This isn't lost on her. She rolls her eyes and says she's part of the elite 1% of Cairo who all know each other.
"I live in a gated community, I wear designer clothes, and I even went down to Tahrir Square," she says. "The 18 days in the square were some of the only days I stood next to people from other classes.
"I'm not proud of this, but a year and half later, we're back to our old divided, bubbled ways."
The inequity exemplified and cemented by Cairo's gated communities and slums aren't Egypt-specific, but part of a larger widening divide between rich and poor around the world, says Mohamed Elshahed, creator of the blog Cairobserver and Ph.D. candidate at New York University. "Both the gated communities and the informal areas are answers to the same problem: a disillusionment with the regime's inefficiency to provide a city worth living in for its citizens."
A more comprehensive revolution needed?
Tarek Wafiq, an architect who leads the Muslim Brotherhood's committee on urban planning, says a much more comprehensive revolution is needed for fundamental reforms within ministries.
"We need real accountability and transparency or else urban development will continue to fail," Wafiq says. He's been pushing for expediting a planned third rail line that would better connect communities, but says he is met with the same "what's in it for me?" mentality among officials.
On one of the protest Fridays in Tahrir against the military's handling of the country's transition to civilian rule, residents of a village an hour north of Cairo distilled their demands onto shirts: "The right to housing is a human right." They called for their representatives in parliament, mostly newly elected Islamists, to act on promises to improve sewer and water systems.
One man, Ahmed Naguib, 67, shook as he screamed at one government official.
Another woman, Umm Farouk, 54, stood inside her one-room home, one eye swollen nearly shut for lack of proper medical care, asking about a revolution she says she never saw. She said Tahrir never stood up for her and "only caused more problems."
"There's no turning back in terms of people now feeling comfortable making demands after 30 years of silence and oppression," says Mohammed Lofty, an Egypt researcher with Amnesty International. "There's no fear anymore. But the system still hasn't learned how to address those needs, especially those that will force them to be more equitable," he said. "It will be a slow process."
Back in Manshiyat Nasr, Gamal waits for a lesson with his tutor, resting one foot against a concrete wall painted with smiley faces, flowers and rainbows.
"We're not saying you don't have the right to be rich and drive nice cars. You can, but we just want the opportunities to get there, too. No matter how hard you work, the system is set up against you," says Gamal, his voice rising.
He takes a drag from his cigarette. "My vote in the next round goes to Morsi (the Muslim Brotherhood presidential candidate), someone who can, God willing, break that system -- not the man who protected it."
At first glance, Gamal looks like one of millions of Egyptian youths with nowhere to go and nothing to do, but his copper eyes pulsate with purpose. He takes one last puff and gets ready for his lesson.
Despite calls among activists to take to Tahrir Square to protest the Mubarak verdict, as well as a presidential vote that has jammed much of society between a rock and a hard place, he says he'll continue fighting his own revolution.
"I'm designing my own future like the engineer I want to be," he says with a smile. But in a system and country whose blueprints remain the same, his revolution will be ongoing.