Review: 'Madagascar 3: Europe's Most Wanted' is infectious
June 11, 2012 -- Updated 1440 GMT (2240 HKT)
STORY HIGHLIGHTS
"Madagascar 3" follows Alex the lion (Ben Stiller) and his Central Park Zoo pals
They are now nostalgic for New York after their foray into Africa
Our heroes hook up with a troupe of Euro circus animals
(EW.com) -- In animation, the next best thing to a grand vision is crack comic timing.
The third chapter in the saga of Alex the lion (Ben Stiller) and his Central Park Zoo pals — now nostalgic for New York after their foray into Africa — has timing up the wazoo.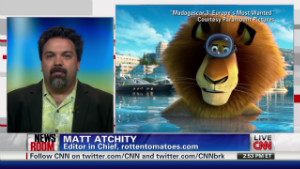 New movies: 'Prometheus,' 'Madagascar 3'
It's there in a (literally) over-the-top chase through the skies of Monte Carlo, in the grouchy fun of a troupe of Euro circus animals our heroes hook up with, and in bits like Marty the zebra (Chris Rock) singing a circus jingle inspired by his psychedelic Afro wig.
The story in "Madagascar 3: Europe's Most Wanted" is functional, but the antically civilized spirit is infectious. B+
CLICK HERE to Try 2 RISK FREE issues of Entertainment Weekly
© 2011 Entertainment Weekly and Time Inc. All rights reserved.