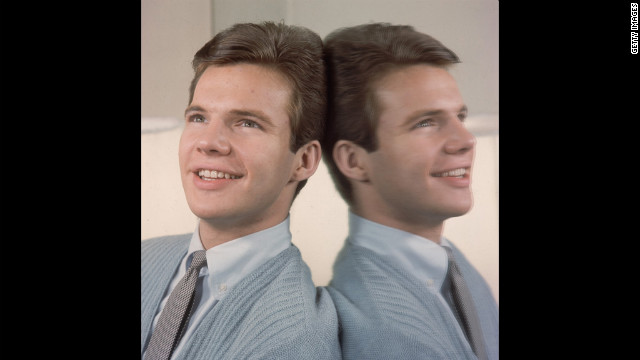 American pop singer and teen idol Bobby Vee in a fresh-faced 1960 publicity still. The North Dakota native had been signed to a record label the year before at 16.
Vee quickly transformed into a teen heartthrob who made numerous singles during the early 1960s, including "Rubber Ball" and "The Night Has a Thousand Eyes."
Vee in January 1962, coming off a big year. In 1961, he had a No. 1 hit, "Take Good Care of My Baby," followed by the No. 2 hit "Run to Him."
By the time he was 20, Vee was an established pop star in the United States and Britain, where he had seven Top 10 hits by 1963.
Vee continued to tour in the United States and Europe until he retired last year after his Alzheimer's diagnosis.
Talented teen heartthrob
Talented teen heartthrob
Talented teen heartthrob
Talented teen heartthrob
Talented teen heartthrob
STORY HIGHLIGHTS
Bob Greene says 60's pop star Bobby Vee is suffering from Alzheimer's
He says since diagnosis, Vee has tried to spend good time with friends, family
In letter to friends, fans, he writes movingly about his new priorities as his memory fails
Greene: Any of us could get Alzheimer's. Vee's grace in handling his is inspirational
Editor's note: CNN Contributor Bob Greene is a bestselling author whose books include "Late Edition: A Love Story" and "When We Get to Surf City: A Journey Through America in Pursuit of Rock and Roll, Friendship, and Dreams." He appears on "CNN Newsroom" Sundays during the 5 p.m. (ET) hour.
(CNN) -- It is such a cruel disease, one that can sneak up on a person and catch him unawares.
The last time I saw Bobby Vee, he seemed just fine. The name will be familiar to many of you, but today's column is intended just as much for those readers who are too young to remember him.
He was one of the young rock-and-roll idols of the early 1960s. His hits included "Take Good Care of My Baby," "The Night Has a Thousand Eyes," "Run to Him" and "Rubber Ball." He continued to tour as the years went by.
We were on an Italian ocean liner in the first weeks of 2009. The ship had been booked by a company presenting a different early-years-of-rock act in concert each evening in the big theater onboard. Bobby was one of the performers; I was there with the Jan and Dean band.
One midnight after the show, somewhere off the coast of the Dominican Republic, I was walking around an upper deck and saw that Bobby was taking a walk, too. We met up and talked about some of his first recordings. His recall was precise and acute; he gave me details of what the sessions had been like. He is a gentleman, and a gentle man. Walking and talking with him was a wonderful way to end the day at sea.
So I was startled to hear recently that he is battling Alzheimer's disease, the irreversible, progressive brain disorder that destroys memory and thinking skills. It is estimated that more than 5 million Americans suffer from it, a number that is only expected to increase unless advances in treatment and prevention are achieved. The federal government recently announced new initiatives that, it is hoped, will add urgency to the efforts.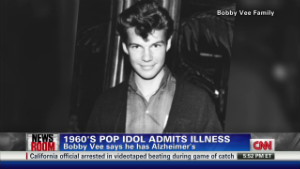 '60s pop idol admits illness
The millions of families dealing with Alzheimer's are aware of its devastation. But when people with familiar names -- Ronald Reagan, Glen Campbell -- are blindsided by it, the world tends to stop, and think, and try to learn.
What we can learn from Bobby Vee is how to face adversity with genuine grace and perspective. He is 69; in a letter to his friends and fans, he said that it was a little over a year ago that he was diagnosed with the initial stages of Alzheimer's.
Getting the news, he said, "was a moment that stunned my family and myself to the core. Since this time I have chosen to remain private and to focus on what is most important to me: my family and my music. It has been a time to reflect and to just be. To create memories for my grandchildren and to celebrate life's goodness. To throw baseballs and catch fish. To be the audience. ...
"Shortly after this all came down, I hopped into an RV with my family and we embarked on a little odyssey from Minnesota to Tucson, AZ. Together we explored the depths of our reality. ... the depths of my reality. With very few words, no solutions and a lot of heart, we did what we do. We shared time. We shared laughter, tears, stories, meals and music. We shared thousands of miles of hi-way as familiar to us as the pillows on our beds. As if nothing had changed, as if everything had changed. ...
"So without a song or a script I am stepping onto a stage that we all share: the mystery of life. While in Tucson we set up some amps and drums in the garage ... We just did what we have always done, only this time there was no stage. There were no spotlights and no audience. We made music every day for a week ... just for us. For the joy of making music. For the joy of being together. For all of the reasons I ever picked up a guitar or sang a tune in a Fargo, N.D. garage back in '59. I have truly come full circle! We played songs I grew up with, songs the kids grew up with, songs we wrote, songs that had meaning and memories for us all. No agenda, no set list, no tickets to sell ... This was all we have ever done, and all we could do. So we did it."
When you are young you never think that Alzheimer's will enter your own life. But unless something is done to defeat the disease, years from now people who are today young and strong will be fighting it, and -- when the disease strikes their favorite actors, athletes and singers who are in 2012 so full of youth and energy, and who will inevitably grow old -- they, too, will be reminded of the passing years, and of life's memories lost and found.
Bobby Vee was at one time the kid wonder of kid wonders. He was only 15 when, the night after Buddy Holly and Ritchie Valens and the Big Bopper died in that 1959 Iowa charter-plane crash, he was recruited to somehow help make the show go on at the tour's next stop in Moorhead, Minnesota. He and his friends from nearby Fargo filled in that night, and his career began.
He and his band were much admired in that Minnesota/North Dakota area. A young piano player, wanting to make music with Bobby Vee, showed up and asked to play in some shows. He said his name was Elston Gunn, which it wasn't. Later he would choose another name: Bob Dylan. In Dylan's autobiography, he writes with great regard, warmth and true professional respect for Vee, starting with the days when they were both little more than kids ("Bobby Vee and me had a lot in common, even though our paths would take such different directions ... Bobby had a metallic, edgy tone to his voice and it was as musical as a silver bell.").
These are especially tense hours for the Vee family. He wrote in that letter about his Alzheimer's diagnosis: "My beautiful wife of 48 years, Karen, is also dealing with serious health issues as we await a lung transplant for her at Duke University." Last week, Bobby's son Jeff told me that the operation had been performed the night before, and that the family is praying for the best outcome.
As Bobby neared the end of the letter to his friends and fans, he wrote:
"We thank you from the bottom of our hearts for every musical moment we've shared. It has truly been a magical odyssey. We have been blessed ... and the road goes on."
Follow @CNNOpinion on Twitter.
Join us at Facebook/CNNOpinion.
The opinions expressed in this commentary are solely those of Bob Greene.