Chinese female astronaut to join docking mission
June 11, 2012 -- Updated 0935 GMT (1735 HKT)
STORY HIGHLIGHTS
Xinhua identifies female astronauts who could be on crew
Launch is planned for mid-June
China aims to complete manned space docking, joining Russia, United States
China aspires to build space station, conduct manned mission to the moon
(CNN) -- China's historic spacecraft docking mission this month will involve a female astronaut, state-run Xinhua reported.
Either Liu Yang or Wang Yaping -- selected among China's first batch of women astronauts -- will be among the three-person crew to launch aboard the Shenzhou-9, according to Xinhua.
If all goes well with the launch, which is planned for mid-June, the Shenzhou-9 will dock with China's orbiting space laboratory, making the nation the third after the United States and Russia to complete a manned space docking.
As a precaution in case of an emergency, one of the crewmembers will not board the lab, a spokesperson for the space program said in February.
China has big aspirations for its space program with hopes to build a space station like the International Space Station and to conduct a manned mission to the moon.
China rockets forward in race to moon
On Saturday the Shenzhou-9 and its carrier rocket, the Long March-2F, were moved to a launch platform in northwest China's Gansu province to allow scientists to conduct tests before the launch, according to Xinhua.
The Tiangong-1 space lab module was launched into space in September, and two months later it successfully completed China's first space docking with an unmanned spacecraft, Shenzhou-8, according to Xinhua.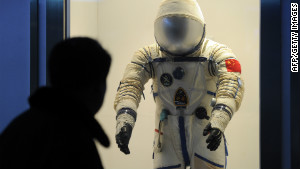 A visitor at the Shanghai Science & Technology Museum looks at a spacesuit used by Chinese astronauts.
The efforts demonstrate "China's continued commitment to becoming a first-class space power with an independent space capability," Taylor Fravel, associate professor at Massachusetts Institute of Technology, said this year.
"This is a very exclusive club."
On Thursday in Beijing, the China National Space Administration and the Pakistan Space and Upper Atmosphere Research Commission signed a space cooperation plan through 2020, state-run China Daily reported. The agreement was signed, while Pakistani President Asif Ali Zardari was visiting for the Shanghai Cooperation Organization Summit.
China's efforts come as the United States refocuses its space program toward deep space exploration, and private companies like SpaceX make strides toward the commercialization of spaceflight.
Last month SpaceX's unmanned Dragon capsule completed the first ever commercial mission to the International Space Station.
CNN's Jaime FlorCruz contributed to this report.

Part of complete coverage on

Check out CNN's latest news, commentary, photos, and videos on our China special section.
May 23, 2013 -- Updated 0221 GMT (1021 HKT)

A quarter century after his death, American pop artist Andy Warhol has popped up in China again after his first and only trip to the country in 1982.
May 16, 2013 -- Updated 0225 GMT (1025 HKT)

This month, "On China" host Kristie Lu Stout speaks to guests about China's contemporary art scene.

Proving you don't have to be in France for great artisanal cheese, Liu Yang is teaching the Chinese to appreciate dairy.

You can now visit the city visa-free for up to 72 hours. Here's how to cram the best of Beijing into three days.
May 16, 2013 -- Updated 0107 GMT (0907 HKT)

Who is the world's third biggest smartphone maker? BlackBerry? Guess again. HTC? Nope. It's China's Huawei.
May 8, 2013 -- Updated 1224 GMT (2024 HKT)

CNNGo heads to the capital of China's Sichuan province where numbing peppers rule.
May 9, 2013 -- Updated 0016 GMT (0816 HKT)

The poisoning of Zhu Ling, a college sophomore in Beijing almost two decades ago, has ignited an emotional debate in China.
May 7, 2013 -- Updated 2253 GMT (0653 HKT)

80-year-old Chinese war veteran Duan Keke fought for North Korea in the Korean War. He believes China will prevent war with North Korea.

Share with us your photos and videos of life in China-- the everyday China. The best content could be featured online or on air.

Today's five most popular stories