On the front line of climate change: Five cities battling floods, heat and storms
updated 1:44 PM EDT, Fri June 15, 2012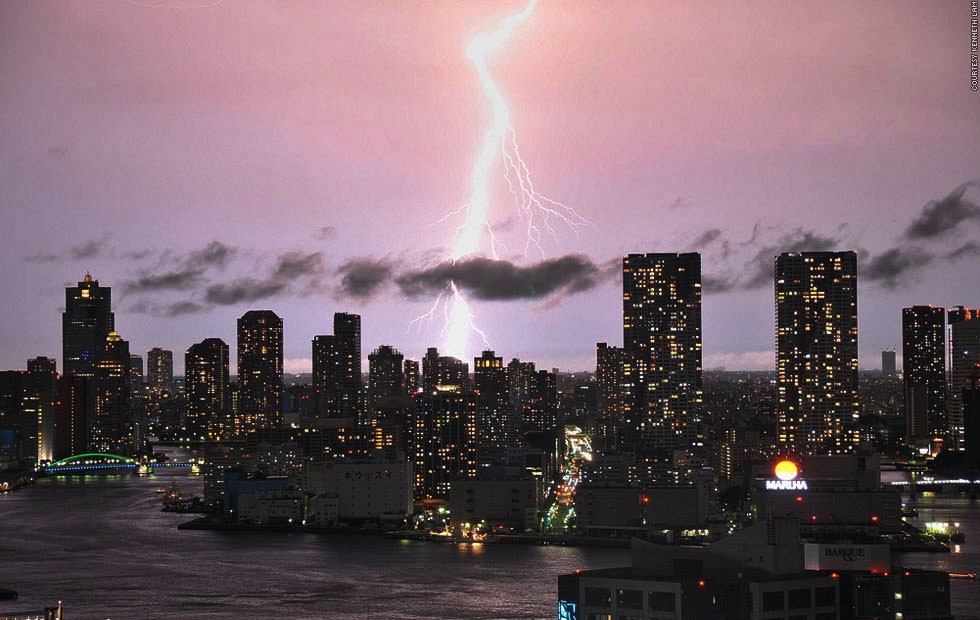 Tokyo:
Battling the elements
Despite the investment of billions of dollars, Tokyo says its storm defenses can't equal the increasingly intense rain over the past decade. And so one of the world's wealthiest cities continues to succumb to flood disasters -- taking lives, destroying property and bringing transport to a standstill.
City stats

CITY
POPULATION
35.53 million

GROSS DOMESTIC
PRODUCT
$1,191 billion

GREENHOUSE GAS
EMISSIONS/CAPITA
4.9 METRIC TONNES (EST)

EXTREME WEATHER
THREAT
SEVERE STORMS
Source: World Bank and CDP Cities
Heavy rainfall increasing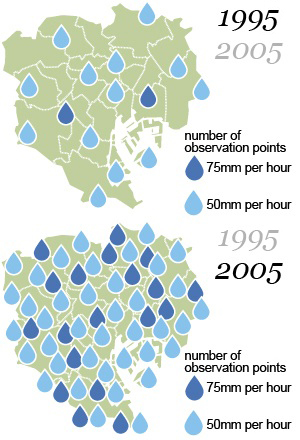 A study from 117 weather stations dotted around Tokyo shows that in recent years there's been an increase in the frequency of highly localized, intense rainfall.


Source: Tokyo Metropolitan Construction Bureau Flood Records
---
Violent storms lash the city year after year
Historically, Tokyo is no stranger to storms. The city is regularly battered by typhoons -- uprooting trees, flooding homes, leaving commuters stranded and putting residents at risk of injury or death. Looking to the future, the city expects that intense downpours are only going to get stronger.
---
Heat rises between the storms
Over the past hundred years, average temperatures in Tokyo have risen by five degrees Fahrenheit (three degrees Celsius), according to local government analysis. In the 2012 CDP Cities report, Tokyo indicates that extremely hot days and sweltering nights will continue to increase over time, exacerbated by densely packed buildings, a huge population and high energy demands.
---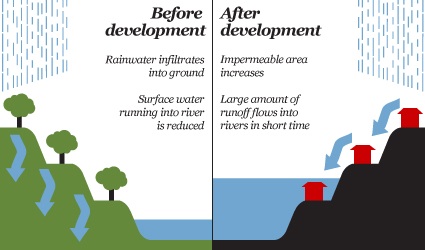 Development blocks natural flood defense
Extensive urbanization in Tokyo has covered the land in roads, pavements and buildings, reducing natural water storage capacity. During heavy rainfall, rapid runoff of water into the rivers increases the risk of flooding.

In the low-lying Kanda River Basin, urbanization has increased by more than a third in just 60 years. The Tokyo Metropolitan Government reports that in East Tokyo 1.5 million people are living under the high-tide level. While Tokyo is continuing to invest in sophisticated stormwater storage facilities, the city government says heavy rains that exceed the current protection level have been increasing in recent years. The city still experiences flood disasters on a yearly basis.
---
Adaptation key in a 'declining situation'

Although we have been actively promoting mitigation methods, we think it is also important to approach adaptation considering such a declining situation. 



Yuko Nishida, Policy Planning Division, Bureau of Environment
---
As storms get stronger, so must defenses
In Tokyo, the stakes are high. The World Bank says it has the greatest GDP of any single city in the world. And so as the storms get stronger, so too do the city's defenses. From vast networks of underground reservoirs, to sophisticated water-absorbing pavements, Tokyo has implemented a portfolio of adaptations to defend itself.