On the front line of climate change: Five cities battling floods, heat and storms
updated 11:41 AM EDT, Tue June 19, 2012
On the front line of climate change: Five cities battling floods, heat and storms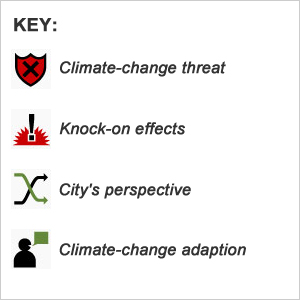 Climate change has the potential to cause unprecedented damage to urban areas -- both in terms of human life and financial capital.

What will cities do to cope with rising sea levels, heatwaves, droughts and more frequent and severe storms? How will they protect their populations and economies?

Cities are, in fact, uniquely placed to answer these questions.

City mayors are often more able than nationally elected politicians to take decisive action on environmental initiatives, making many cities pioneers in adapting to climate change.

CNN has teamed up with The C40 Cities Climate Leadership Group and the Carbon Disclosure Project to show the risks climate change poses to five major global cities and the steps they are taking to protect them for future generations.
---

The C40 Cities Climate Leadership Group is the world's preeminent network of large and engaged cites globally committed to reducing greenhouse gas emissions and taking climate actions. Chaired by New York City Mayor Michael Bloomberg, member cities across the globe, from Addis Ababa to Warsaw and Tokyo to Toronto, are measuring risk from climate change and implementing sustainable activities locally that are helping to tackle the issue globally.
---
C40 Cities in partnership with the Carbon Disclosure Project (CDP) annually invites member cities to report on risks, mitigation and adaptation through CDP's online reporting platform.
CNN has used self-reported data from cities reporting through CDP in 2012. All data is available to the public at www.cdproject.net, or in summary form in Measurement for Management: CDP Cities 2012 Global Report, Including a Special Report on C40 Cities. CNN has been assisted by CDP and C40 staff, as well as C40 member cities in the making of this interactive.
---
By Mairi Mackay, George Webster and Teo Kermeliotis with help from Hina Siddiq, Lauren Moorhouse and Ryan Smith | Design and development by Matt Barringer | Built by Jon Parr with help from Kevin Taverner | Edited by Linnie Rawlinson
---