U.N. suspends observer mission in Syria
June 16, 2012 -- Updated 1235 GMT (2035 HKT)
STORY HIGHLIGHTS
The United Nations says Syria poses too much of a risk for observers
The head of the mission says violence has intensified in the last few days
The escalation is limiting the ability of monitors to do their job
The monitors went in to ensure compliance to Kofi Annan's peace plan
(CNN) -- The United Nations suspended all activities in Syria on Saturday due to the escalating levels of violence, the head of the global body's mission said.
"There has been an intensification of armed violence across Syria over the past 10 days," said Gen. Robert Mood, head of the U.N. Supervision Mission in Syria.
"This escalation is limiting our ability to observe, verify, report as well as assist in local dialogue and stability projects -- basically impeding our ability to carry out our mandate," Mood said.
The situation, Mood said, was too high risk.
'Choking siege' leaves Syrian town in crisis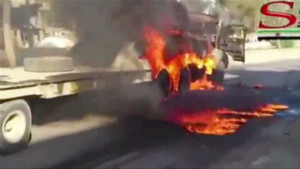 UN: Violence inhibiting work in Syria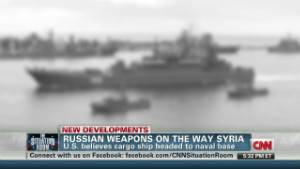 Russia sends ship with weapons to Syria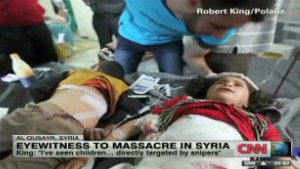 Photographer captures Syrian carnage
The U.N. monitors, whose number gradually rose to about 300, were sent in to ensure that both President Bashar al-Assad and opposition fighters were abiding by a six-point peace plan brokered by special envoy Kofi Annan.
A ceasefire took hold April 12 but only nominally, it turned out.
Violence has soared in recent days with reports of heavy government bombardment of town and chilling massacres of civilians.
On some occasions, the monitors themselves have come under fire.
"The lack of willingness by the parties to seek a peaceful transition, and the push towards advancing military positions is increasing the losses on both sides: innocent civilians, men women and children are being killed every day," Mood said.
He said U.N. observers will no longer be conducting patrols and will stay in their locations until further notice.
This suspension will be reviewed on a daily basis, Mood said.
Operations will resume when we see the situation fit for us to carry out our mandated activities.
Syrian opposition groups estimate that between 12,000 and 14,000 people have died in the months of uprising against al-Assad's rule.

Part of complete coverage on
Syrian crisis
March 4, 2014 -- Updated 1328 GMT (2128 HKT)

Syria has submitted a revised proposal "that aims to complete the removal of all chemicals" from the country before the end of April.
February 18, 2014 -- Updated 1032 GMT (1832 HKT)

CNN's Arwa Damon reports on ISIS defector who says destroying ISIS as critical as defeating regime.
February 18, 2014 -- Updated 0353 GMT (1153 HKT)

The U.S. wants a United Nations resolution that will, among other things, bring humanitarian aid for refugees in Syria.
February 17, 2014 -- Updated 1259 GMT (2059 HKT)

When the radical Islamist militia ISIS arrived in the Syrian town of Addana a year ago, many welcomed them. What followed changed their minds.
February 17, 2014 -- Updated 1449 GMT (2249 HKT)

CNN obtained video clips from Syrian activists documenting the atrocities committed by members of the Islamic State in Iraq and Syria, known as ISIS.
February 18, 2014 -- Updated 2017 GMT (0417 HKT)

On Crossfire, Danielle Pletka discusses what the U.S. needs to do to resolve the Syria crisis.
February 6, 2014 -- Updated 0101 GMT (0901 HKT)

Her almond-shaped brown eyes shine through her sunken face as a doctor lifts her sweater to reveal a tiny rib cage pushing against her skin.
February 4, 2014 -- Updated 1746 GMT (0146 HKT)

The Zaatari refugee camp in Jordan is home to around 100,000 Syrian refugees. CNN spent several days meeting the residents of the camp.
January 22, 2014 -- Updated 1959 GMT (0359 HKT)

Renowned war crimes prosecutors and forensic experts have found "direct evidence" of "torture and killing" by the Assad regime.

Traumatized children who have witnessed the horrors of war are being helped to read -- and rebuild a normal life. CNN's Becky Anderson reports.
January 23, 2014 -- Updated 1207 GMT (2007 HKT)

A battle zone tour organized by the Syrian government for CNN and several other media outlets Wednesday was more than bizarre.
January 22, 2014 -- Updated 1735 GMT (0135 HKT)

CNN's Atika Shubert meets with the family of a little girl who was wounded in Syria, now living in a refugee camp.
January 27, 2014 -- Updated 1456 GMT (2256 HKT)

110 year old, Jabari Alawali walked for over 10 hours to reach Jordan from Syria.
Today's five most popular stories