Secretariat's '73 Preakness time is a record, racing commission rules
June 21, 2012 -- Updated 1738 GMT (0138 HKT)
STORY HIGHLIGHTS
Officials rule that 1973 winner is Preakness record-holder
The official time of 1:54 2/5 was disputed by independent timers
Using video evidence commission revises time to 1:53 flat
Triple Crown winner now owns the official record time in all three races
(CNN) -- In 1973, Secretariat won horse racing's Triple Crown and set records that still stand today at the Kentucky Derby and the Belmont Stakes. Now, 39 years later, the legend has been recognized as having also set a still-standing record at the Preakness Stakes.
The Maryland Racing Commission unanimously agreed Tuesday that evidence shows Secretariat's Preakness time was faster than originally recorded, said the commission's executive director, Mike Hopkins.
Penny Chenery, who owned Secretariat, and Thomas Chuckas, the president of the Maryland Jockey Club, made the request for the commission to review the evidence.
The hearing lasted three hours and involved watching digital tapes and video overlays as well as listening to expert testimonies, Hopkins said.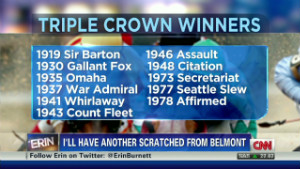 Billy Turner: Horses run too hard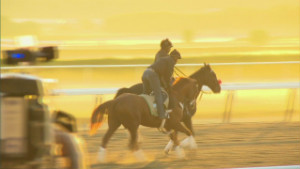 The controversy over Secretariat's time goes back to the 1973 race day.
Secretariat's 1973 Preakness time reviewed
The electronic timer at the Preakness recorded a winning time of 1:55 (one minute, 55 seconds). However, two independent clockers from the Daily Racing Form individually timed the race at 1:53 2/5.
Officials at the Pimlico Race Course in Baltimore, where the race is held, admitted that there were "extenuating circumstances" with the electronic timer's recording and changed Secretariat's official time to 1:54 2/5.
If Secretariat had indeed run the 1 3/16-mile (9.5-furlong) race in 1:53 2/5, as the Daily Racing Form timed it, it would have meant a record at the time, and one that has been matched but not beaten since.
But the commission changed the official time to 1:53 flat, meaning the then-3-year-old set an unmatched best in the race, the second leg of the Triple Crown.
"For me, revisiting this dispute on a new day is matter of resolution -- for historians, for sportswriters and for racing fans," Chenery said. "Their voices are supported by sound evidence, and they deserve to be heard."
Modern video technology can be used to settle the controversy, Chuckas said.
"During the last 40 years, video technology has been accepted in other professional sports as a supportive mechanism for officials to ensure fairness and accuracy in their decisions," he said. "It is important for horse racing and the record books to confirm the correct time in this historical race. It is the appropriate thing to do."
Animal welfare activists: Horse racing industry needs reform
Previously on CNN.com: Union Rags rallies to win 144th running of Belmont Stakes
CNN's Melissa Abbey contributed to this report.

Today's five most popular stories
October 30, 2014 -- Updated 1237 GMT (2037 HKT)

He's won six Olympic medals on two legs, but Bode Miller's future will ride on four -- can he replicate his skiing success in the "Sport of Kings"?
October 23, 2014 -- Updated 1247 GMT (2047 HKT)

As a jockey, Philip Blacker lived for the thrills and spills of horse racing. As a sculptor, his work captures the horror of World War I.
October 14, 2014 -- Updated 1512 GMT (2312 HKT)

Ever thought zebras couldn't be tamed? Think again. Gary Witheford has a remarkable way with wild animals -- which he proved after a pub boast.
October 9, 2014 -- Updated 1435 GMT (2235 HKT)

The internet went wild for so-called "horse yoga" -- but there was something deeper going on that reconnects humans with the animal world.
September 1, 2014 -- Updated 1323 GMT (2123 HKT)

The going is always soft and the only permanent building is a toilet block. It's the antithesis to the pomp of Royal Ascot ... welcome to Irish beach racing.
August 13, 2014 -- Updated 1107 GMT (1907 HKT)

Each August, over a thousand tents and hundreds of horses converge on Little Big Horn River in Montana for the Crow Fair and Rodeo.
August 1, 2014 -- Updated 0957 GMT (1757 HKT)

Show me the money! Hollywood star Tom Cruise was a big hit when he visited the Glorious Goodwood festival.
July 21, 2014 -- Updated 1241 GMT (2041 HKT)

Little-known outside the tribes of the Rocky Mountains in the American northwest, Indian Relay is a "magical" horse-racing relay.
July 8, 2014 -- Updated 1325 GMT (2125 HKT)

Now in his 50s, one of the world's most successful jockeys explains why he gave up acting to return to the sport that nearly crippled him.

Winning Post's Francesca Cumani is impressed by the all-round multitasking skills of Ireland's champion trainer Aidan O'Brien.
June 7, 2014 -- Updated 0853 GMT (1653 HKT)

More people have walked on the moon than have won the fabled Triple Crown of U.S. horse racing. California Chrome is seeking to square that score.
June 5, 2014 -- Updated 1137 GMT (1937 HKT)

A long history of controversy made him the "enfant terrible" of horse racing, but veteran jockey Kieren Fallon is looking for redemption.