STORY HIGHLIGHTS
Jamaicans dominate men's and women's sprinting in track and field competition
Usain Bolt will be defending his Olympic 100 and 200m titles in London in August
Jamaican athletes hold 46 of the top 69 best times in the men's 100m event
Their success can be attributed to upbringing, lifestyle and strong desire to win
Editor's note: CNN's Aiming for Gold Olympics show airs on June 21 at 1630 GMT, on June 23 at 0730 and 2100, June 24 at 1630, June 30 at 1630 and July 1 at 0730 and 2100.
(CNN) -- When the fastest men on the planet contest the Olympic 100 meters final in London on August 5, it will be a major upset if the winner does not come from the small Caribbean island of Jamaica.
Injuries or false starts aside, Usain Bolt will take center stage as he bids to retain the title he won in Beijing in 2008, but if he slips up then young pretender Yohan Blake is waiting in the wings, not to mention veteran former world record-holder Asafa Powell.
With such a pool of talent, 4x100m relay success is almost guaranteed, and Bolt is an even heavier favorite for 200m individual gold.
In the women's events, Jamaican domination is also a common theme, with Shelly-Ann Fraser-Pryce defending her 100m crown and Veronica Campbell-Brown going for a hat-trick of golds in the 200m.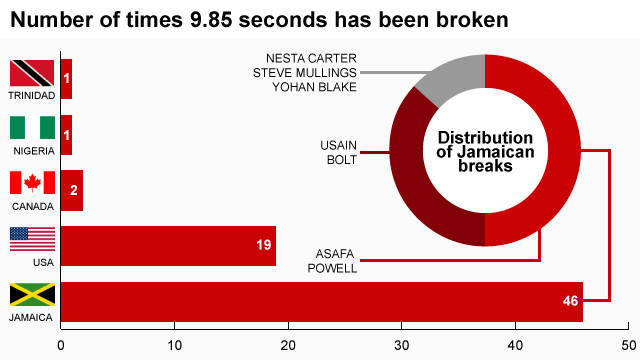 Sprinters from the United States have won the majority of gold medals in the modern Olympic era and the likes of Tyson Gay will be keen to knock Bolt off the top of the podium in London.
But Gay represents a country with a population of over 300 million people with a massive tradition in track and field through the eras of stars such as Jesse Owens, Carl Lewis and Florence Griffith-Joyner.
So how is it that they are now largely second best to athletes from an impoverished island inhabited by fewer than three million people?
And it's not only athletes who don the famous gold and green trim of Jamaica who have made their mark.
Olympic 100m champions Linford Christie (for Great Britain in 1992) and Donovan Bailey (for Canada in 1996) were born and bred in Jamaica, as was the now disgraced Ben Johnson, who also represented Canada.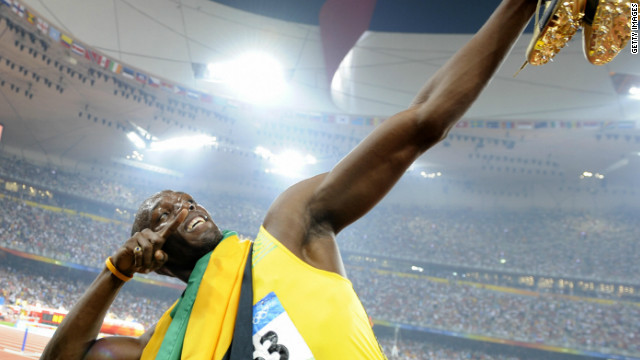 Usain Bolt strikes his trademark pose after claiming gold in the 100 meters at the 2008 Beijing Olympics.
Bolt claimed his second gold in China with an emphatic victory in the 200m, setting another world record.
Bolt completed a gold medal treble as Jamaica's sprint relay quartet also triumphed in Beijing.
Bolt greets his inspiration, 1976 Olympic 200m champion Don Quarrie.
Quarrie also won 100m silver at Montreal, and six gold medals at the Commonweath Games.
Jamaica has a strong running tradition. Here Arthur Wint pips compatriot Herb McKenley to win gold over 400m at the 1948 London Olympics.
Merlene Ottey shows off the Jamaican flag after her gold medal success at the 1993 World Championships in Stuttgart.
The remarkable Ottey was still competing for Slovenia at a Diamond League Athletics meeting in London in 2011. Now 52, she still has hopes of qualifying for London 2012.
Jamaica-born Linford Christie claimed gold for Britain in the 100m at the 1992 Barcelona Olympics.
Donovan Bailey, who left Jamaica at the age of 13, won gold representing Canada in the Olympic 100m at Atlanta in 1996.
Jamaica's Olympic 100m women's champion Shelly-Ann Fraser-Pryce also won the world title the following year in Berlin.
Veronica Campbell-Brown is bidding for a hat-trick of 200m gold medals at the London Olympics following her triumphs in Beijing and Athens.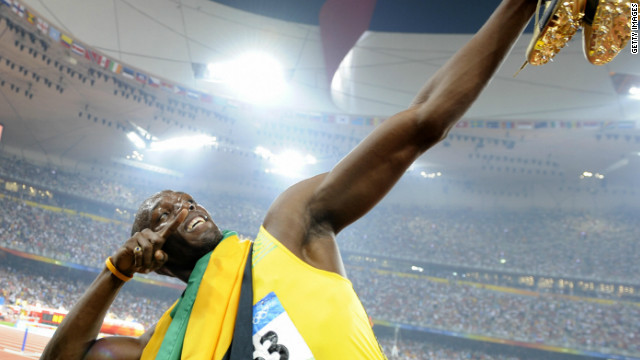 Gold running: Jamaican sprinters on top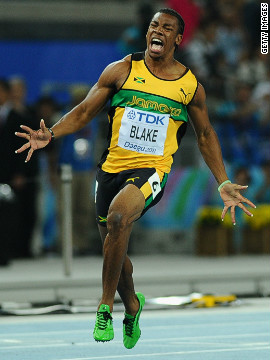 Jamaican sprinter Yohan Blake announced himself as an Olympic contender when he won gold in the 100 meters final at the 2011 World Athletics Championships in South Korea.
Blake's compatriot Usain Bolt was favorite to add the title to his 100m and 200m Olympic crowns, but he was disqualified for a false start. In the background, Blake walks back to the blocks.
Blake (R) set a Jamaican national junior record of 10.11 seconds at the Carifta Games -- a competition for Caribbean juniors -- in 2007. He also claimed a bronze medal at the 2006 World Junior Championships in Beijing, China.
In terms of training partners, Blake couldn't have a better role model than world record-holder Bolt -- who he looks up to for all that he has achieved in athletics. But though the pair are friends, Blake still wants to take his titles.
Jamaica's men secured their status as the undisputed sprint kings of the world as Blake's success at the 2011 World Championships was complemented by Bolt's 200m win and victory in the men's 4x100m . Jamaica also did the treble in 2009 and at the Olympics the year before.
Bolt's disappointment of missing out in the 100m was tempered by the relay success, and he and Blake celebrated in Daegu with a few nifty dance steps.
Blake posted personal bests in both the 100m and 200m in 2011, and has seen his profile rise as a result. Here he celebrates with fans in Zurich after running the fastest time of his career -- 9.82 seconds.
Blake got the taste for gold at Daegu, and is aiming to emulate his success at the Olympic Games in London this year.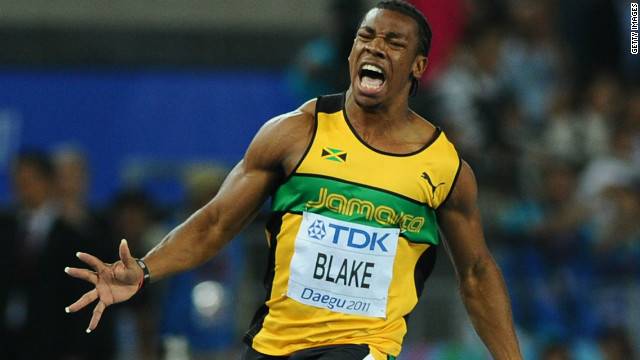 A Bolt from the Blake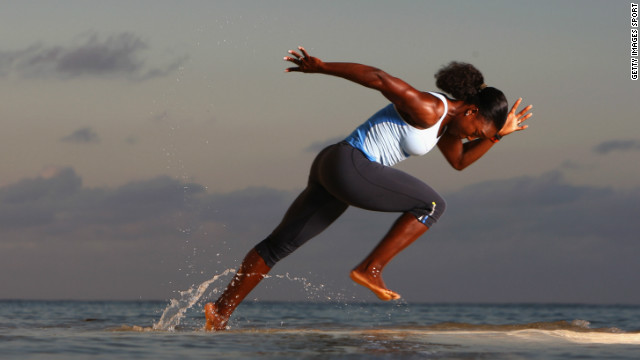 Jamaican sprinter Veronica Campbell-Brown is seeking to make history by aiming to win a third consecutive 200 meters gold medal at the London 2012 Olympics.
Campbell-Brown, who has won three Olympic golds in total, also has a charitable foundation aimed at empowering Jamaican girls through sport.
Her birthplace, Trelawny, has produced many Olympic medal winners, including Usain Bolt, U.S. 400-meter runner Sanya Richards-Ross and the disgraced Canadian sprinter Ben Johnson. Campbell Brown puts the phenomenon down to the local yams, which are packed with carbohydrates.
London 2012 will be Campbell-Brown's fourth Olympics. She won her first 200 meter gold medal at Athens in 2004 at the age of 22.
She capped an incredible competition in Greece by also taking the Jamaican 4x100m relay team over the finishing line in first place.
Her inspirational performances in Athens meant that she was asked to carry the flag for the Jamaican team at the opening ceremony for Beijing 2008.
Campbell-Brown, who successfully defended her 200m title in China, will still only be 30 by the time London 2012 begins.
Last year she ran the 100 meters in 10.76 seconds, the second fastest time in history, raising the prospect that she could contend in London for both sprint events.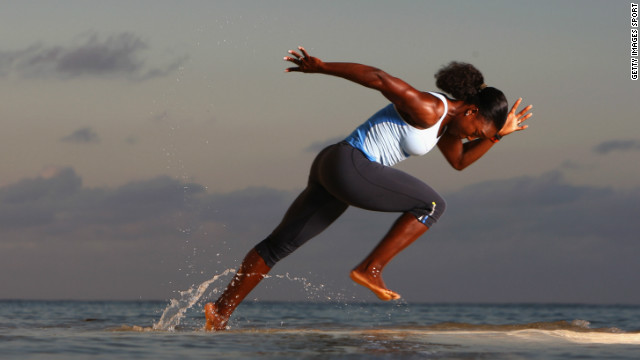 The fastest woman on earth?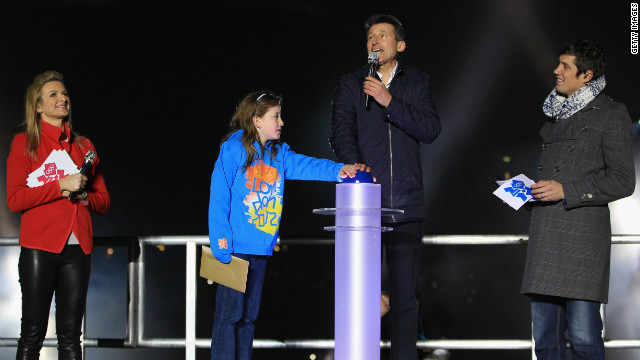 Nine-year-old schoolgirl Niamh Clarke-Willis makes history as she presses the button to officially open the Olympic stadium along with London 2012 chairman Sebastian Coe. They were joined on stage by TV presenters Gabby Logan and Vernon Kay.
Paralympic gold medalist archer Danielle Brown also took part in the ceremony. The opening weekend included the British Universities and Colleges Sports Outdoor Championships, the first athletics meeting at the 80,000-seater stadium.
Brown fired arrows into a spinning target, covered with the names of 100 children in the crowd -- and Clarke-Willis was the lucky winner.
Logan looks on as her husband Kenny, a former rugby union international, competes in a celebrity tug-of-war. About 40,000 spectators watched entertainers including impressionist Jon Culshaw, actor Hugh Bonneville, former Spice Girl Melanie C, rapper Chipmunk and comedian Jack Whitehall.
Wet weather didn't stop thousands of visitors turning up. The venue was built using 10,000 tons of steel, considerably less than other Olympic stadiums organizers say, and with an emphasis on sustainability. Construction began in May 2008 and was completed in March 2011.
James Ellington, left, celebrates winning the men's 100 meters final during the weekend's BUCS VISA Athletics Championships, one of the Olympic test events.
Katy Sealy throws in the javelin event. The track and field competition was watched by a reported crowd of around 6,000 during the day before numbers swelled for the evening show.
It was the first time many visitors had walked around the Olympic grounds, including the new aquatics center. They appeared cautiously optimistic about the site, with one family telling CNN the seats were comfortable but there was a lack of rubbish bins.
A sculpture by Turner Prize-winning artist Anish Kapoor looms over the Olympic Park. The 115-meter ArcelorMittal Orbit includes two viewing platforms for spectators to view the site.
Visitors had to queue for events as they passed through airport-style checks. Security was high at the event, with police helicopters fyling overhead and armed officers patrolling the grounds.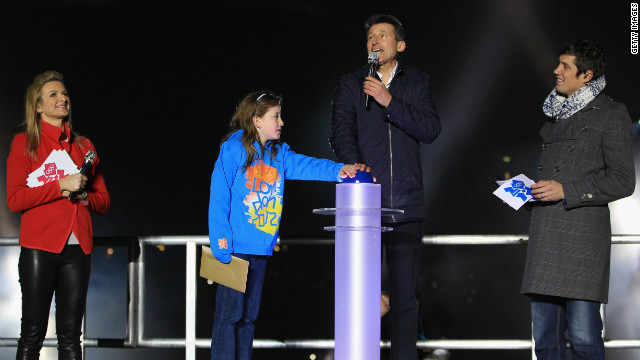 London 2012 Olympic stadium opens
So what is the secret of this remarkable Jamaican sprinting pedigree and will it continue into the future?
Role models
With role models like Bolt and Campbell-Brown, the conveyor belt of talent certainly shows no signs of slowing. The 22-year-old Blake, who won last year's world championship 100m in Daegu when Bolt was disqualified in the final for false starting, is the latest to emerge.
Bolt himself drew inspiration from a former Jamaican great -- Don Quarrie, who won the 1976 Olympic 200m title in Montreal and six Commonwealth Games gold medals.
"For me Don Quarrie was somebody to watch and to be amazed by," Bolt told CNN's Aiming for Gold program.
"That's why I love the 200m so much because I've seen Don Quarrie and I said, 'I can be that good.' Quarrie, (Herb) McKenley, these are the guys that I looked up to."
McKenley and Arthur Wint were the first Jamaicans to taste Olympic success, at the 1948 London Games.
The elegant Wint pipped McKenley for gold in the longer 400m sprint, while the latter achieved the rare feat of reaching the finals of the 100, 200 and 400m at the first post-war Olympics.
Of Jamaica's current crop of women stars, Campbell-Brown was mentored by the great Merlene Ottey, who won a record 14 world championship medals for Jamaica in the sprint events and was still competing at international level for her adopted Slovenia past her 50th birthday. Now 52, Ottey still has hopes of qualifying for London 2012.
"She (Ottey) is a very positive person, very strong, very hard working, very passionate and she is a friend," Campbell-Brown told CNN.
A hard school
Campbell-Brown went to the same high school in Jamaica as Ottey -- Vere Technical -- and both earned their trade in the ferociously competitive track and field schools competition on the island.
Bolt is convinced the key to Jamaican success is the intense rivalry of grassroots athletics from an early age.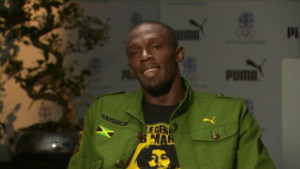 Bolt: 'I can break 100 meter record'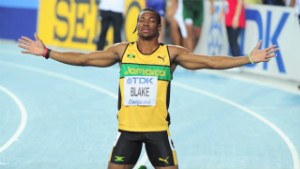 Human to Hero: Sprinter Yohan Blake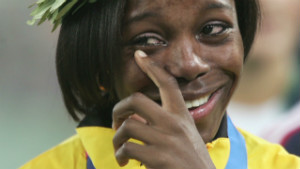 Human to Hero: Veronica Campbell-Brown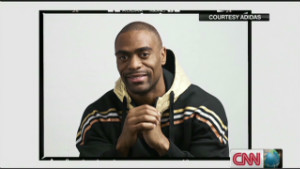 Tyson Gay's Olympic ambition
"I feel we push our young athletes," he said. "There is this thing called the Boys and Girls Championships in Jamaica, which showcases the talent.
"The level of competition is really high because it pushes you every day to be the best in your event, in your class."
And even now as Bolt gets down on the blocks at a major championships, that early experience gained is invaluable.
"I think it helped me to get past my fear of running in front of thousands and millions of people because I'm front of a home crowd and we are under a lot of pressure."
The four-day championships play to crowds of up to 30,000 at the national stadium in Kingston, while a TV audience of over a million watch the live coverage. Many of the top stars go back to hand out medals and inspire the next generation.
As a 16-year-old, Bolt thrived in this mini-Olympics in 2003, winning the 200/400 double in 20.23 and 45.30 seconds -- times which would have been good enough to qualify for most Olympic finals.
Campbell-Brown was spotted at an early age while still at primary school and placed on the path to Olympic glory.
"My coach and teacher at the time said to me, 'You are very talented, I think this is going to be a career path for you,' and he recommended Vere, which is still a sprint factory."
Christie was unwittingly put on his course to Olympic glory by his grandmother.
"She used to get us to to run errands to the shops and told us that she would spit on the ground and did not want it to dry before we got back. It meant we ran fast!" said the 52-year-old, who moved to Britain before he got the chance to compete in the Boys and Girls Championships.
Coaching guru
Despite the hot house atmosphere of the schools showpiece, it is still a big step to the international athletics arena. Even Bolt, with his supreme abilities, needed assistance to make it to the top.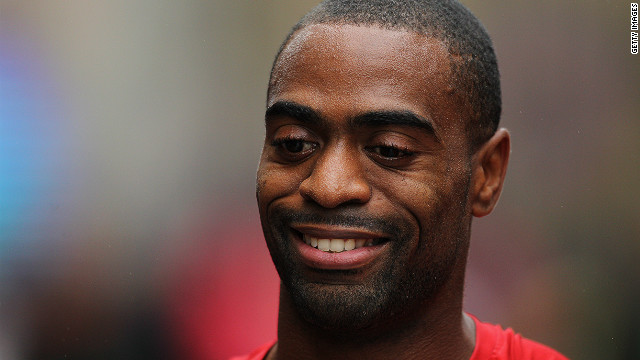 Former world champion sprinter Tyson Gay is seeking to put past disappointment behind him at London 2012.
The American beat triple Olympic champion Usain Bolt in the 100 meters final at a Diamond League meeting held in Stockholm, Sweden in 2010.
Bolt left Gay trailing in second place at the 2009 World Athletics Championships in Berlin when the Jamaican set a new world record of 9.58 seconds for the 100m.
Gay broke Maurice Greene's U.S. record for the 100m during the American trials for the 2008 Olympics, but a hamstring injury picked up later during the trials in the 200m dented his prospects in Beijing -- where he failed to reach the final of the shorter event.
Gay on the podium collecting the gold medal for winning the 100m at the 2007 World Athletics Championships in Osaka, Japan. He also won the 200m from Bolt and picked up another title in the 4x100m relay.
Gay with compatriot Justin Gatlin at the 2005 World Athletics Championships in Helsinki. Gatlin won the 100/200m double, but the 2004 Olympic champion is now on the comeback trail after serving a four-year ban for a positive drug test.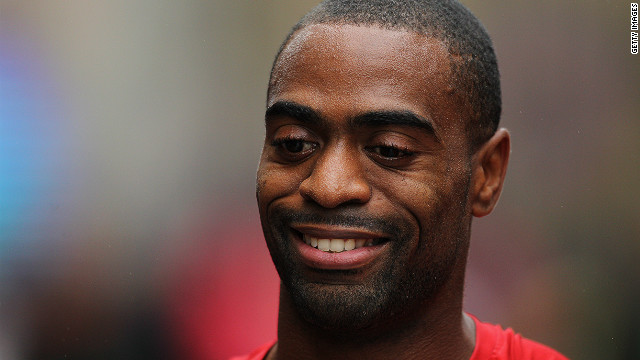 Tyson Gay: Aiming for gold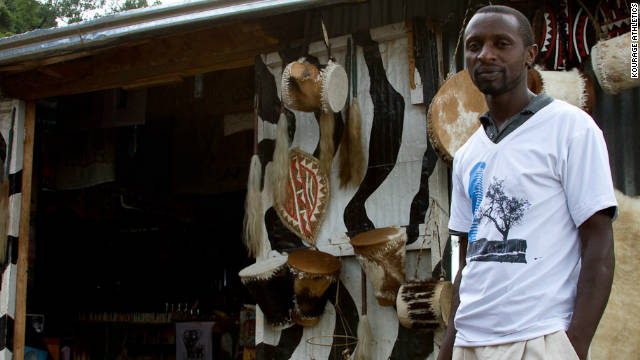 Kourage Athletics creates running apparel that's 'designed, manufactured and managed in Kenya by Kenyans.'
The clothes are produced by Viva Africa, a Kenyan-owned and operated factory, employing around 200 people, mostly women.
The factory makes everything from police uniforms to high-end fashion.
The company hopes that in 10 to 20 years time, Kenyan runners in the Olympics and other major sporting events, will be wearing their brand.
The small team -- who all hold down a variety of other day jobs -- dream of one day opening up their own factory and headquarters in Nairobi.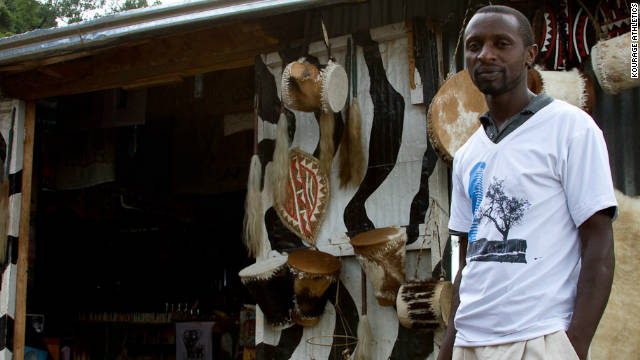 Kenya's first running brand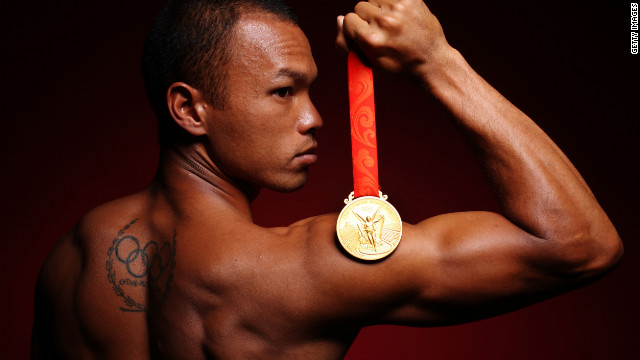 American decathlete Bryan Clay shows off his 2008 Olympic gold medal in a publicity shot.
Clay and his wife Sarah, who he married in 2004, share an emotional moment after his Beijing triumph.
An early picture of the young Bryan Clay with his cowboy hat and a friendly horse.
Clay during his high school track and field days in Hawaii.
Clay won decathlon silver behind Roman Sebrle at the 2004 Olympics in Athens.
Clay is congratulated by world record-holder Sebrle of the Czech Republic after his 2005 world championships success.
Clay returned to the top of the podium when he won the world indoor heptathlon title in Doha in 2010.
Clay continued his fine form in 2010 with decathlon victory at the prestigious Gotzsis meeting in Austria.
Clay walks on a California beach with two of his three young children.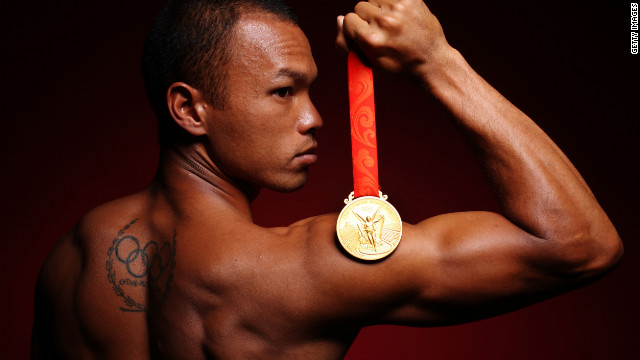 The world's greatest athlete?
Glen Mills grew up wanting to emulate McKenley and Wint, but he turned to coaching when he realized he would fall short. In his 22-year stint in charge of the Jamaican national athletics team, he oversaw 71 world championship medals and 33 in the Olympics.
Mills quickly recognized that Bolt was a unique talent, but one who needed persuading to work hard.
A defeat to Gay over 200m at the world championships in Osaka in 2007 proved a turning point.
"I ran hard, came off the bend slightly behind Tyson Gay and I could not catch him. I was running really hard and I could not catch him," recounted Bolt.
"After that race I went over and I said, 'Coach, I was really trying, but I couldn't catch him.' "
Mills replied: "You are weak, you are very weak because you are not going to the gym and you don't like running 200."
The rest is history.
"I really dedicated myself to everything because I really wanted to be a champion," said Bolt, who became a global superstar the following year as he won the 100 and 200m in Beijing in breathtaking, record-breaking style.
Mills stepped down from fulltime involvement with Jamaica in 2009, but still coaches Bolt and Blake and some other up-and-coming athletes.
Cultural factors
Bolt, like many of Jamaica's sprinting sensations, comes from a rural background where hard graft is part of the daily routine.
The son of a coffee farm laborer, he grew up in a parish called Trelawny in the north of Jamaica. His house had no running water and as a child he had to walk for miles with heavy, loaded pails, building up a natural strength.
In many ways it mirrors the rural backgrounds of the great Kenyan and Ethiopian long distance runners. Campbell-Brown, who also grew up in Trelawny, believes it is a factor in Jamaica's success.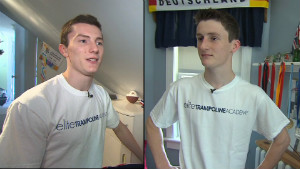 Two brothers, one Olympic spot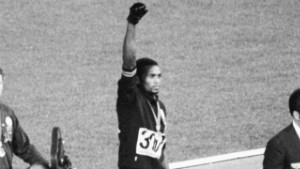 The infamous black power salute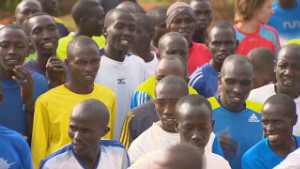 Secrets to creating world's best runners
"I would fetch water from the river, so I did a lot of walking. I would walk to school, there's a lot of hills," the 30-year-old said.
"I think it's just hard work, determination and all the things that we have to do growing up as a young person that has contributed.
"Jamaica is full of so much talent. It just so happens that a huge number of those talented people were born in Trelawny."
Among them is Johnson, who lived in the area until emigrating to Canada in 1976 aged 15. His winning time of 9.79 seconds to win the 1988 Olympics 100m title was considered one of the greatest performances in the history of athletics.
But a failed drugs test in Seoul for the banned steroid Stanozolol saw him stripped of the gold and gain worldwide infamy.
Blake also had a rural upbringing, and tested his natural ability in unusual fashion.
"We grew up in the country where your only friends are animals. I find it funny, once we were running with goats and stuff. I think the sprinting really starts from there," he told CNN.
Living off the land may well have benefits in terms of diet, with yams the staple food.
"My parents used to plant their own yams, it's very natural and often eaten with fish," said Campbell-Brown.
Christie agrees: "It's often said you are what you eat, and the Jamaican diet is a really natural one, full of fruit and vegetables and protein."
Sprinting showoffs
Whether it's through their tough backgrounds and lifestyles, their healthy diet and then the rigors of early competition and training, Jamaica's sprinters have found the magic ingredient for success.
But those factors alone are not unique in the world, so maybe there's another factor that gives them that extra edge?
"Sprinting is a Jamaican attitude," said Christie.
"To be a sprinter you need to be a little bit of showoff. Because like the heavyweight boxing champions of the world, this is what sprinting is all about and, you know, Jamaicans just love to show off!"
The supreme "showoff" of his time, perhaps of all time, just has to be Bolt -- and it comes naturally to him.
"I'm a person who always liked to express himself, even in my younger days, it comes naturally to me," he said.
"Even when I was younger I would do stuff and notice that the crowd really clicked to that.
"I've really just continued doing it. It's fun for me and people come out also to see me run fast but also to see 'What new thing is Usain going to do today, what is he going to come up with to make us laugh?' "
Bolt's bow and arrow victory salute is his trademark, and if the form book is anything to go by he will be dusting off the routine a few more times in London -- and a host of his teammates are set to join him on the medal podiums.