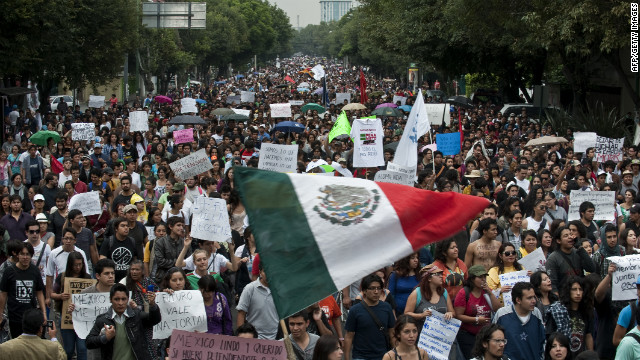 Thousands of protesters take to the streets in Mexico City on Monday, a day after the presidential election results were announced. Supporters of the opposition candidate were rallying against Enrique Peña Nieto, who declared victory late Sunday.
Peña Nieto, representing the Institutional Revolutionary Party (PRI), speaks during a press conference Monday in Mexico City. He said it was time for his country to leave behind the political rancor of the campaign season.
Members of the "I Am 132" movement protest on Monday. A video that was uploaded to YouTube helped launch the nationwide student movement, adding fuel to the political frenzy.
Projected as the runner-up in Sunday's vote, Andres Manuel Lopez Obrado, right, speaks in Mexico City on Monday. He said he was awaiting the official election results and prepared to contest them before judicial authorities if they didn't turn out in his favor.
A youth activist rallies in Mexico City on Monday. About a third of Mexico's 79.4 million registered voters are between the ages of 18 and 29.
Peña Nieto celebrates with his family after projections declared him the apparent victor in Mexico's presidential election on Sunday, July 1.
Peña Nieto's supporters cheer during the victory speech in Mexico City on Sunday. The results would mean a return to power for a party that ruled Mexico for more than 70 years.
Peña Nieto greets supporters in Mexico City after polls closed and results stacked in his favor early Monday, July 2.
Peña Nieto, whose political party was ousted by the conservative National Action Party in 2000, addresses supporters Sunday.
Andres Manuel Lopez Obrador, Peña Nieto's challenger from the Democratic Revolution Party, says he is unwilling to concede in Mexico City on Sunday.
Supporters of Lopez Obrador listen on the streets of Mexico City during his news conference Sunday.
"The last word has yet to be said," Lopez Obrador, a former Mexico City mayor, said Sunday.
Supporters of the Mexican university student movement "I Am 132" protest in front of police outside the national TV network Televisa during a rally against the PRI and Peña Nieto in Mexico City on Saturday.
Protesters supporting the "I Am 132" movement rally outside Televisa headquarters in Mexico City on Saturday.
Tensions follow Mexico election
Tensions follow Mexico election
Tensions follow Mexico election
Tensions follow Mexico election
Tensions follow Mexico election
Tensions follow Mexico election
Tensions follow Mexico election
Tensions follow Mexico election
Tensions follow Mexico election
Tensions follow Mexico election
Tensions follow Mexico election
Tensions follow Mexico election
Tensions follow Mexico election
Tensions follow Mexico election