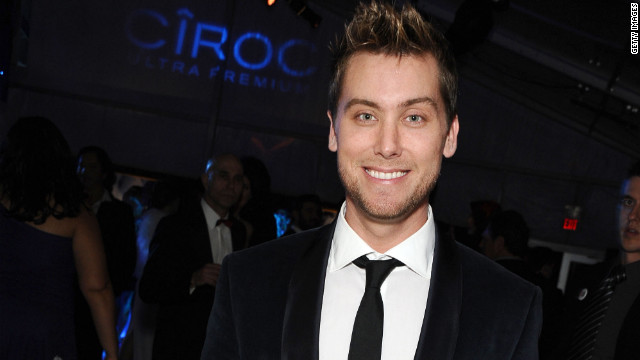 `NSync singer Lance Bass appeared on the cover of People in August 2006 with the headline "I'm Gay." "I knew that I was in this popular band and I had four other guys' careers in my hand, and I knew that if I ever acted on it or even said (that I was gay), it would overpower everything," Bass told the magazine of why he didn't come out sooner.
came out publicly
as gay in an e-mail message to the Daily Beast's Andrew Sullivan, which was posted to the site in July 2012.
CNN's Anderson Cooper
In May 2012, a
New York Times
story about "The Normal Heart's" Jim Parsons revealed that the "Big Bang Theory" actor is gay and in a 10-year relationship.
Matt Bomer said
he "especially" wanted to thank "my beautiful family: Simon, Kit, Walker, Henry. Thank you for teaching me what unconditional love is." (People magazine identifies "Simon" as his partner, publicist Simon Halls.) Bomer's reveal wasn't overt, but some have congratulated the actor for acknowledging his sexuality, which has been the subject of gossip in the industry.
While accepting a humanitarian award in February 2012, "White Collar" star
Actor Zachary Quinto said he was inspired to
acknowledge his homosexuality
in October 2011 after a 14-year-old, who was apparently being harassed over his sexuality, killed himself. "In light of Jamey's death, it became clear to me in an instant that living a gay life without publicly acknowledging it is simply not enough to make any significant contribution to the immense work that lies ahead on the road to complete equality."
told People
when she came out in 2010.
"There had never, ever been a country music artist who had acknowledged his or her homosexuality," Chely Wright
Pop singer Ricky Martin declared publicly in March 2010 what he avoided discussing for years. "I am proud to say that I am a fortunate homosexual man," Martin wrote on his official website. "I am very blessed to be who I am."
Ellen DeGeneres came out shortly after her character Ellen, on an ABC sitcom, came out on-air amid controversy in 1997. "I never wanted to be the lesbian actress," DeGeneres told Time magazine. "I never wanted to be the spokesperson for the gay community. Ever. I did it for my own truth." DeGeneres' current partner, Portia de Rossi, also kept her sexuality a secret for many years.
In April 1998, British pop star George Michael told CNN that he was gay. "This is as good of a time as any," the Wham! singer said. "I want to say that I have no problem with people knowing that I'm in a relationship with a man right now. I have not been in a relationship with a woman for almost 10 years."
After years as a stand-up comedian and actress, Rosie O'Donnell came out two months before her talk show went off-air in 2002. The announcement came during a comedy routine at the Ovarian Cancer Research benefit at Carolines Comedy Club in New York. "I don't know why people make such a big deal about the gay thing," she said during her act. "People are confused, they're shocked, like this is a big revelation to somebody." She became engaged to partner Michelle Rounds in 2011.
David Furnish
in December 2005.
British singer Elton John discussed his bisexuality for the first time in a 1976 Rolling Stones interview. "There's nothing wrong with going to bed with somebody of your own sex," he said. "I think everybody's bisexual to a certain degree. I don't think it's just me. It's not a bad thing to be." John married
Stand-up comedian and actress Wanda Sykes announced her sexual orientation -- and her marriage -- in 2008 at a rally for gay marriage. "You know, I don't really talk about my sexual orientation," Sykes said. "I didn't feel like I had to. I was just living my life, not necessarily in the closet, but I was living my life. ... But I got pissed off. They pissed me off. I said, 'You know what? Now I gotta get in your face.' " Sykes was referring to the passage of Proposition 8, banning gay marriage, in California days after her wedding.
Reports of "Sex and the City" star Cynthia Nixon's relationship with Christine Marinoni surfaced in 2004, six years after the television show's premiere. Nixon discussed her relationship with New York Magazine in 2006, saying, "I never felt like there was an unconscious part of me around that woke up or that came out of the closet; there wasn't a struggle; there wasn't an attempt to suppress. I met this woman, I fell in love with her, and I'm a public figure."
Known best as the TV character he played during childhood, Doogie Howser, Neil Patrick Harris has continued his successful acting career as an adult. Harris often walks the red carpet with partner David Burtka, and stars in the hit sitcom "How I Met Your Mother." He told People magazine in 2006 that he is, in fact, gay. "I am happy to dispel any rumors or misconceptions and am quite proud to say that I am a very content gay man."
"Family Ties" actress Meredith Baxter confirmed in December 2009 rumors that she is a lesbian. "Anyone who's a friend of mine, anyone who knows and cares about me, knows," the actress explained to Matt Lauer on the "Today" show. "It's no secret that I'm gay, but it has been to the greater world." Baxter is in a long-term relationship with a building contractor, Nancy Locke.
married
to writer/producer/director Brian Hargrove. Pierce first talked about his partner in an Associated Press interview about his Tony-nominated performance in "Curtains."
He had an 11-year run on "Frasier," but it wasn't until he returned to Broadway in 2007 that David Hyde Pierce confirmed his sexuality. The actor is
Celebs who have come out: Lance Bass
Anderson Cooper
Jim Parsons
Matt Bomer
Zachary Quinto
Chely Wright
Ricky Martin
Portia de Rossi and Ellen DeGeneres
George Michael
Rosie O'Donnell
Elton John
Wanda Sykes
Cynthia Nixon
Neil Patrick Harris
Meredith Baxter
David Hyde Pierce
STORY HIGHLIGHTS
Anderson Cooper's announcement that he's gay has brought waves of support
Stars like Ellen DeGeneres and Kelly Ripa have tweeted how proud they are of Cooper
Readers have thanked the anchor for his courage
(CNN) -- There's been an outpouring of support from celebrities and CNN readers alike after CNN's Anderson Cooper publicly acknowledged Monday that he's gay.
The "AC 360˚" anchor wrote in an e-mail to the Daily Beast's Andrew Sullivan that was posted online Monday, saying that in a perfect world, no one would care about his sexuality, but he's come to understand the "value in making clear where I stand."
"The fact is, I'm gay, always have been, always will be, and I couldn't be any more happy, comfortable with myself, and proud," Cooper wrote.
His readers and fellow media personalities have commended his move to publicly come out, sharing what his friends, family and colleagues already knew:
Jesse Tyler Ferguson (@jessetyler)
"One of the reasons I look up to my friend @andersoncooper is his amazing eloquence. Very proud of him!"
Kristen Bell (@IMKristenBell)
"A bold and beautiful statement by someone who is smarter than all of us, journalist @andersoncooper."
Tyra Banks (@tyrabanks)
"Congrats for sharing your truth @andersoncooper. You'll always be the Silver Fox!"
Neil Patrick Harris (@ActuallyNPH)
"Good for you, @andersoncooper. You're awesome."
Joan Rivers (@Joan_Rivers)
"Thrilled @AndersonCooper came out! So, THAT'S why he never wanted to date me! I would've loved having Gloria Vanderbilt as my mother-in-law."
NeNe Leakes (@NeNeLeakes)
That did it......Now I really love @andersoncooper."
Sara Bareilles (@SaraBareilles)
"I applaud @andersoncooper for being authentic and honest with the public. It helps others feel brave too."
Ellen DeGeneres (@TheEllenShow)
"I'm proud of you, @AndersonCooper."
Kelly Ripa (@KellyRipa)
"So proud of you @andersoncooper. Always have been, always will be."
Wanda Sykes (@iamwandasykes)
"Proud of you @andersoncooper. Thank you."
LeAnn Rimes (@leannrimes)
"Rock on @AndersonCooper for being a brave, classy man. Much respect!"
Those sentiments were echoed on CNN.com Monday, with many thanking Cooper for being open and honest about his sexuality, hoping that it will give others the courage to do the same:
• macbil: "Thanks Anderson. There was a time not too long ago in this country when young men who realized they were gay had no role models. It took courage to do what you did. It would be hard to calculate the positive image you've set for young gay men."
• Proud To Be Gay: "It took me 67 years to embrace myself as a gay man. I wish I had done it sooner, such as Anderson has. Thanks for making us proud, Anderson."
• Toronto Guy: "Tireless anchor. Intrepid news journalist. Puts himself in harm's way more times than I can count. Caring and committed soul. And his tailored suits are always great! Thanks for coming out, bud. Let's hope your colleagues over at Fox and other news orgs do the same."
• Dave: "Thank you Anderson for putting another prominent face on our comunity. I'm so proud. I can't amagine the weight that's off your shoulders."
• John Summers: "I have to say I THANK YOU Anderson Cooper for your public announcement. Bringing a face to the GLBT community can only inspire the gay youth of the country to have someone to look up to. I am very proud of what you have done today. I wish you the best and happy life. You have always had me as a loyal viewer and shall continue my loyalty."
Still others noted that his sexuality really doesn't impact how they view the journalist:
• caninelady: "I liked him before; I like him now. Since I had no desire to marry him or have any kind of relationship with him, it doesn't disappoint, upset or bother me. People should be allowed to live and love as they choose. There is way too much hate and judgment in society. I care only what people do with our life, what they contribute to society and not who they love. But, then I'm just a 60+, basically conservative old Christian grandmother."
And then there was the contingent who couldn't believe this story counted as "news":
• Jon: "WHAT? HE'S GAY?! Geesh, that's old news! I knew he was gay the first time I saw him in a tight fitting t-shirt reporting from the middle east years ago. He 's a good reporter and news anchor and the fact that he likes men, does not change my opinion of him."
But there was also an important discussion sparked by Cooper's decision to share his e-mail to Sullivan with the world: Why is it important for people to acknowledge their sexuality in the first place?
• Commenter Puddin wrote the question this way: "I have wanted to ask this question for a long time: why do people who are gay or lesbian, etc. feel they have to announce it? I have never heard a straight person do this. No one has a need to know!"
The responses, from fellow CNN.com commenters, were varied:
• Jeff: "Because people ask. When people stop caring enough to no longer ask because it doesn't matter then gays will stop 'announcing it.' (coming out.)."
• wcbhwk: "Couple of good reasons. First, the more people who do this, especially prominent people in our society, the more others will understand that being gay is not that unusual. Second, and more importantly, through our close mindedness and repression, both tacit and direct, we have forced many of those who are gay to live this aspect of their lives secretively. It takes courage to be openly gay, even today. While that is sad, it is still reality. So by showing courage to come out publicly, it sends a message to others to also have courage."
For his part, Cooper tweeted on Tuesday, "I appreciate all the nice tweets. I am in Botswana working but want to wish everyone a great 4th of July!"
CNN's Nicole Saidi contributed to this report.